TelexFree bankruptcy over? Status conference cancelled.

Following the publication of TelexFree Trustee Stephan Darr's status report a few days ago, a status conference pertaining to TelexFree's bankruptcy proceedings was to be held today (February 5th).
Upon reading Darr's status report however, it seems Judge Hoffman didn't like what he saw.
Consequently, Judge Hoffman ordered the status conference cancelled and that Kurtzman Carson Consultants make Darr's status report available on their website: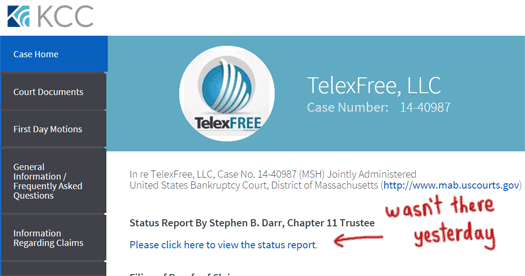 To be honest, I'm not 100% sure what this means.
Hoffman's ordering that Darr's report be placed prominently on their website (it was already available in the "court documents" section, suggests that he wholly endorses the findings. Chiefly that TelexFree was a $1.8 billion dollar Ponzi scheme.
It also suggests he wants as many eyeballs on it as possible, in particular those of TelexFree investors who might still be in denial.
Bankrupty law is uncharted territory for me, so I'm not versed in what happens next – but it seems to me that if Judge Hoffman is able to terminate the bankruptcy proceedings, that certainly seems to be where this is going.
Either that or converting the Chapter 11 proceedings into something more relevant to that of a Ponzi scheme, such as a Chapter 7 liquidation.
I think Darr's report pretty much spelled out the true nature of TelexFree for Judge Hoffman, and now with the writing on the wall there wasn't much point having a discussion about it.
Stay tuned for updates on this particularly interesting development…