Sann Rodrigues settles TelexFree fraud for $1.7 million

After initially opting to play fast and loose with the SEC, it appears time in jail for contempt and pleading guilty to visa fraud has brought Sann Rodrigues to the negotiation table.
As per an April 25th proposed settlement agreement between Rodrigues, the SEC and the TelexFree Trustee, the three parties recently entered settlement negotiations.
According to the TelexFree Trustee, Sanderley Rodrigues de Vasconcelos was 'one of the most successful promoters of TelexFree'.
Forensic accounting revealed Rodrigues stole $501,841 from TelexFree victims. He also received $1,757,797 in "manual credits", which were offloaded to victims in exchange for cash.
In 2013 Rodrigues publicly announced he'd made over $3 million dollars in TelexFree.
As part of the settlement agreement, Rodrigues will relinquish his interest in seven bank accounts. Rodrigues lawer will also have to turn over $200,000 currently held in a trust account.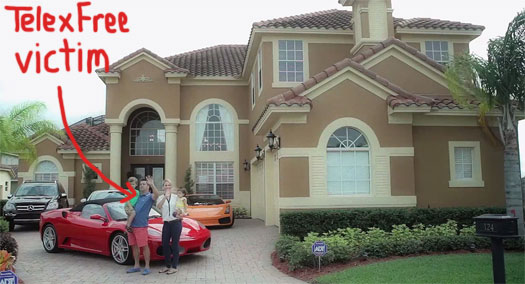 Additionally Rodrigues will give up two properties in Florida he purchased with stolen TelexFree investor funds.
One of the properties is the family home (right), as used by Rodrigues to promote TelexFree on social media.
The settlement agreement stipulates Rodrigues and his family are to vacate the property by June 2nd, after which it will be turned over to the Trustee for liquidation.
The potential recovery … from the cash and securities accounts, the residence and the condinimium, may be upwards of $1,700,000 or more.

This amount represents substantially all of the SEC Obligation and a principal portion of the gains that Rodrigues is alleged to have received from his net winnings and from monetization of the manual credits.

Moreover, the stipulation does not release any third party transferees who may have received property transfers from Rodrigues.
As I understand it the above is a settlement agreement the SEC has agreed to, despite their proceedings against Rodrigues currently stayed.
A settlement in the SEC's case can't formally be reached until parallel criminal proceedings against TelexFree's owners conclude.
After pleading guilty to wire fraud, James Merrill was sentenced to six years in prison last month. A restitution hearing has been scheduled for May 24th, after which the SEC's civil TelexFree case should resume.
Given Carlos Wanzeler is on the run in Brazil, I don't think a conclusion is needed there to resume the SEC's case.
In the meantime, the settlement agreement between Rodrigues and the Trustee awaits approval of the court. Stay tuned…
Update 25th May 2017 – On May 24th Judge Hoffman signed off on Rodrigues' settlement.