Sann Rodrigues sent to jail for contempt

Following a last-ditch effort to fend off being found in contempt of court, Sanderley Rodrigues proposed the sale of motivational videos and books.
Rodrigues' plan would see him remit 20% of whatever he made on sales each month, to clear a court-ordered $474,503 remittance to the SEC.
The SEC were not amused, with the regulator labelling Rodrigues' plan "too little too late" in an objection filing last week.
Following a long weekend, Judge Gorton's ruling has now been made public.
Filed separately before his decision, Gorton denied Rodrigues' request to stay the SEC's contempt proceedings and/or approve his proposed payment plan.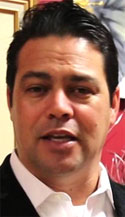 A separate order on January 15th found Rodrigues (right) in contempt as follows:
This court … held Sanderley Rodrigues de Vasconcelos in contempt but deferred the imposition of sanctions to give him an opportunity to purge his content.

(Rodrigues), having failed to comply with the conditions of that order to restore assets dissipated in violation of the asset freeze imposed on him by the temporary restraining order and preliminary injunction, is hereby remanded to the custody of the United States Marshals Service to be incarcerated until further order of the Court.
In a somewhat strange compromise, Gorton has permitted Rodrigues to open a new bank account – exempt from the current asset-freeze in place.
A third order passed by Gorton on January 15th reads:
Mr. Rodrigues will be permitted to open a second bank account in Wells Fargo Bank and deposit income earned from activities unrelated to TelexFree.

He will be allowed to spend, transfer and withdraw money deposited into this bank account. This account is not subject to the preliminary injunction.
What earnings Rodrigues will be making while in jail though, I have no idea.
Stay tuned…
Footnote: Our thanks to Don@ASDUpdates for providing a copy of Judge Gorton's three January 15th orders.
Update 21st January 2016 – Some clarifications from the SEC press-release:
On December 18, 2015, the judge in the SEC's civil case held Rodrigues in contempt for violating the terms of the court's orders by:

1) transferring $233,473 out of his bank accounts;

2) selling a Mercedes Benz CLS;

3) selling a Ferrari F340;

4) transferring three Florida condominiums; and

4) (sic) failing to provide the court-ordered accounting.

The court ordered Rodrigues to return all assets that he had transferred or disposed of in violation of the asset freeze, with a deadline of January 15, 2016.

On January 15, 2016, the Commission notified the court that Rodrigues had failed to comply with the December 18, 2015 order.

On January 15, 2016, the court ordered Rodrigues held in jail until such time as he complies with the court's December 18, 2015, order.
Looks like Rodrigues is going to remain stuck in jail for the foreseeable future.