RE247365 Review: $39.95 a month recruitment scheme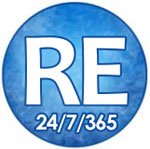 RE247365, otherwise known as "Relationship Energy & Services, launched in August and operate out of the US state of Florida.
Identified as the Founder of the company is Peter Jensen (also known as "PJ").
I haven't able to identify how Jensen got involved in MLM. His RE247365 corporate bio doesn't offer up any useful information, and instead reads like a marketing pitch for the company.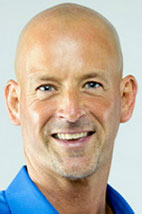 Various marketing spiels from other opportunities in the past credit Jensen (right) with being 'in network marketing for 15 years having sold software to mlm companies as well as been a top producer.'
The earliest official association with an MLM company I was able to find was Jenson's involvement as an affiliate in YTB Travel in the mid 2000s.
YTB International still operate today, but it's a far cry from the company Jensen was involved in.
J. Lloyd "Coach" Tomer, his son Scott Tomer, and Kim Sorensen launched YTB in 2001 in Alton, Illinois.

Growth was slow until 2004, when YTB's creators bought controlling interest in a related company, REZconnect Technologies, increased their marketing budget, and aggressively recruited new members with videos of successful salespeople.

In 2007, Royal Caribbean stopped doing business with YTB, describing the company as a "card mill"; an industry term for a business that provides perks that are intended for a limited number of travel agents to the general public.

In 2008 the company was sued by California Attorney General Jerry Brown. An out-of-court settlement required changes to the company's business model, and generated a decrease in membership attributed to bad publicity.

In late 2008, YTB laid off 17 employees, a move that was part of a reorganization.

In 2008 the company's revenues were $44.8 million. YTB said its independent audit at the end of 2008 expressed "substantial doubt about our company's ability to continue as a going concern", a sentiment the company itself later echoed.

In 2009 the company was operating at a loss of $1.9 million for the first three months of the year. Revenue in that quarter dropped 49% to $21.8 million and then to $18 million in the second quarter.

The company's paying members also declined substantially in number, from a high in April 2008 of 138,000 to 60,414 in mid-2009.
It was around this time that Jensen left YTB. He then went on to launch his own MLM company, AMA Nation (America Approved Energy Services) in mid 2010.
AMA Nation is the marketing arm of Public Power, LLC based in Danbury, Connecticut. Public Power, LLC is a licensed electricity supplier providing service to tens of thousands of residents, businesses and municipalities in several states across America. (AMA affiliate marketing copy, July 2010)
A year later in 2011, AMA stole their affiliate's customers and shut down their MLM operations.
Confirmed by several (former) top distributors. Seems the company lost $2 million and the management team did not want to put more money into MLM operations.

About 6,200 sign ups, 2,500 active distributors left in the dust. The company will keep the customer base but will not pay the distributors…..
2012 then saw Jensen plead guilty to tax evasion.
As per Jensen's plea agreement: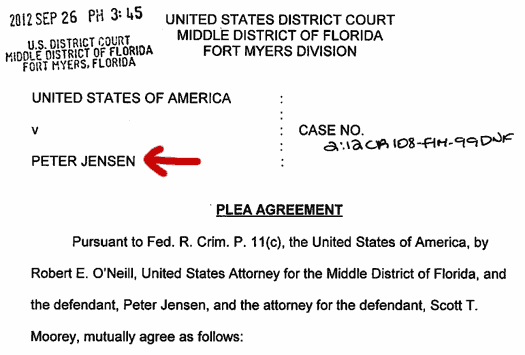 During the years 2003 through 2009, Defendant Peter Jensen generated substantial income from his work with various multi-level marketing enterprises which, in turn, resulted in corresponding tax liabilities.

(Jensen) filed Forms 1040 for the years 2003, 2005, 2007, 2008 and 2009, but failed to pay the full tax due and owing for each of those years.

Upon commencement of IRS collection actions, defendant undertook steps to conceal his ownership of assets and his receipt of income by placing title to assets he owned, including real estate and ownership interests in business, in the names of family members and business associates.

(Jensen) used the bank account of a relative, who was an employee of defendant's company and acted as a personal assistant, to conceal his earnings and pay expenses he owed to third parties.

(Jensen) caused his relative to conceal defendant's income by converting checks payable to the relative and others from his business to cash.

Portions of the cash would be provided to the defendant and other portions would be deposited into the relative's bank account in an attempt to conceal defandant's (sic) income and financial transactions from the IRS.

On or about April 7, 2010, defendant formed a limited liability company; however, defendant concealed his 50% ownership by placing the business solely in the name of his business partner.

The company, America Approved Commercial, LLC, which was owned equally by (Jensen) and his business partner, earned significant income which (Jensen) attempted to conceal by placing his 50% ownership interest in America Approved Commercial, LLC, solely in the name of his business partner.

(Jensen) filed a false and fraudulent 2010 Form 1040 which did not reflect all of (his) income, specifically income earned from America Approved Commercial, LLC.
In February 2013 Jensen was ordered to pay the IRS over $2.1 million and handed down a 31 month prison sentence:
U.S. District Judge John E. Steele today sentenced Peter Jensen to 31 months in federal prison for tax evasion. The court also ordered him to pay restitution to the Internal Revenue Service in the amount of $2,155,133.88. Jensen pleaded guilty to one count of tax evasion on October 23, 2012.

According to court documents, for the years 2003 through 2009, Jensen attempted to evade paying federal income tax, in the amount of approximately $1.8 million.

Jensen attempted to evade paying the taxes by placing real properties in the names of others, and utilizing the bank account of another individual, rather than depositing money he earned in a bank account from which the money could have been seized by the IRS.
By my calculations, whether we use October 2012 (May 2015) or February 2013 (September 2015), Jensen's original sentence isn't up yet. I did try to ascertain why Jensen might have been released early, but was unable to find any information on the subject.
One possible explanation is found in the following excerpt from Jensen's plea agreement:
Cooperation – Substantial Assistance to be Considered

(Peter Jensen) agrees to cooperate fully with the United States in the investigation and prosecution of other persons, and to testify, subject to a prosecution for perjury or making a false statement, fully and truthfully before any federal court proceeding or federal grand jury in connection with the charges in this case and other matters.

If the cooperation is completed subsequent to sentencing, the government agrees to consider whether such cooperation qualifies as "substantial assistance" in accordance with the policy of the United States Attorney for the Middle District of Florida, warranting the filing of a motion for a reduction of sentence.
In his RE247365 corporate bio today, Jensen maintains
we are a company that is built on the highest ethics, character and morality.
Read on for a full review of the RE247365 MLM business opportunity.
The RE247365 Product Line
Despite billing itself as "a provider of energy, financial, and travel services", RE247365 offers little more than access to third-party services.
Two of the services offered reflect Jensen's previous MLM engagements, utilities and travel:
RE has formed a strategic alliance/partnership with America Approved Energy Services (AAC), the leading energy consulting brokerage firm in the industry.

RE 24/7/365 has affiliated with Archer Travel, Montrose, California to provide the "RE Travel Concierge."
Access to a third "sources for capital" service is also offered, again through an affiliation with a third-party provider:
RE has formed a strategic alliance/partnership(s) with America Approved Investment Capital Funding (AAICF) and America Approved Commercial Lending (AACL,) two of the leading capital lending companies in business today.
No prices (retail or otherwise) for any of the purportedly offered services are provided on the RE247365 website.
The RE247365 Compensation Plan
The RE247365 compensation plan combines commissions on the retail sale of third-party services, recruitment commissions and a global matching bonus on the earnings of a recruited downline
Note that 25% of all commissions earned in RE24365 are withheld by the company to be paid out over the twelve months from the date the commission was initially paid out on (2.08% of the 25% withheld is paid out monthly).
Retail Commissions
Retail commissions are in adequately explained in the RE247365 compensation plan material.
Examples of retail commission payouts are cited, however in the absence of retail pricing provided on the RE24365 website they paint an incomplete picture.
Furthermore, in the examples provided RE247365 state that "commissionable values may vary".
That said, a $25 commission is mentioned, payable after six months if a utilities customer uses over 400 therms (gas) or 4000 kW/h (electricity) during this period.
Recruitment Commissions
RE247365 pay a $50 recruitment commission for every new RE247365 affiliate recruited.
RE Players Club
A residual recruitment bonus is paid out via what RE247365 call the "RE Players Club".
Recruitment efforts are tracked using a unilevel compensation structure. A unilevel compensation structure places an affiliate at the top of a unilevel team, with every personally recruited affiliate placed directly under them:

In turn, if any of these level 1 affiliates go on to recruit new affiliates of their own, they are then placed on level 2 of the original affiliate's unilevel team. If any level 2 affiliates recruit new affiliates, they are placed on level 3 and so on and so forth down a theoretical infinite number of levels.
The RE Players Club pays out on raw recruitment numbers, paying out a bonus 15 business days after specific recruitment criteria numbers are met:
downline of 50 affiliates = $2500
downline of 100 affiliates = $5000
downline of 150 affiliates = $7500
downline of 500 affiliates = $25,000
downline of 2000 affiliates = $100,000
Note that two-thirds of the required recruited affiliates must come from two unilevel recruitment legs. Additionally, no more than one-third of the total recruited affiliate can come from any one leg.
Matching Bonus
RE247365 pay affiliates a matching bonus on the earnings made by affiliates in their unilevel team.
Payable down a maximum 8 levels, here are the required qualification criteria:
L1 BF (pay monthly $39.95 fee and recruit 2 affiliates or acquire 2 customers) – 50% on level 1 and 20% on level 2
L2 BF (pay monthly $39.95 fee and recruit 5 affiliates or acquire 5 customers) – 50% on level 1, 20% on level 2 and 7% on level 3
L3 BF (pay monthly $39.95 fee and recruit 10 affiliates or acquire 10 customers) – 50% on level 1, 20% on level 2 and 7% on levels 3 and 4
L4 BF (pay monthly $39.95 fee and recruit 15 affiliates or acquire 15 customers) – 50% on level 1, 20% on level 2 and 7% on levels 3 to 5
L5 BF (pay monthly $39.95 fee recruit 25 affiliates (one of which must be a L1 BF) or acquire 25 customers) – 50% on level 1, 20% on level 2, 7% on levels 3 to 5 and 9% on level 6
L6 BF (pay monthly $39.95 fee and recruit 25 affiliates (two of which must be L2 BFs) or acquire 25 customers) – 50% on level 1, 20% on level 2, 7% on levels 3 to 5, 9% on level 6 and 15% on level 7
L7 BF – (pay monthly $39.95 fee and recruit 25 affiliates (three of which must be L3 BFs) or acquire 25 customers) – 50% on level 1, 20% on level 2, 7% on levels 3 to 5, 9% on level 6, 15% on level 7 and 20% on level 8
Note that where applicable, required recruited affiliates of a certain rank are mandatory and override and customer qualifications.
Also note that a 5% three-level generation bonus is also available (extending the Matching Bonus beyond 8 levels), however no specifics as to how generations are defined are provided.
REwards Points Program
Points are awarded to RE247365 affiliates (primarily for paying their monthly fees and recruiting new affiliates), with the company stating that accumulation of these points goes towards "weekly/monthly prizes/drawings".

Joining RE247365
Affiliate membership to RE247365 is $39.95 a month.
Conclusion
RE247365 offer what is otherwise a blatant recruitment-driven scheme married to irrelevant third-party retail offers.
It's easy to see the inspiration behind travel and power Peter Jensen has implemented in RE247365, as they mirror YTB Travel and AMA.
Trouble is YTB Travel imploded once they were forced to drop recruitment commissions, and AMA flopped after just a year in business.
So you have two proven failed MLM business models that have, this time around, been combined with business loan services.
And let's face it, nobody is securing business loans of thousands of dollars via a half-assed MLM effort so that's probably going to flop too.
What is RE247365 really about?
Recruitment.
Pay $39.95 a month and recruit others who do the same. Hit your respective downline recruitment targets and get paid bonuses that realistically will only be achieved by the top affiliates who are currently heavily promoting the scheme.
An affiliate's monthly fee exists solely to qualify them for commissions, with the RE247365 compensation plan itself declaring
The only qualification to make retail and 50% matching commissions is to pay your $39.95 each month.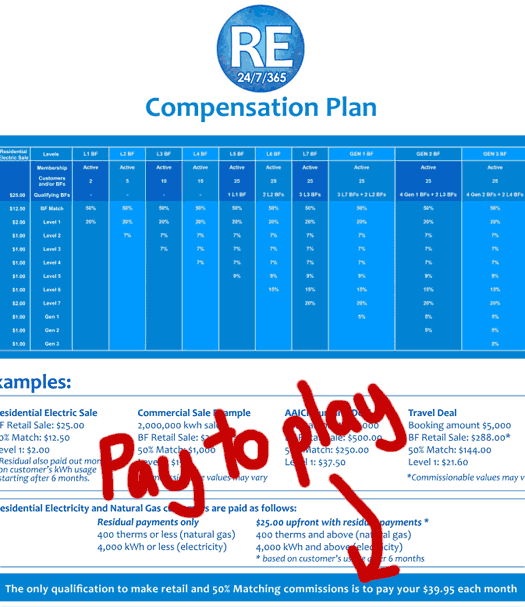 I've seen some fuss made over claims that RE247365 pay out "over 100% commissions". This is entirely a load of rubbish when one considers the mandatory 25% withholding of payable commissions.
Over any given 12 month period a RE247365 affiliate pays $479.40 into the system. And presumably recruited affiliates only count towards recruitment quotas as long as they continue to pay their monthly fees.
The whole recruitment commissions side of RE247365 is designed to keep people paying $39.95 for as long as possible. Dangle an initial payout and then trickle just enough out each month to keep people paying their monthly fees and actively searching for new people to recruit.
And given Peter Jensen's AMA Nation venture shut it's doors pretty much a year after opening, the 12 month stunted payments in RE247365 are likely to be entirely by design.
Create some hype, run what is essentially a shell company pegged to a few third-party affiliate deals and then close up shop once your early adopters have been paid out 12 months in. Screw everybody else.
I mean hey, that's pretty much what happened with AMA Nation was it not?
For what should be obvious reasons, the "leaders" being advertised in RE247365 don't have the most flattering of pasts. Two names I've seen pop up personally are Michael Van Leeuwen (Coach Van) and Faith Sloan.
Both are currently embroiled in regulatory action against them in the US.
Michael Van Leeuwen, a former Zeek Rewards Ponzi investor, was sued by the court-appointed Receivership back in March for over $1.4 million back in March.
Having failed to respond to the clawback litigation filed against him, in July the Receivership moved for default judgement against Leeuwen.

A decision on the Receivership's motion pending. Just last week however fellow Zeek investor Darryle Douglas was hit with a $2.2 million judgement. Douglas also failed to respond to clawback litigation filed by the Zeek Receivership.
Faith Sloan on the other hand is embroiled with the SEC over her involvement TelexFree , a billion dollar Ponzi scheme.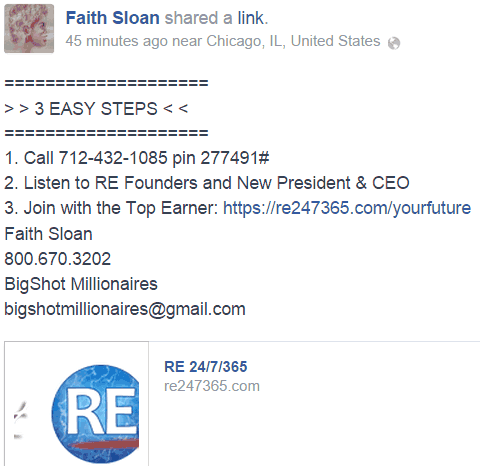 Sloan has had a civil lawsuit filed against her by the SEC and has had any assets she procured through her involvement in the Ponzi scheme frozen.
Throw in Peter Jensen's checkered past and well, yeah… I think we'll leave it there.