RE247365: $300,000 frozen and $580,000 in fraud?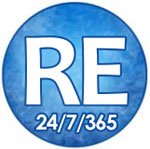 Joining an MLM opportunity started by someone who was an affiliate in a travel-based pyramid scheme, then launched an MLM company who without notice took their affiliate's customers and shutdown their MLM division, and then plead guilty to tax evasion should have been a no-brainer.
For many in the industry though, September was a month of spamming advertisements for RE247365 in the hope that people would sign up.
Operating itself as a pyramid scheme, RE247365 paid affiliates $50 for every new affiliate they recruited into the scheme. On top of this, additional bonuses were offered at certain recruitment milestones.
What usually happens in schemes like RE247365 is that those who get in early recruit as many suckers as they can, cash out their withdrawals and then move onto the next scam.
To that end, Alexa's traffic estimate graph for RE247365 is pretty spot on:

Initial recruitment boom, cash out and do a runner before those you've scammed realize there's nobody gullible enough left to recruit.
One problem though… this time around those who got in early are still waiting for their commissions to be paid out in full.
A video surfaced late last month featuring RE247365 owner Peter Jensen: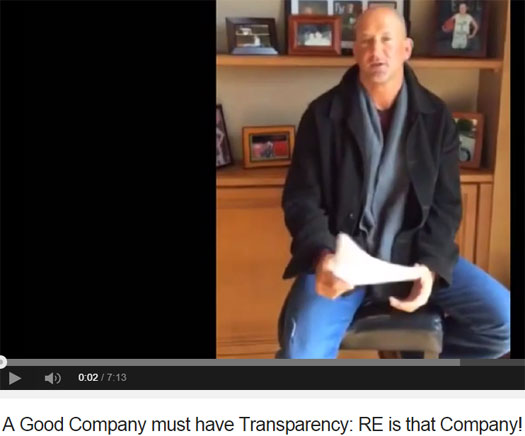 In it, Jensen announces that "it's time for (him) to ask for help".
Jensen then goes onto explain that "over $300,000" in RE247365's merchant account has been frozen. No explanation as to why the funds have been frozen is given, nor does Jensen reveal who the company the merchant account is with.
Hackers from Pakistan are also cited, with Jensen claiming they, through credit card fraud, "took down several" of RE247365's merchant accounts. Jensen claims this resulted in $200,000 in fraud, but how this ties into the merchant accounts themselves is not clarified.
[1:00] Our pay card provider decided to drop us, whilst 5 other prominent MLM companies on a Sunday night. Imagine waking up to a Monday message like that.
Whether Jensen misspoke and meant "along with 5 other MLM companies" is not clear. If he did indeed mean to use "whilst", the thought is left unfinished and what exactly those "5 prominent MLM companies" had to with RE247365 remains a mystery.
Referring to it as "a financial disaster for the company", Jensen explains how he then made the decision to switch RE247365's merchant account processor.
This decision, Jensen claims, resulted in the loss of 'three quarters of (RE247365's) credit card database, resulting in the loss of $400,000 in income a month.'
On top of all of this, in the week Jensen shot the video he claims an additional '$380,000 of fraudulent charges (were) put through (RE247365's) Wells Fargo account'.
How these charges were approved on RE247365's end is once again not clear.
With a purported $300,000 in funds frozen and $580,000 in fraudulent transfers, Jensen explains that RE247365 needs to "generate cash flow" before it can honor existing commissions owed.
[5:45] This is not a question of my integrity… or this is not a time to question my integrity, or my moral fibre or my character (laughter), or the promises that you say I haven't kept.

This is unforseen things in business that we couldn't control. But rest assured, you will get your money. And so will everyone in this company.

It's gunna take some time, so if we build up this cashflow over the next three to four weeks… just trust me, it's coming.
Jensen touts a "90 day" plan repeatedly in the video, promising that owed commissions will begin to be paid out the week beginning December 15th (next week).
At least that was the plan back in late November.
Painting a completely different picture of what's going on in within the company is Faith Sloan.
In a rant used to plug her latest opportunity, Yevo, Sloan yesterday lamented the elastic payment schedule of some $4000 in recruitment commissions she's owed.
Referring to RE247365 as "the biggest comedy of errors or deliberate face palm smacks" she's ever seen, Sloan writes:
(Jensen) lied at least 3 times to me personally.  I specifically texted him when he promised to pay my $5000 in 2 payments of $2500 and then a few days later came back and says he will pay it in 5 weekly payments of $1000 each. Each time I said okey dokey.

I received a $1000 check drawn on Wells Fargo and Wells Fargo said we were not allowed to cash the check. We could only deposit it. I laughed and told the teller at Wells Fargo to have a nice day. I deposited the check. It did indeed clear RE247365 checking account 1 day later.

Then Peter Jensen comes back a  few days later and reneged on his WORD. He said he can pay us the RE247365 bonus pay that he OWES us, over a TEN MONTH TIME PERIOD! WHAT???

So the remaining $4000 RE247365 bonus you OWE me and the remaining $1250 you owe the $2500 people will be paid $500 and $125 a month respectively for 10 months?

It sounded like one of those Charlie Brown cartoons where the adults speak in some sort of unrecognizable language. WAHN WAH WAH WAHN!

A lot of people were not happy to hear news like that right before Thanksgiving. And many people already committed/spent their $2500 and $5000.

Now they are in the freakin hole. Happy Thanksgiving from Peter Jensen and Relationship Energy.
Sloan goes onto reveal that the giant oversized checks many RE247365 affiliates used to market the opportunity to new recruits have also not been paid out.
All of those BIG RE247365 PROMOTIONAL MARKETING CHECKS  we celebrated around for $2500, $7500, $25,000, $100,000 or more have NEVER been deposited in any of the the (sic) RE247365 distributors' bank accounts.

RE just begun paying the $2500 and $5000 bonuses when this crap hit the fan.
The use of such props, which clearly convey the message of commissions earnt within the company when infact said commissions have not been paid, certainly raises the question of fraudulent marketing. Or at the very least a misrepresentation of then status of RE247365 as an MLM business opportunity.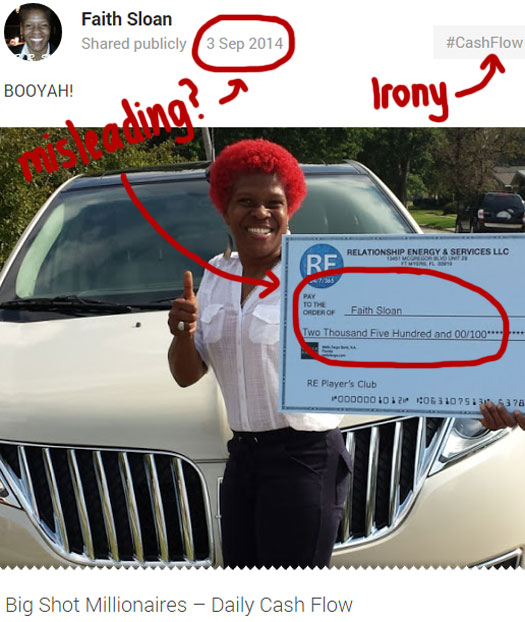 Furthermore, left unaswered is the status of the $300,000 of RE247365 purportedly frozen by their former merchant account processor. Ditto why the company no longer has access to the funds. Not to mention why explicitly the funds were frozen in the first place.
One possible (and let's face it, entirely likely) scenario is that RE247365's previous merchant processor became concerned that the company was operating as a pyramid scheme.
BehindMLM first reviewed RE247365 back in early September. In my review it didn't take long for me to identify some serious compliance issues surrounding RE247365's recruitment commissions and incentives.
Leaked screenshots of Sloan's backoffice all but confirmed retail activity within RE247365 was non-existent, which would certainly be enough to trigger a merchant processor freezing an account.
Either of their own accord or at the behest of authorities investigating the scheme.
Somewhat ironically, Sloan mentions in her rant that she was all but aware of the non-compliance issues pertaining to RE247365's compensation plan.
We did indeed expect a change in the marketing plan to ensure that it was compliant.

That was told to us months and months ago. The bonuses and the pricing structure was said to be temporary.
Yet despite this, Sloan signed up anyway and began marketing what she acknowledges to be a non-compliant opportunity.
Had she of read our review of RE247365, perhaps Sloan might have saved herself some effort and time. Claims of hacking and credit card fraud are rife within pyramid scheme circles, being typically trotted out at the first signs of recruitment slowing down.
Whether that is the case with RE247365 remains to be seen.
In the meantime, despite having likely spent between $2500 and $5000 to sign up and months promoting a pyramid scheme, only to be short-changed to the tune of $4000 – Sloan maintains on her blog that here at "behind idiocy", we are the idiots.