Espirito Santo's IRS fines TelexFree R$70 million

Back in January Alessandra Marques, of the Acre Public Prosecutor's Office, revealed in a radio interview that TelexFree was under US investigation.
In a subsequent telephone conversation with Brazilian media, Marques went on to name the IRS as being involved.
At the time there was some confusion as to whether or not Marques was referring to the US IRS or the Brazilian equivalent.
While it's been confirmed that the SEC are investigating TelexFree under suspicion it's a Ponzi scheme, whether or not the US IRS are investigating has yet to be confirmed.
What has been confirmed however is that, in addition to the SEC, the Brazilian IRS have been investigating TelexFree.
That investigation recently concluded and has resulted in TelexFree being fined a whopping R$70 million ($29 million USD).
But wait for it… according to TelexFree the IRS fine is a good thing.
Appearing in the latest TelexFree news video (no. 33 for those keeping count), TelexFree co-owner Carlos Costa reveals that the IRS had been investigating TelexFree for nine months and that he'd been to their offices at least twice.
Costa states that during the investigation the Espirito Santo IRS had made thirteen separate requests for documents from TelexFree.
TelexFree appear to have been fined for failing to make payments to the IRS on generated revenue. According to "article 957" of the tax code, "in the case of a lack of payment, a 75% fine (of the owed amount?) should be fined".
According to a subsection, this fine can be increased to 150% and this is what Costa is selling to TelexFree's affiliates. He even goes so far as to declare the fine "wonderful":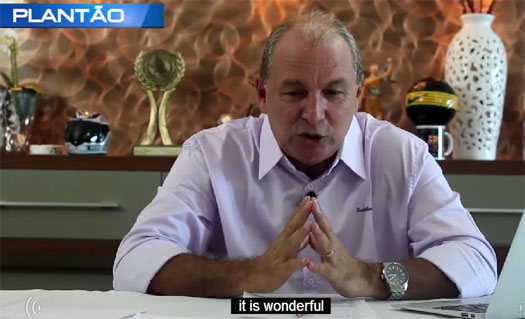 Meanwhile why TelexFree failed to pay the IRS remains unclear. Costa does not address the issue. Instead he appears to focus on a "lack of fraud" found by the IRS.
Now forgive me if I'm wrong here, but the IRS aren't and never were investigating TelexFree for fraud. They audited the company and fined them for failing to pay taxes on revenue generated.
The Ponzi scheme case against TelexFree in Acre is ongoing, with the IRS' fine having no bearing on the outcome.
One can expect though that any irregularities would be passed onto the Public Prosecutor's Office however, as Alessandra Marques has already confirmed she the Office is in communication with the agency (they were aware of the IRS' investigation long before Costa's announcement today).
In addition to charges of TelexFree being a Ponzi scheme, Acre's PP Office has previously aired suspicion of money laundering and embezzlement taking place within the company.
A visibly sweaty Costa goes on to make a big deal about TelexFree having aleady paid the fine, although he does not disclose where the money came from.