Carlos Wanzeler "will definitely stay in Brazil"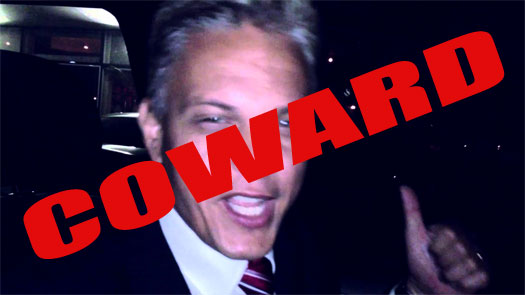 When it became evident that Carlos Wanzeler's $1 billion dollar Ponzi empire was about to come crashing down, he instructed his wife to lie about his whereabouts and hatched his getaway plan.
Aware that fleeing directly from the US would likely attract the attention of US authorities, Wanzeler opted to slink across the US-Canada border in the dead of night. Assisted by some of his closest TelexFree investor friends, he then hid out for a few days before escaping to Brazil.
In the aftermath of the TelexFree Ponzi shutdown, Wanzeler's partner in crime James Merrill and his wife, Katia Wanzeler, are both being detained following their respective arrests.
Merrill has been charged with wire fraud, and Wanzeler's wife is being held until she can be produced infront of a grand jury to testify.
While they sit in jail cells, Wanzeler is living it up in Brazil. Rather than co-operate with US authorities, with TelexFree and its management repeatedly stated they would prior to the SEC shutdown, Wanzeler to date has refused to surrender any of the money US regulators have not frozen.
One particular sore point was $3 million dollars sitting in a bank account in Singapore. This, and presumably whatever else Wanzeler had stashed around the world and didn't want to return to those he stole it from, is now being used to fund his life on the run.
Some of that money is also being used to pay a celebrity lawyer in Brazil, who has in recent days become a spokesperson for the fugitive.
Whereas previously the public narrative pushed by TelexFree and its management was one of "complete co-operation with US authorities", now that Wanzeler is being held responsible for the running of a $1 billion Ponzi empire, this has since changed to
(I will) not let (Wanzeler) go to a country that does not respect individual rights, as (we have) seen when they arrested his wife (Katia Wanzeler), (when she) hasn't even been accused of anything.
So says celebrity lawyer Antonio Carlos Castro, who was recently retained by TelexFree and Wanzeler in Brazil. Whether or not Castro understands that Wanzeler's wife is being detained to testify or not is unclear.
Regardless, his comments come in stark contrast to Carlos Costa's YouTube videos of last month, in which he professed a wish that "Brazilian justice was more like that of the US". At the time, Costa believed US regulators would exonerate TelexFree following their respective investigations.
How quickly that tune has changed now that the reality of the TelexFree fraud can no longer be ignored.
In related news, and somewhat surprising given their past reluctance to grant relief in such cases, a Judge in Espírito Santo has ordered the seizure of Carlos Costa's property and that of Carlos Wanzeler's company, Disk a Vontade.
Judge Ademar João Bermond ordered the seizure of two of Carlos Costa's cars, and funds held in bank accounts belonging to Disk a Vontade and VoxBras (another shell company used to further TelexFree's fraud in Brazil).
The cars are reported to have cost Costa R$260,000 ($117,000 USD). Globo are also reporting that computers from TelexFree's Brazilian headquarters were also seized.
The money recovered will initially be used to pay back Eduardo Tosi Borges, who claims to have invested in TelexFree 20 days before the scheme was shut down.
Borges invested R$6000 ($2700 USD), which he is to get back, along with an additional R$12,000 ($5400 USD) in "punitive damages".
For those wondering how this is possible when an injunction granted in Acre has effectively seized any and all funds related to TelexFree since last June,
Judge Ademar João Bermond explained that civil action in Acre, which froze the assets of the company in June last year, does not prevent other judges to seek the seizure of other goods to pay those affected (by TelexFree).
Apparently there are another 30 lawsuits in progress relating to TelexFree investor losses, so it sounds like there might be further seizures at a later date.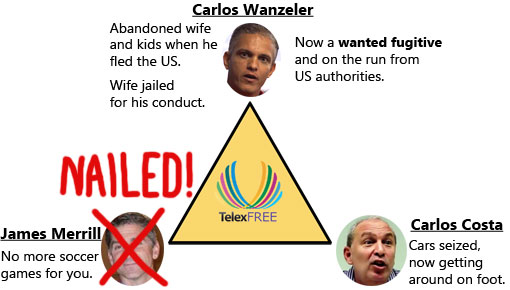 While Brazilian authorities continue to drag their feet on bringing those responsible for the largest MLM Ponzi scheme to date to justice, at least some victims getting their money back is something.
With the abundance of evidence available, all details of TelexFree's Ponzi business operations revealed in court documents and arrests made in the US, why Carlos Costa and Carlos Wanzeler remain free in Brazil is an ongoing mystery.