Wanzeler's wife arrested, denied bail and "in tears"

The $1 billion dollar Ponzi noose around Carlos Wanzeler's neck tightened today when reports detailing the arrest of his wife surfaced.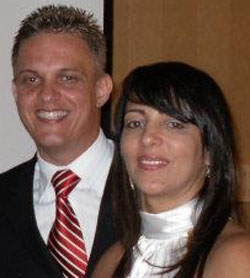 Caught trying to flee the US for Brazil, Katia Wanzeler was apprehended at John F. Kennedy International airport. Wanzeler (right with husband Carlos) had hoped to fly out of the US on a one-way ticket to Rio de Janeiro, but instead was taken into custody by federal agents.
Wanzeler is a material witness in the case against her husband Carlos, who is on the run from US authorities for running the $1 billion Ponzi scheme, TelexFree.
Presented before U.S. Magistrate Joan Azrack, Wanzeler's lawyer tried to argue that 'his client had no reason to flee because she's only a witness in the case and was planning to return by the end of the month.'
The only problem with that though was that Katia Wanzeler was found with '$3,000 in cash and four suitcases weighing 70 pounds'.
"Seventy pounds of luggage? Four suit cases? … There is no way I'm releasing her," Azrack said in federal court in Brooklyn.
Whether or not the suitcases weighed 70 pounds each or collectively is unclear.
Wanzeler's lawyer tried to brush off the luggage as 'clothes she had bought for her relatives' but Azrack wasn't having any of it. Forty-nine year old Katia Wanzeler was denied bail.
Wearing blue jeans and a hoodie, (Katia) wiped away tears with her sleeves as she was led out of court.

She was to be taken to Massachusetts, where she's been subpoenaed by a grand jury in Worcester.
With her plane ticket paid for in cash "by someone in Brazil" and Katia's husband Carlos currently hiding out there, it doesn't take much to put two and two together.
Especially considering this isn't the first time Katia has been caught telling regulators porky-pies.

According to an affidavit filed by US regulators,
When agents raided the Wanzeler home on April 17, Katia Wanzeler "informed agents that her husband had been staying in a hotel 'on the advice of counsel.'

In reality Carlos Wanzeler had fled the country after driving into Canada and then flying to Brazil…

Late in the evening of April 15 — the same day federal agents raided TelexFree headquarters in Marlbough, Mass. — Carlos Wanzeler and his daughter Lyvia "drove to the US/Canada border crossing at Lacolle, PQ (Provence de Quebec) in a BMW."

The vehicle bore Massachusetts plates registered to Acceris Realty Estate LLC, a company for which Katia Wanzeler is the registered agent.

Two days later — on April 17, the same day federal agents raided the Wanzeler home in Northborough, Mass. — Carlos Wanzeler and his daughter "boarded Air Canada flight number 90 From Toronto to Sao Paulo, Brazil. Carlos Wanzeler entered Brazil using his Brazilian passport."
Wanzeler's daughter Lyvia returned to the US for a week, before fleeing to Italy on May 1st.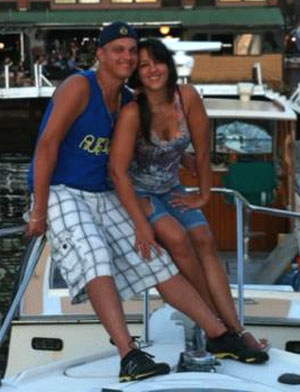 The US has formally requested Brazilian authorities hand Carlos Wanzeler over, but to no avail:
Assistant Brooklyn U.S. Attorney Jonathan Lax said Brazilian authorities have refused to return Carlos Wanzeler to face the fraud indictment in Massachusetts because the U.S. does not have an extradition treaty with the South American country.
With his fairly-tale ending escape plans now in tatters, it remains to be seen whether Carlos Wanzeler will grow a pair and voluntarily return to the US.
His parter in crime, James Merrill, will appear in court tomorrow for a bail hearing. Merrill was arrested last week and remanded to custody after bail was denied due to concerns he was a flight risk.
Meanwhile whoever is in control of TelexFree's website appears to have begun to accept the inevitable, replacing the TelexFree mobile app placeholder with this: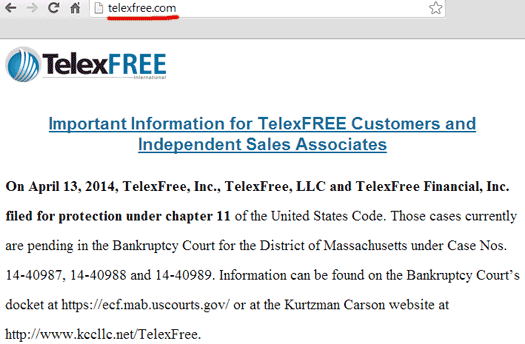 TelexFREE has suspended all business activity while we address certain issues in the Bankruptcy Court and address pending proceedings by the SEC and other government agencies. Since we are not currently in a position to support our network, it is likely Customers will experience either interruption or discontinuation of service.

Independent Associates and Promoters should not be representing TelexFree on a going forward basis absent approval of a new compensation plan by the Bankruptcy Court.

We continue to believe strongly in the TelexFREE VoIP product and the direct selling model. At this point, however, we do not know when or if we will be able to persuade the Bankruptcy Court and other legal bodies of the value of our VoIP service and the potential new TelexFREE products, and the viability of the TelexFree business.

We continue to be hopeful that we will obtain approval from the Bankruptcy Court to restart day-to-day operations and restructure TelexFree's VoIP business.
Yeah, good luck with that fellas.