Talk Fusion terminate top ranked affiliates, lawsuit filed

Before we go any further, I'm just going to go ahead and say it: paid video communication services today are entirely redundant.

I mean really, $125 plus $20 a month ($365 annually) for video email? Is this some kind of joke?

Quite obviously, nobody is paying Talk Fusion thousands of dollars for video communication services. Considering what's available today for free in this niche, not even by a long shot.

–BehindMLM Talk Fusion Review (August 2013)
Meet Minh Ho and Julie Campagna. Together they own and operate MJ Rich Media Corp. and joined Talk Fusion in 2007.
During their time with Talk Fusion, Ho and Campagna achieved the rank of "Presidential Blue Diamond. Not an easy thing to do, considering they claim to be the only Talk Fusion affiliates "out of millions" to ever qualify.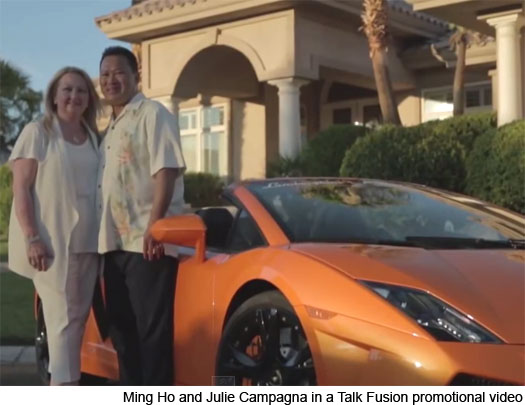 Earning roughly $2 million annually, Ho and Campagna were suspended as affiliates on October 10th.
Talk Fusion terminates distributors based on the selective and arbitrary application of the one-sided, unfair, vague, and unenforceable terms and provisions contained in the Policies.
On December 10th, Ho and Campagna's affiliate status with Talk Fusion was formally terminated.
Now, in a lawsuit alleging fraud and injustice, the gloves have come off. And if Ho and Campagna are to be believed, how Talk Fusion is being operated and managed is cause for serious concern.
Filed in the Eight Judicial District Court of Nevada on the 22nd of December, Ho and Campagna's complaint challenges the termination of their Talk Fusion affiliate membership.
Of note is that the complaint was filed despite Talk Fusion's Distributor Policies and Procedures demanding that, in the event of 'any controversy or claim arising out of relating to the Agreement, or the breach thereof', that Talk Fusion affiliates 'waive all rights to trial by jury or to any court'.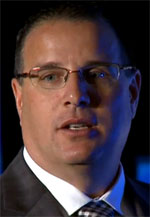 As the couple put it, Robert Reina (aka Bob Reina, right), Founder and CEO of Talk Fusion, terminated the couple after they failed to provide a business loan to Mark Genovese.
In the complaint, Genovese is described as a friend of Reina's.
On or about October 7, 2014, (Ho and Campagna) decided to seek counsel regarding their rights with respect to Reina's most recent efforts to extort payments from them.

One of Reina's friends, Mark Genovese, a falsely placed high-ranking Talk Fusion distributor, was supposedly in default on his home mortgage in the approximate amount of $20,000.

Reina demanded (Ho and Campagna) pay Genovese's mortgage all without any agreement from either Reina or Genovese that they were to be repaid for doing so.

Rather than relent to Reina's demands, (Ho and Campagna), on or about October 7, 2014, provided Genovese with a written loan agreement specifying the terms under which they would be willing to lend him money to pay his mortgage.

A copy of the written loan agreement was also subsequently provided to Reina.

After Reina became aware of (Ho and Campagna's) intent to have Genovese repay any loan they may give him to pay his mortgage, Reina … shut off Plaintiff's Talk Fusion account and suspended their business.

After a series of letters requesting that (Reina and Talk Fusion) activate (Ho and Campagna's)  account, lift the suspension on their business, reimbursement for all the loans and other expenses paid on Talk Fusion's behalf, and reimburse them for income lost during the suspension, Plaintiff's were constructively terminated on October 24, 2014.
In terminating Ho and Campagna there was no mention of Genovese or the loan, with Talk Fusion instead accusing the pair of violating the company's Policies and Procedures. Among other thing, Talk Fusion claimed Ho and Campagna were cross-sponsoring and making income claims.
Ho and Campagna assert these allegations are "false".
Furthermore, they claim that the loan to Genovese was only the latest in a long-standing series of requests made to them by Reina.
Over the years that (Ho and Campagna) were distributors at Talk Fusion, Reina unilaterally decided to force (Ho and Campagna) (and many other top distributors) to make payments to other parties on behalf of Talk Fusion, including Talk Fusion's lease payments, and travel and marketing expenses.

Additionally, Reina and Talk Fusion forced (Ho and Campagna) to donate tens of thousands of dollars to various charities and to make loans to Reina's friends who never had any intent to repay the loans.

These various forced contributions, made under duress and the threat of termination, total over $600,000 and have never been reimbursed to date.
I don't know about the whole "forced to donate to charity" angle (let's not pretend any such instances weren't likely milked for marketing), but using your affiliate-base as a piggy bank for personal loans and covering company expenses isn't on.
As the above claims being made under duress, here's apparently what happened to affiliates who dared challenge Reina and Talk Fusion's requests:
When (Ho and Campagna) and other distributors would protest (Reina's) actions … (Talk Fusion) would modify the distributor's compensation plan … in such a way that it would reduce the distributor's income, often moving other distributors to ranks unearned and manipulating downlines to benefit Reina's friends.
Delving deeper into the Talk Fusion rabbit hole, Ho and Campagna go on to provide another example (in addition to Mark Genovese), of another of Reina's friends receiving preferential treatment within the company.
Talk Fusion's representation to the public and to its distributors … that it follows the Policies and Procedures is false.

Any distributor who asks Reina about Talk Fusion's Policies at any time is faced with the prospect of having his or her entire downline income cut-off.

An example of this is when Reina decided he wanted to elevate Cedric Penn, a new Talk Fusion distributor and Reina's personal friend, to the rank of "Grand Blue Diamond".

This was accomplished by moving approximately half of MJ Rich Media's downline that (Ho and Campagna) worked hard to build, to Mr. Penn, thus elevating him to a status rank above hundreds of thousands of Talk Fusion distributors.
Upon questioning Reina's conduct, Ho and Campagna allege their account was suspended. Only after agreeing to surrender control of their downline, claiming the decision was made "out of fear their distributorships would be terminated", did Reina restore Ho and Campagna's account.
While the core of Ho and Campagna's complaint revolves around the October incident that lead to their account being terminated, the pair also directly challenge the official reason(s) Talk Fusion claim they were terminated for.
Labelling Talk Fusion's Policies and Procedures as "one-sided, unfair, vague and unenforceable", Ho and Campagna argue
Talk Fusion terminates distributors … based upon the selective and arbitrary application of terms and provisions contained in the policies.

The policies are an unconscionable contract of adhesion. They are unenforceable in their entirety because of Talk Fusion's overwhelming bargaining power (and) they are not freely negotiated.

Despite (Talk Fusion's) prohibition on income claims, Talk Fusion practices the opposite and employs a custom and habit of violating its own policies and procedures by making income claims a standard practice on its website, in magazines, at conventions and in advertising.

The non-compete provision of the Policies that Talk Fusion relies upon to summarily terminate distributors constitutes an unreasonable restraint on trade in violation of the clear public policy in the State of Nevada.

Not only does Talk Fusion assert illegal restraint on trade provisions to control its distributors, but it unilaterally modifies its policies on a periodic basis to diminish the commissions of the distributors and to impose ever more restrictive provisions against the distributors.

The modifications to the policies are done unilaterally by Talk Fusion without the knowledge of consent of the distributor and without any consideration paid to the distributor.

This has the effect of lowering the monies that the distributors were promised when they first joined.

If a distributor complains about this Talk Fusion practice, he or she is summarily dismissed and his or her income cut-off.
No specific examples of this are provided in the complaint, other than Ho and Campagna's own personal account of the events leading up to the termination of their Talk Fusion affiliate account.
Citing eight causes of action, Ho and Campagna ask that the court
declare Talk Fusion's policies unconscionable, unenforceable and void in (their) entirety
order Talk Fusion to pay compensatory damages in excess of $10,000
enforce any applicable statutory penalties on Talk Fusion
order an injunction prohibiting Talk Fusion from engaging in "offending conduct" as outlined in the complaint and
award any additional "exemplary and punitive damages"
Noticeably absent in Ho and Campagna's complaint is explicit proof provided by exhibit. There's a lot of claims made but nothing substantiate to back any of them up.
Ho and Campagna simply present what they're saying as fact.
Should the matter proceed, one would hope they have documented evidence of every one of the claims made in the complaint, complete with supporting exhibits.
That aside, what a mess!
On one hand you've got a company clearly out of control on the management side, wheeling and dealing to the detriment of their affiliate-base at large.
Testament to this is the fact that the only reason I know about this lawsuit is because a BehindMLM reader reached out to me about it, expressing that they were 'worried about my business if these kind of things are taking place'.
The kind of garbage Ho and Campagna are accusing Bob Reina and Talk Fusion of should not be going on in any MLM company.
Worse still, Talk Fusion are a certified member of the Direct Selling Association.
Talk Fusion is more than just a mission statement. It's a business philosophy that actually includes ethical business practices (almost unheard of these days).

Talk Fusion is one of the select few MLM companies granted membership in the prestigious US Direct Selling Association (DSA).
Where the hell has the DSA been in all of this?
On the other side of the fence you then have affiliates Ho and Campagna. Yes, they've apparently been through a lot of bullshit but the timing of their lawsuit speaks volumes.
By their own admission,
Talk Fusion uses a pyramid style downline.

Talk Fusion entices distributors to join its sales force through the offer of the "MLM Promise".

The MLM Promise is a representation that if a distributor works hard and builds his or her downline, after a few years the distributor can enjoy a carefree lifestyle by living off the residual commissions generated by his or her downline organization.

Talk Fusion knows that this representation to lure in distributors is a ruse.
Noticeably absent is the mention of retail sales, begging the question – out of the $2 million Ho and Campagna claim to earn annually, how much of that was earned via the sale of Talk Fusion products to retail customers?
And further still, would they have filed this lawsuit had they of not been terminated? Or would Ho and Campagna to this day be engaged in the promotion and operation of what they themselves all but acknowledge is a pyramid scheme?
I mean seven years, really?
With Ho and Campagna's complaint only recently filed, a reply from Talk Fusion has yet to surface.
Considering Ho and Campagna are the company's top affiliates, granting them intimate knowledge about the company's practices and behind the scenes conduct, Talk Fusion's filed response should make for one heck of an interesting read.
Stay tuned…
Update 13th October 2017 – Under some pretty suspicious circumstances, Minh Ho and Julie Campagna's lawsuit against Talk Fusion was withdrawn and dismissed in mid 2016.