Talk Fusion facing class-action RICO pyramid lawsuit

When I reviewed Talk Fusion back in 2014, I found it odd their flagship product was a $1499 video communication package.
Given the abundance of free alternatives around, who in their right mind was paying $1499 for video communication… without the attached Talk Fusion income opportunity?
Seems like I'm not the only one with this question, with Talk Fusion now the defendant in a recently filed RICO lawsuit.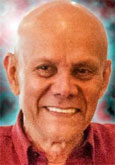 The lawsuit was filed on November 26th by Dennis Gray (right), a former Talk Fusion affiliate.
In the lawsuit, Gray claims to have been
deceived by the Talk Fusion's misleading business opportunity, falsely believing it was a legitimate way to earn money, and did lose money as a result of Defendants' unfair and unlawful business practices.
Gray alleged those "unlawful business practices" are the operation of 'a pyramid scheme disguised as a multi-level marketing ("MLM") company'.
As with my own review, the thrust of Gray's lawsuit is a lack of retail viability and requirement that all recruited affiliates purchase a Talk Fusion service, thus providing the majority of revenue and therefore commissions paid out.
The majority of Talk Fusion's products are individually available for free (or at much lower monthly rates than Talk Fusion) on the Internet, through commonplace programs such as Skype, YouTube, and Google.

Additionally, nationally-recognized, long-standing brands such as Adobe, Webex, Centrix, and Cisco offer a product similar to Talk Fusion's–without the $250, $750, and $1,450 signup fees.

The supposed path to financial prosperity through the Talk Fusion Opportunity is not based on selling videoconferencing technology.

Because Talk Fusion's prices and signup fees are extraordinarily high, retail sales are not feasibly profitable.

With little-to-no name recognition, Talk Fusion Associates' jobs are made even more difficult in their attempt to earn meaningful sales commissions.

Many of the supposed competitors of Talk Fusion, in the area of business videoconferencing, have never even heard of the company.
No brand recognition despite launching in 2007 and proclaiming to be in the process of building a "billion dollar company"?
How odd.
This lack of name recognition precludes Associates from selling Talk Fusion's products and services to larger business, especially ones that could afford the prohibitively expensive $1,499 Pro-Package signup fee.

As such, Associates have little (if any) genuine chance of selling the products at retail.
So how do Talk Fusion affiliates make money then?
According to Gray;
Associates are limited in their earning potential unless they fully invest and purchase the Pro-Package, regardless if they even want it or not.

Instead of selling its overpriced video products to endusers, Talk Fusion generates large sums of money in the following two ways:

First,current Associates' internal consumption of products and services, and secondly, the recruitment of new Associates (who pay the aforementioned signup fees [between $250 and $1,499] and monthly storage fees [between $35 and $215] to participate in the Talk Fusion Opportunity).
High mandatory upfront fees and an ongoing autoship requirement would be indicative of an MLM pyramid scheme. Moreso if there's little to no retail activity taking place.
With their "business opportunity" inherently based on Associates endlessly pursuing to recruit new Associates — Talk Fusion does little to encourage or reward retail sales.

Indeed, the compensation paid to Associates is almost altogether unrelated to retail sales.
I noted as much in my own Talk Fusion review, observing that 'the Talk Fusion compensation plan makes no differentiation between affiliate package purchases and those made by retail customers'.
In fact, new Associates are specifically instructed not to talk about Talk Fusion's products' "functions" and "features," and instead focus on emphasizing the "wealth building" that the Talk Fusion Opportunity presents.
This focus, Gray alleged, is centered around Talk Fusions's "2-in-72" rule.
Associates are told to follow Talk Fusion's Rule of "2 in 72."

New recruits are instructed to personally sponsor one associate on their left leg, and one associate on their right leg within 72 hours of joining.

The Associates are then instructed to teach their new, personally sponsored Associates to immediately duplicate this process themselves, and personally sponsor two new Associates within 72 hours.

By following Talk Fusion's recruitment-based Rule of 2 in 72, Associates purportedly reach the rank of Diamond.

Upon attaining the rank of Diamond, Associates have the opportunity to drive a Mercedes-Benz (provided by Talk Fusion), take two paid dream getaway vacations each year, receive a Rolex watch and recognition rings, and earn a weekly income of $2,500.

The more recruits an Associate gets, as well as the more recruits that recruits gets, the higher the commissions and bonuses are for the Associate up-line.
Evidently, no retail sales activity takes place within the recommended "2-in-72" rule.
The business opportunity and the Talk Fusion "Dream" is not financially healthy for the new Associates.

Few, if any, Associates ever cover their costs.

Because the scheme's promoters and high level Blue Diamonds take a significant cut for themselves, Associates frequently make less than they invest.
Gray goes on to point out that
Talk Fusion's own income disclaimer (contains) the following statement:

"In any case, it is rare for the Talk Fusion Independent Associate to earn any income at all."

However, watching Talk Fusion's official promotional presentations, training videos, and marketing materials, one would think the exact opposite, and believe that it would be easy to get "2 people in 72 hours" and to follow the proven 4-Step system.
Concludes Gray;
Top members of the Talk Fusion pyramid scheme are making a fortune off of the global Talk Fusion pyramid, which is operated by Talk Fusion, Inc., and Talk Fusion International, and is assisted by high level Associates, (such as Blue Diamonds), and various businesses (such as Mane World Productions, Inc).

Some top Associates are making over $2 million a year, primarily generated by way of "internal consumption" from their downline Associates.
For those unfamiliar with Mane World Productions, Inc., Gray's lawsuit claims the company provided
self-replicating websites that were used by Defendants Talk Fusion, Inc., Bob Reina, and TalkFusion International, Inc., to market and promote (Talk Fusion).
Gray's lawsuit invokes RICO, with class-action certification sought for any Talk Fusion affiliates who signed up with the company from October 2011 till the present.
Plaintiffs seek to hold Talk Fusion and the other Defendants liable for their operation and promotion of the Talk-Fusion pyramid scheme, pursuant to the Racketeer Influence and Corrupt Organizations Act, 18 U.S.C 1961 et seq. (RICO).

In addition, Plaintiff seeks to certify a sub-class of California residents and enforce these individuals' remedial rights, under the California Business and Professions Code §§17200, et seq ., and §§17500, et seq., for Defendants unlawful business practices, and for patently misleading and false advertising statements.

These actions were directed at California residents, and thereby caused the citizens injury in fact, through the loss of money as a result of said actions.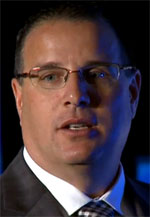 Talk Fusion's Founder and CEO Robert Reina (right), Talk Fusion INC, Talk Fusion International INC and Mane World Productions INCare named defendants in the lawsuit, with seven claims of relief leveled against them:
judgement declaring fortune's arbitration agreement unconscionable (Talk Fusion's affiliate agreement prohibits lawsuits such as Gray's from being filed in favor of arbitration)
racketeering activity in violation of 18 U.S.C 1962 (C)
racketeering activity in violation of 18 U.S.C. 1962 (A)
conspiracy to commit racketeering activity in violation of 18 U.S.C. & 1962 (D)
injunctive relief under 18 U.S.C. & 1964 (A)
unlawful, unfair and fraudulent business practices under the California Business and Professions Code § 17200, et seq.
California Business and Professions Code § 17500, et seq.
The named plaintiffs and the plaintiff class request the following relief:

A. Judgment declaring Talk Fusion's arbitration provision unconscionable and unenforceable;

B. Certification of the class;

C. Jury trial and judgment against the Defendants;

D. Damages in the amount of the named plaintiffs' and the class's financial loss as a result of Defendants' conduct and for injury to plaintiffs' and the class's business and property, all as a result of Defendants' violations of 18 U.S.C. § 1962(a), (c), and (d) and that such amount be tripled in accordance with 18 U.S.C. § 1964(c);

E. Temporary and permanent injunctive relief enjoining the Defendants from further unlawful, unfair, fraudulent, or deceptive acts, including but not limited to: operating and supporting the Talk Fusion Pyramid.

F. Restitution and disgorgement of monies, pursuant to the California Business and Professions Code;

G. The cost and expense of suit, including reasonable attorneys' fees, in accordance with 18 U.S.C. § 1964(c);

H. For general, compensatory, and exemplary damages in an amount yet to be ascertained; and

I. For such other damages, relief, and pre- and post-judgment interest that the Court may deem just and proper.
With the lawsuit having been only recently filed, Talk Fusion have yet to respond.
Late last year Minh Ho and Julie Campagna, former Talk Fusion affiliates who were terminated, filed a separate lawsuit alleging fraud and injustice.
In response Talk Fusion filed their own lawsuit against Ho and Campagna, with court records revealing both cases are ongoing.
Footnote: Dennis Gray's lawsuit against Talk Fusion can be accessed over at Thompson Burton (link at the bottom of Kevin Thompson's article).
Update 13th October 2017 – Prompted by a reader comment yesterday, I looked up the case docket and discovered Dennis Gray's lawsuit was dismissed on August 16th, 2016.
Gray's lawsuit was dismissed for failing to address personal jurisdiction.
Three of the four Defendants are located in the Middle District of Florida. The fourth, Mane World Promotions, Inc., is located in Oregon.

None were alleged to have any offices or permanent operations in (California), nor to have directed their activities towards (California) in any way, so as to create general or specific personal jurisdiction here.

Essentially, Talk Fusion was marketed to a nationwide audience, and heavily promoted itself online.

It relied on independent associates to recruit others, which they did, resulting in nationwide recruitment.

Gray has not attempted to show that Talk Fusion's associates were its agents for purposes of personal jurisdiction, or that Talk Fusion directed them where to recruit.

Gray's response falls far short of showing Defendants are "essentially at home" in this forum, as is now required for general jurisdiction.

The Court finds it lacks personal jurisdiction over Defendants, but the U.S. District Court for the Middle District of Florida would have personal jurisdiction over them.

Moreover, venue would be proper there.

The motions to dismiss for lack of jurisdiction are therefore GRANTED IN PART.

This action is ORDERED TRANSFERRED to the Middle District of Florida (Tampa Division).
As above, Gray's lawsuit was transferred to Florida as part of the dismissal order.