The lies of Satish Pal

Following on from the arrest and interrogation of Speak Asia mastermind Ram Sumiran Pal on Tuesday, news broke today that his accomplice Satish Pal (no relation) had also been arrested.
Following a grilling by Indian authorities, Satish Pal revealed that he 'played a major role in' the business operations of Speak Asia, working closely with Ram Sumiran Pal.
On October 11th 2011, I received an email from Satish Pal with an attached PDF. In this document Satish Pal claimed that the content in the BehindMLM article "Who is really running Speak Asia" was 'false, fake, defamatory, disreputable, baseless, scandalous and unjustified'.
Satish threatened that if the content was not removed, he would
be constrained to intimate, approach, seek redressal from all available forums including but not limited to seeking forceful restraint, stoppage of your website, cancellation of domain etc. Needless to say both civil and criminal.
Apart from making the correction that was not related to Ram Sumiran Pal or Ram Niwas Pal (brothers), I didn't remove the content.
Now, just over two years later Satish Pal has been arrested for his part in the Speak Asia scam. Let's take a look at what he sent me back in 2011 versus what he yesterday told the police interrogating him.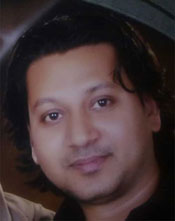 Today Satish Pal (right) readily confesses his involvement in Speak Asia and association with Ram Sumiran Pal.
Satish Pal told cops that he has worked in different companies in Delhi and had shifted to Mumbai in 2007. There, he came into contact of Pal brothers and joined their company, Seven Rings, police said.

In 2011, when the accused persons wrapped up the companies after cheating a huge amount of about 2200 crores, he also escaped from Mumbai and hid himself in Najafgarh.

"To evade police arrest, he went to Malaysia thrice. With his share in the scam money, he bought another company, Web Excel Solutions registered in Malaysia, and on the basis of the profile of this company, he succeeded in obtaining work permit in Malaysia.

He remained in constant contact with the prominent members of the company through out. In 2012, when Ram Sumiran Pal went to Malaysia to avoid his arrest, he stayed with Satish Pal for more than a month and he provided him all the logistics in Malaysia.
This is in stark contrast to what Satish sent me in 2011. Back then, while he was running from the law and trying to cover his tracks, Satish wrote
I am nowhere related, connected with Mr. Ram Sumiran Pal. Being acquainted doesn't mean relation or association.

You have made me associates with Speak Asia, involved with Speak Asia, part of Speak Asia etc.

Fact: This is one of the wildest imagination and allegation.

I have never been part of speak asia, I am at no point of time have been associates with speak asia, I have not been franchisee or even bough any membership of it.

I have also been never involved in any surveys, promotions or in any way whatsoever.

I am neither brother of Ram Sumiran Pal nor have anything to do with any of the company you have mentioned.
Oh Satish, how those lies have caught up with you today.
He then went on to deny any association with Manoj Sharma Kumar, who runs both Speak Asia and parent Ponzi cartel Seven Rings International:
I have never met, not known personally nor even worked with Mr. Manoj Kumar.
Worked in two companies owned/operated by Kumar and have not met or worked with him? Riiiiiiiiight.
In subsequent emails between myself and Satish, I questioned him as to why he was promoting Speak Asia in social networks if he had nothing to do with the company:
Hi Satish

Thanks for providing your clarifications, I've re-written the article to reflect your new information.

Two things still do not add up though and I'd like your further clarification on the matters;

1. Why were you promoting Speak Asia on palkut (please don't deny this, your account was publishing links to Speak Asia videos etc.)

2. You claim to have never worked with or been associated with Manoj Kumar, yet you worked for Seven Rings – of which Manoj Kumar is an executive of (specifically in India).

Let me know if I've missed anything in the alterations I've made to the article,

-Oz
Satish replied,
You have derogatorily asking me questions. Am I responsible for something being done of social networking site, thousand od people visit, post comment, liks (sic).

Site like facebook are hacked, obscene message, link published on daily basis. Is this ground of inference.

If someone is associated or not in explicit of hidden manner can be know only when things are out in open. Is it necessary that we are aware of everything happening around us.

I still maintain that I have neither knowingly worked with any manoj kumar or associated with him. I am also not any friend or associate of any of the other pals you are mentioning.
Yes you read that right, caught out joining a Speak Asia group started by Ram Sumiran Pal and uploading Speak Asia marketing videos on the Palkut social network, Satish Pal pulled out the old "I got hacked" routine.
Things then deteriorated as I pushed Satish to explain inconsistencies with what he'd sent me and what I'd found via research. Satish eventually went on to threaten the filing of a criminal complaint.
I have conveyed and conveying again. I am no way related to, friend of, associate of or otherwise with Ram Sumiran Pal, Ram Niwas Pal or Manoj Kumar or Speak Asia or____________________ (sic).

Therefore, I am reiterating following action:

1. Remove all defamatory, incorrect, malicious, fraudulent, factually incorrect matters from your website and

2. Issue fair statement.

I am planning to take legal action against you and your website. In case you fail to do so, I shall be compelled to file criminal complaint both with nearby police station and cyber cell.

Since you are not providing your contact details and publishing defamatory, incorrect, malicious, fraudulent, factually incorrect matters about me, you are helping me take severest action against you and the police authorities.

I am also contemplating action against your website so that your domain can be closed through WIPO and concerned server in case you fail to take corrective measures.

Further, you are also liable for necessary damages for harming my reputation.

Awaiting your prompt response and necessary action.

Satish Pal
I replied back,
Satish,

I'm not changing anything without a satisfactory explaination regarding your inclusion in a Speak Asia group set up by Ram Sumiran Pal on the social networking site Palkut, along with the publication of pro-Speak Asia material from your Palkut account.

Your tracked online activity does not match your statements.

-Oz
That was the last I ever heard from Satish, with the above email going unanswered (sent 2nd January 2012).
No doubt following his arrest Satish will be seeing plenty of facetime with police, during which I wholly encourage him to voice his protests and lodge that "criminal complaint".
Let us know how it works out chief…