Speak Asia panelists in denial over Pal arrest

Despite the Speak Asia scam fleecing hundreds of millions of dollars from over a million email address accounts, to date only a dozen or so First Information Report complaints have been filed against the company.
One of the main reasons for this has been the constant quelling of the scheme's participants, under the promise of refunds initiated by the company, by Speak Asia's top recruiters and investors.
It's no secret that should Indian authorities decide to drop the case against the Ponzi scheme (as laughable as this sounds it's what many of them believe will happen through the courts), that the money these top recruiter investors stand to gain is substantial.
Since the arrest of Speak Asia ringleader Ram Sumiran Pal, it has been revealed that in addition to using stolen investor money on real estate, Pal also spent RS 2.5 crore ($402,000 USD) on a comedy film and "over RS 50 crore" ($8 million USD) on the infamous investor recruitment conference Speak Asia held in 2010.
When they launched Speak Asia in 2010, they had a festival in Goa where the who's who of Indian film industry-including a former Miss India as well as top singers and actors-performed.

They even booked an entire train from Delhi to Goa to ferry investors. Fifty hotels were booked to lodge investors and Pal and Company rented out a sprawling resort by the beach for themselves.

An open invitation was floated on the portal of the company. Thousands attended and all expenses were borne by Pal.
Investigators with the Crime Investigation Department (CID) are now preparing to transfer Pal to the city of Hyderabad for further questioning, but in the meantime Pal's interrogation in Delhi has already led to a second arrest.
Wednesday saw the apprehension of one of Pal's right hand men, Satish Pal (no relation). As with Ram Sumiran Pal, once captured Satish was quick to divulge the secrets behind the Speak Asia and the lengths he went to to avoid arrest.
Satish Pal told cops that he has worked in different companies in Delhi and had shifted to Mumbai in 2007. There, he came into contact of Pal brothers and joined their company, Seven Rings, police said.

To evade police arrest, he went to Malaysia thrice. With his share in the scam money, he bought another company, Web Excel Solutions registered in Malaysia, and on the basis of the profile of this company, he succeeded in obtaining work permit in Malaysia.

His family also shifted to Malaysia the same year and he started a restaurant in Kuala Lumpur, rented a flat and created a safe hide out for his associates, who were at large," said DCP (crime), Kumar Gyanesh.

He remained in constant contact with the prominent members of the company through out.

In 2012, when Ram Sumiran Pal went to Malaysia to avoid his arrest, he stayed with Satish Pal for more than a month and he provided him all the logistics in Malaysia.

In 2013, he came to know that Mumbai Police might have taken up the matter with Interpol, therefore, to avoid his arrest in a foreign country; he with his family returned to India.

He reached Kathmandu by air and then reached Delhi by road because of apprehension that Mumbai Police might have issued his "Look out Notice" at all airports in India.

Even after returning to Delhi, he worked as an advisor of Ram Sumiran Pal and helped him invest his money.
Investigators will no doubt now be acting on any additional information provided by Satish, with further interrogation of Ram Sumiran Pal expected to reveal further information on 'his international connections and the network of money launderers' he worked with.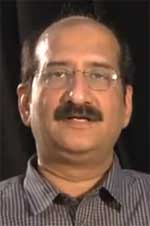 Meanwhile Ram Sumiran Pal's brother, Ram Niwas Pal, and Speak Asia CEO Manoj Sharma Kumar (right) remain at large. Kumar is a primary target and has been for some time, that said I'm doubtful he's still in India, but given that the Pal's have been in and out over the past two years, it's entirely possible Kumar has risked the journey himself.
Right now though he's probably safely locked up in his Dubai fortress, where's he's self-exiled himself for India ever since Speak Asia was shut down. Kumar did initially state he would return to India to help panelists, but reneged on this promise in favour of publishing carefully staged YouTube videos from undisclosed locations.
Despite Satish and Ram Sumiran Pal's respective interrogations confirming the operation of a global Ponzi scheme cartel under the banner of Seven Rings International, of which Speak Asia appears to be the largest cog, the picture painted by the company's largest investors is still that of conspiracy and hopes that they will eventually see the ROIs promised to them by the company.
An arrest of a franchisee Mr Ram Sumiran Pal, should not panic us unneccesarily (sic)

This is not first franchisee to be arrested.Many panelists know that Mr Pal is old franchisee of SAOL. Yet some newspaper is saying he is Promoter, some saying he is CEO and some saying Owner. How can they not know who they have arrested?

This seems carefully planned media frenzy and we can guess who has orchestrated it.

It is no surprise that it comes so close to date of filing CS. Either they want to go out with bang or they want to delay. Whatever is the intention will be revealed soon through court process.

We are spectators of this big drama , let us see what happens next .

In media they announce with so much fanfare about Seven Rings international .What crime SRI has done and what s the case against it? It is Italian company, working in many countries.

If it is fraud how it is working in other countries. What crime they did in India? SAOL has said in its affidavit in SC also what relation it has with SRI, it is not some secret that company is hiding it, and press is revealing something great and new.

SAOL has said it has no relation with Admatrix. If a Franchisee has been involved with this company, what relations it has to SAOL?

Many Franchisees are today doing other business , if anyone is connected to some fraud company can we say SAOL has done it? Why EOW has not said in court that SAOL is connected to Admatrix , why this is said in press only?

Companies money from Singapore can go anywhere as long as it is legally sent through bank .If Singapore Govt is not finding it illegal how EOW can say anything about it.

In press just make a big khichdi and say Seven rings, Admatrix, Brazil, Italy, Singapore etc and try to confuse the public, what can be proved on the paper?

One foreign blog called BehindMLM had once said some stories about Mr Collibri, Brazil. Italy etc and since then EOW has sticking to that story.

Is SAOL name anywhere in Mr Collibri. IF Seven Rings is there why cant they be, they are international company, why they cant work in Brazil, or any other country also.

For the kind information of these blogs I saw on their article only,that Mr Collibri has started in Brazil, so what happened to the halla of fraud fraud they were shouting?

The panelists want the exit payment and they want company to restart its work. This is not an illegal demand, we have rights to demand this from our system.

Let us see how the matter unfolds, we will follow all the court matters as we have a right to follow it. Till then read all the half lies of press and enjoy it. We know how much truthful reporting they do.
The above was posted in the Facebook group "Speak Asia Powers" and, whether it's due to genuine ignorance, deliberate efforts to continue to spread misinformation, desperate attempts to keep the "we are being victimized" mentality afloat or all three and more, shows a clear disconnect amongst the company's top recruiters and the reality they now face.
Speak Asia Powers was once a publicly viewable Facebook group, however the ringleaders took it private as scrutiny over their postings and misinformation spreading mounted and began to hamper their sheep-herding efforts.
Seven Rings International is an international cartel of Ponzi and pyramid schemes, as has been proven before with their connections to Speak Asia, AdMatrix and Mister Colibri.
Ram Sumiran Pal's recent confessions only confirmed what was already known, that he and his buddies in Seven Rings targeted these international markets, scamming investors and affiliates with their various recruitment and/or Ponzi investment schemes.
One can pretend that there's no connection to Speak Asia despite Manoj Sharma Kumar being tied to Mister Colibri, Ram Sumiran Pal being tied to AdMatrix, both being tied to Speak Asia and all three companies and persons involved being tied to Seven Rings International, but the facts stand as is.
You can either cling to the belief that you're going to get your promised pie in the sky ROIs from a scam that is all but dismantled and whose operators have already spent the money on their various business interests, or you can face the reality before you.
It's not an easy decision to admit you've been lied to (or were the one of the ones doing the lying) for two and a half years, but it is what it is. Dig yourselves deeper into the pit of bullshit you've dug or pull yourselves out.
Either way, Speak Asia isn't coming back and, short of what the police are able to recover and eventually distribute out, neither is your money.