Harendar Kaur's son arrested in India (Speak Asia)

Balwinder Singh, son of Speak Asia's Harendar Kaur, was arrested by Indian authorities at Chennai International Airport earlier this week.
Harendar Kaur headed up Harendar Ventures, one of the key shell companies tied to the operation of the Speak Asia Ponzi scheme.
Her son, Balwinder, headed up MMWG Pvt. Ltd, a Singapore based shell company also tied to Speak Asia.
Indian authorities have been pursuing Speak Asia's executives since 2011.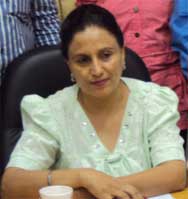 That same year Kaur (right) siphoned over a hundred million USD following botched regulatory proceedings.
Authorities estimate Speak Asia duped 2.4 million investors out of approximately $348 million dollars.
Kaur remains at large and is a fugitive who at once stage was wanted by Interpol.
Cops suspect that the arrested accused Singh was instrumental in transferring money in Singapore by using bogus invoices, CA certificates and other forged documents.

Hence, cops will be checking the bank accounts Singh was operating.

Investigators suspect that Singh was in contact with the wanted accused Manoj Sharma, Harender Kaur and Mansur Patel.
Manoj Sharma is reported to have "died" of cancer back in 2014. His wife Rema Sharma was arrested by authorities in 2016.
Seven years on Indian authorities are still hunting these scammers down.
Talk about the mother of all investigations…