Speak Asia's Harender Kaur wanted by Interpol

This one totally flew under the radar, but it has come to my attention that Speak Asia's Harender Kaur is wanted by Interpol.
Singapore media picked up on the listing earlier this year around April, which suggests Kaur was added to Interpol's most wanted sometime earlier between then and January.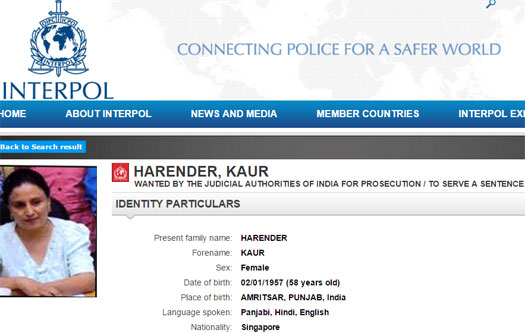 The undated red notice listing cites Harender Kaur as being a Singapore national.
Kaur is
wanted by the judicial authorities of India for prosecution / to serve a sentence (for) cheating and dishonestly inducing delivery of property, criminal conspiracy and Prize chits and money circulation (banning) Act, 1978.
Speak Asia was an Indian Ponzi scheme launched in 2010. The scheme fleeced hundreds of millions of dollars from Indian affiliates before authorities shut it down in 2011.
Through Haren Ventures, Harender Kaur was widely credited with a founding stake in the scam.
Perhaps the crowning moment of her involvement in the scheme was the transfer of over one hundred million USD out of India, following botched regulatory proceedings.
That was July 2011. The fund Kaur siphoned out of India were never recovered, and she was never seen or heard from again.
To date Kaur remains in hiding, with the outcome of her appearance on Interpol's Most Wanted list yet to play out.
Kaur's partner in crime, Manoj Kumar, regularly commuted between Dubai, India and Singapore.
Kumar was the CEO of Speak Asia and purportedly died of cancer in 2014, but the claim was never independently verified.
Kumar's alleged cancer was used as a ploy in 2013 to get his wife's passport back, after it was seized by Indian authorities.
For all we know Kumar and Kaur are sipping Mai Tais on a beach somewhere, still living off the hundreds of millions of dollars they made off with.
A 5000 page chargesheet was filed in India back in late 2013. However with Kaur still on the run and millions unaccounted for, the case is still very much a (slow) work in progress.
The latest saw arrests made earlier this year, around the same time Kaur's Interpol notice was observed.
As of February 2015, Indian authorities are still tracing the money laundering channels Speak Asia used to disperse invested funds.