Speak Asia publish misleading official company Q&A

With panelists going unpaid and regulators closing in, no doubt a lot of Speak Asia panelists have started putting some very uncomfortable questions towards the company.
With no less than four government agencies also investigating the company, Speak Asia has also been under immense pressure to come up with some tangible answers about their business model.
Sometime over the last twenty four hours Speak Asia has decided to publish a set of frequently asked questions (FAQ), designed to put to rest many of the rumours, allegations and accusations currently surrounding it.
Unfortunately most of the forty three point FAQ Speak Asia have published is nonsense and either doesn't make sense or  hold up to a bar of scrutiny.
Of the forty three Q&A published by Speak Asia, here's a rundown and analysis of some of the dubious, interesting and eye opening claims;
Q: What is Speak Asia?

A: Speakasiaonline Pte. Ltd, Singapore (SAOL) is a unique web 2.0 company that empowers 19 lakh consumers to create and use their collective bargaining power to get unprecedented price advantages in goods and services procured through our portals.
In the opening point in their FAQ, Speak Asia seem to be making a massive departure from their 'do surveys, get paid' mantra. If one were to take the above answer word for word, you'd easily be forgiven for not realising there's money to be made in recruiting others, or the fact that Speak Asia has anything to do with surveys and panelists at all.
What we seem to be witnessing here is a paradigm shift from a pyramid scheme recruitment model to a 'do surveys and buy stuff through our portals' model.
No doubt this isn't what most of the 2 million strong members originally signed up for.
Q: What is its business?

A: The company is currently in two domains:

The first domain is "precision marketing". In this the company engages in filtered/narrow casting of marketing and sales related services. These services to name a few are providing survey panels, Advertising, lead generating and also sales.

The second domain is to provide knowledge, information and training to its panelist, for their overall development in order to make them empowered consumers.

Speak Asia is creating a Panelist community of empowered consumers which earns rewards points by participating in companies activities (e.g. surveys filling, product referrals / sales, advertising based surveys, self development training programs ) on the website. The panelist can use these reward points for purchase of products and services from the website.
The first interesting point about this answer is the introduction of lead generation, advertising and sales. As far as I know, previously these business models had not been a part of what Speak Asia had on offer.
Most notably all three rely on maximising Speak Asia's earning potential from its panelists (whilst still paying them the same flat rate fee, or reward points as now seems to be the case).
Why just get your panelists to fill out surveys when you can 'precision market' to them as well.
The second is the mention of purchasing 'products and services from the website', again a departure from direct financial commissions and implemented no doubt due to the freezing of Speak Asia's bank accounts in Singapore.
Q: Is speakasiaonline legal in India?

A: The company and its business are legal
With four government regulators currently investigating Speak Asia online it's quite amusing that Speak Asia can summarise the legality of the company in one blanket statement.
By declaring themselves legal 'because they say so', Speak Asia very well run the risk of misleading the public and its members. Especially whilst their are investigations into Speak Asia's business operations underway.
Q: Who are the promoters of Speakasia Online Pte Ltd.?

A: Speak Asia is owned by a holding company – Podium Ring International Ltd , registered in British Virgin Islands. SAOL's online Panelists are interacting daily with SAOL through its management, staff and advisers. Podium Ring is not in the picture for those interactions.

The global CEO is Ms. Harendar Kaur supported by Mr. Manoj Kumar CEO-India and the Speakasia team.
It's interesting to note the terminology used in this point as Speak Asia stop short of answering who their owners are. That said, it's good to see clarification of Podium Ring's involvement although by revealing this name, Speak Asia still give the impression that their ultimately led by a faceless corporation.
The clarification of multiple CEO positions is also welcome, although I can't help but ask why you need a global CEO in a company that only effectively operates in one country.
Q: According to RBI rules & regulations – any foreign company, operating out of India, needs to have a permanent establishment/address in India.

As promised earlier by SpeakAsia, there should have been a prominent company address by August 2010. But considering the failure to do so, should people assume that money is remitted, is it money-laundering or any other illegal activity.

A: This is SAOL's 1st year. As a New Media Startup, Speakasia does not have a company registered in India as yet, thus, currently there are no promoters of Speakasia in India.
What, no promoters in India you say? Cmon guys somebody is promoting Speak Asia in India, those print and television ad campaigns you've spent millions on aren't running themselves.
SAOL has invested $Millions in IT and systems infrastructure globally and will be making huge investments in India in the years ahead.
Why would Speak Asia be needing to invest millions into India? All they really need is an office and unless their talking about their legal fund and/or counting the money they spend on advertising – what is there to invest in?
SAOL remits money to Lakhs of panelists for cashing in part of the reward points EARNED by them. The Panelists vary from students, housewives to SME entrepreneurs.

Our activity is very similar to providing a portal for Contracting Programmers in the software industry, who do job work across the world and are remitted $000 into their bank accounts.
No it isn't. How many programmers are financially rewarded for recruiting others to the company's contracting them?
Q: 11th of May, as claimed by Mr. Vivek Gautam, SpeakAsia has clients like ICICI, Bata, Airtel etc –

a) on what basis?

b) Why did these companies say that they have no relations with SpeakAsia?

c) Did SpeakAsia conduct surveys for these companies without their authorization?

A: We had done surveys on the above mentioned companies and not for them. So technically they are not our clients.

As part of startup operations, the surveys conducted were for IT system, training of panelists and research work only. No authorization is required to conduct such type of market research.
So… what you're saying is that you conducted the unsolicited surveys for the sole purposes of giving your panelists something to do?
If any clients had commissioned Speak Asia to conduct surveys for them, how come they weren't mentioned?
Really, do you need any more clearer clarification that Speak Asia are just commissioning their surveys themselves to mask the company surviving on subscription fees?
Q: What is the revenue made by SpeakAsia from panelists in India? How much have panelists earned from SpeakAsia?

A: Speakasia is not earning any revenue from the panelists in India.

On the contrary, SAOL provides reward points to India based panelists, for filling up correct surveys and for participating in other activities of SAOL.
Uh… panelists have to pay Speak Asia to join them, so where does this money go?
Fair enough you're rewarding your members with reward points… but if Speak Asia aren't making money off people joining the company, where on Earth are panelists subscription fees going?!
Q: Who are the clients for whom Speakasia Online conduct surveys? Can we have the list of those clients?

A: Panel Business operates on the lines of multiple exchanges where panel providers are pooled in and the clients can take their pick of the panels based on their profile requirement directly or through brokers.

This is the company's confidential data, which unfair competitors would dearly love to know; hence the names have not been publicly disclosed.
This claim actually sounds reasonable, and it would be save for the fact that previously Speak Asia released the names of some of their alleged clients.
Having been proven to be liars when said companies denied any involvement, Speak Asia seems to now hide behind the 'we don't want our competitors to know' argument.
Valid if you'd never released company names, but complete rubbish if you've previously already done so. If Speak Asia were so concerned about competitive advantage why would they have released the earlier company names?
Q: What is the relationship between franchisee and SAOL? Are they the legally authorised representatives of SAOL in India?

A: Franchisees/Distributors have a distribution agreement with Global distributor Haren Ventures Pte. Ltd, Singapore (HVP) for selling subscription of the e-zine Surveys Today. SAOL is providing marketing assistance services from Singapore to HVP with the use of its SAOL portal, for which it gets paid by HVP.
Haren Ventures you say? Why… that sounds remarkably similar to Speak Asia global CEO Harendar Kaur's name.
Co-incidence?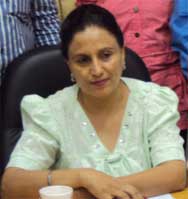 Hardly. Global CEO of Speak Asia Harendar Kaur (photo right) is also the owner of Haren Ventures.
Just to clarify, a business owned by the global CEO of Speak Asia is commissioned by a company owned by the same person… Harendar Kaur. This company then pays Speak Asia for their services.
As if that wasn't dodgy enough, the guys over at the Rimweb forums uncovered that Haren Ventures has changed it's name three times since 2006 and it's previous incarnation was an auto parts supplier.
Conflict of interest aside in being the global CEO of the company your own company is commissioning to distribute its primary E-Zine product, the entire thing sounds like a cover front to prop a business that makes most of its money on new recruits.
Q: What is a relationship between Haren Technologies and Speakasia Online? Why is SAOL's name changed?

A: Speak Asia Online was earlier named as Haren Technology Pte. Ltd. The name Speakasia better reflects the long-term BRAND which is being created.
Ahh, so now we're starting to get a better picture of things. Harendar Kaur owns Haren Ventures and given that she no doubt owned Haren Technology, which is now Speak Asia – she most certainly owns or is part owner of Speak Asia through their holders, Podium Ring International.
Harendar Kaur seems to have her finger in every slice of the Speak Asia pie. Why doesn't she come out and claim ownership (in full or part) of the company?
Q: Subscription money paid by the panelist is deposited into whose bank accounts? Has Speakasia online obtained any permission from SEBI to run a collective investment scheme, which promise assured returns?

A: Speak Asia does not run a collective investment scheme. Our panelists may choose to participate in Training, they may promote sales of the "Surveys Today" ezine, work on the website, buy & refer products and services.

This does not fall into the category of collective investment scheme. Thus no such permission is required from SEBI.
Fair enough, so Speak Asia operate around the loophole that strictly speaking they aren't an investment scheme… despite the e-zine being a compulsory investment in order to get paid for the company, but how does this remotely answer where the subscription money goes as outlined in the question?
Q: SpeakAsias business model as reported in the media, seems very much like any of the approx. 4,200 MLM companies that exist in India; then why does SpeakAsia refrain from the term 'MLM'?

A: It's a complete misconception that SAOL's business model is like any other MLM company.

Only one part of our business activity, allows people to earn referral RPs and referring is not a compulsory activity for all panelists (unlike an MLM company).
What Speak Asia fail to mention however is that it's this referral RP system that is at the cornerstone of the majority of their panelists earning power with the company.
Filling out surveys and other activities within Speak Asia earns peanuts, it's in the recruitment of other panelists that the real money is made.
Trying to dismiss such a major component of your business model is misleading.
Conclusion
As you can see, the Q&A published by Speak Asia is full of misleading statements, broad generalisations and sweeping statements all designed to convey the legitimacy of Speak Asia and its operations.
That said, the document does provide some insight into the running of the company and most notably the extent of the involvement of Harendar Kaur in her various levels.
Ultimately whether this serves as a conflict of interest is obviously up to the various authorities investigating but on the surface it does appear that something fishy is going on. Possibly the reason this has all been kept under wraps for so long.
In a nutshell, it appears the entire Speak Asia operation is run and managed by Harender Kaur. She owns the company feeding Speak Asia its e-Zine's and also owns or has part ownership in Speak itself via Podium Ring International.
Meanwhile whilst she double dips on e-Zine subscription fees raking in the dollars panelists are paid out via the membership fees to Speak Asia
paid by new members. New members which are constantly joining due to the requirements of existing panelists to recruit should they wish to make any decent money in Speak Asia (which although not required, is obviously how the Speak Asia is being marketed by its existing panelists).
Looking forward, despite promising an Indian presence since August 2010, it'll be interesting to see whether or not Speak Asia deliver on their promise for an Indian office and expansion into Malaysia, Singapore, the Philippines and Indonesia.
Footnote: You can read the full 43 point Q&A document as published by Speak Asia here.