Silver Star Live's David Mayer sued by CFTC for fraud

Silver Star Live was a forex themed MLM opportunity we came across in 2019.
Based on its business model we concluded that, at a minimum, Silver Star Live was engaged in securities fraud.
We first learned of CFTC action against Silver Star Live in late 2019. Two of the company's co-owners, Candace Ross-Mahmoud and Hassan Mahmoud, settled fraud charges with the CFTC for $75,000.

Silver Star Live's third owner, David "Quicksilver" Mayer, appears to want to defend similar allegations against him.
This prompted the CFTC to file charges against Mayer on June 11th.
As per the CFTC's complaint, David Wayne Mayer resides in Georgia.
The complaint alleges that from at least July 2018 to March 2019, the defendants fraudulently solicited customers to open discretionary trading accounts and offered to trade those accounts through a fully automated retail foreign currency (forex) trading software system that Mayer created.

Mayer used the pseudonym "Quicksilver" to act as an unregistered associated person and to solicit clients through videos posted online, on social media, and at in-person marketing events.

The solicitations contained material misrepresentations and omissions regarding Mayer's qualifications and trading experience.
Most of Silver Star Live's marketing revolved around Mayer's purported trading history.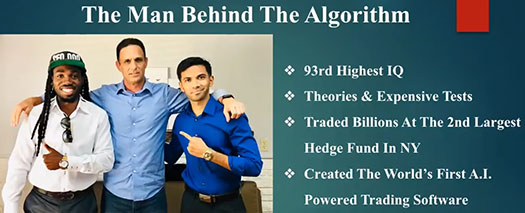 To give you an idea of the extent Silver Star Live's trading history was fabricated, the CFTC investigation found
Mayer never opened a live trading account using the forex trading system.
As part of efforts to market Silver Star Live, Mayer claimed he
had twenty years of trading experience;
had traded for a Wall Street hedge fund worth hundreds of millions dollars; and
tripled said hedge fund account every month.
As part of the CFTC's Silver Star Live investigation, Mayer testified before the CFTC last September.
During his testimony, Mayer admitted that he had no actual trading experience and his statement that he had "been trading for a little over 20 years now" was false.

Mayer also admitted in his sworn testimony that his previous statements regarding his experience working at the hedge fund were false.

More specifically, Mayer admitted that he never traded any accounts at the hedge fund, including any accounts belonging to a municipal pension fund worth "hundreds of millions of dollars," and any representations he made about his performance there pertained to so-called "demo accounts" that involved no actual trading.

Accordingly, Mayer's representation that as a result of his efforts, "we're tripling the account every month," was also false.
In a great example of why social media marketing is not a substitute for required regulatory filings, the CFTC noted a number of Silver Star Live marketing videos.
During the Relevant Period, Mayer also participated in numerous online videos and in-person presentations, in which he purported to show how the Forex Trading System worked.

In these presentations, Mayer purported to display the results of trading activity from his "live account," which evidenced large and immediate returns on his investment.

For example, in a video posted publicly in multiple locations including Vimeo, Mayer displayed his computer screen, and stated, "let me shoot you over a shot of my live account . . . this has been running since yesterday."

Mayer noted that this live account started with $10,000 and generated a profit of $1,568.69 in "one day."

Mayer repeated that the trades on the screen were real: "this is my live account right now."

In another marketing video, Mayer purported to display the results of a $5,000 investment over one month, which similarly demonstrated a profit over a short time period.

Mayer stated that when using the Forex Trading System, "you always have a net gain on your account, . . . and thus far, since it has been live, it has not had any losses."

Similarly, Mayer stated in a separate video, "for sixteen years in a row, every month I've tripled my account."

In multiple marketing presentations, Mayer alleged that such high returns in these live accounts were possible because his "one-of-a-kind" software used "artificial intelligence" that created "smart trades" of foreign currency pairs.
Again as part of his testimony before the CFTC;
Mayer admitted in testimony before the CFTC that he never used the Forex Trading System to trade a live account, using only so-called demo accounts to simulate trading activity.

Mayer also admitted in testimony that representations he made regarding the performance of the Forex Trading System were based on the trading performance he observed in these demo accounts.
The CFTC alleges Mayer's fraudulent activity violated the Commodity Exchange Act.
The CFTC is seeking confirmation Mayer violated the Act via an order, a permanent trading injunction, disgorgement of ill-gotten gains, a civil penalty and legal costs.
The CFTC backdates Silver Star Live's fraud to July 2018. The regulator alleges Mayer and his co-conspirators scammed "approximately 10,000 clients" out of "at least $3 million".
Stay tuned for updates as we continue to track the case.
Update 12th September 2020 – Neither Silver Star Live or David Meyer have responded to the CFTC's case, prompting the regulator to file a motion requesting an entry of default.
The court clerk recorded an enter of default against Silver Star Live and Meyer on August 31st.
The entry paves the way for the CFTC to file for default judgment at a later date.
Update 27th November 2020 – The CFTC filed for default judgment against David Mayer, Silver Star FX and Silver Star Live Software on November 23rd.
A decision on the motion remains pending.
Update 9th August 2021 – The CFTC has been awarded a $15.6 million dollar judgment against David Mayer and Silver Star Live.