Ronae Jull (Hope Hill) spent 21 mths in prison for Ponzi fraud
Ronae Valyn Jull, posing as "Hope Hill", first appeared on BehindMLM's radar as HyperFund's Compliance Officer.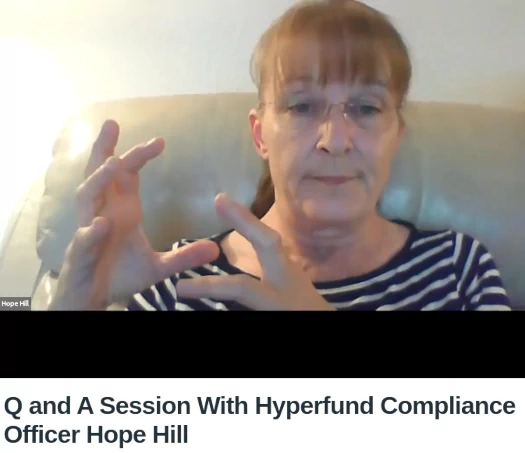 This was amusing at the time because, well HyperFund was a Ponzi scheme.
Whether she came up with the pseudo-compliance I can't say, but Jull was responsible for pushing the narrative that renaming investments to "memberships" somehow legitimized a Ponzi scheme.
Jull went so far as to punish (or claimed to), HyperFund affiliates who didn't toe the line.
HyperFund inevitably collapsed in December 2021. It was rebooted as Hyperverse but by that point Jull had disappeared.
A reader claimed Jull officially left Hyperverse on May 1st. Earlier today I came across Jull promoting DF Finance, another MLM crypto Ponzi scheme.
That prompted me to take another look into Jull, during which I learned HyperFund wasn't her first Ponzi rodeo. Far from it.
In 1999 Ronae Jull was indicted and arrested for running her own Ponzi scheme. She would eventually plead guilty and be sentenced to 30 months in prison.
The bad news is Jull was indicted in October 1998. While I can see the case docket in full, early filings haven't been scanned in.
Nonetheless, from an archived appeal order on CaseText, we learn the gist of what Jull was indicted for;
Jull was convicted of one count of wire fraud committed to execute or attempt to execute a scheme to defraud investors, according to the plea agreement. The scheme was one of five elements to the offense of wire fraud.

Jull induced investors to send her a minimum of $5000 by offering a return of fifty times their investment in ninety days, and she misrepresented that the funds would be forwarded to an attorney group in California.

She also misrepresented that she had a masters degree in psychology.

The government submitted to the district court a list of investors that Jull had given to Michael Wagen, one of the investors in her investment program, to help her fend off the other investors who were "clamoring for their money."
A Ponzi scheme. Ronae Jull was running a 300% Ponzi scheme and got caught when it inevitably collapsed.
From the case docket, here's how Jull's case played out;
October 20th, 1998 – Ronae Jull indicted on six counts of fraud, in Spokane, Washington.
October 22nd, 1998 – October arrest warrant issued against Jull on October 22nd, 1998.
November 10th, 1998 – Jull arrested.
December 4th, 1998 – Jull's arraignment held, she pleads not guilty.
December 14th, 1998 – Jull released on $100,000 property bond with electronic monitoring.
March 17th, 1999 – Superseding indictment filed against Jull, details twenty counts of fraud.
March 30th, 1999 – Jull appears at second arraignment, pleads not guilty.
October 19th, 1999 – Second superseding indictment filed against Jull, details thirty-six counts of fraud.
October 26th, 1999 – Jull appears at third arraignment, pleads not guilty.
February 7th, 2000 – Jull requests "appointment of a psychologist".
February 14th, 2000 – Court approves Jull's requests, mental evaluation of Jull is ordered.
March 17th, 2000 – DOJ requests another mental evaluation of Jull be carried out, court approves.
April 5th, 2000 – Jurors selected ahead of scheduled April 10th trial.
April 10th, 2000 – Trial day. Jull files a Motion to Dismiss and reaches a plea agreement ahead of scheduled trial.
Court denies motion to dismiss as moot, accepts Jull's guilty plea on Count 17. Jury trial vacated.
August 18th, 2000 – Jull files motion to withdraw guilty plea.
September 11th, 2000 – Jull's motion to withdraw guilty plea appears to have been withdrawn or denied.
Jull is ordered to pay restitution to her victims in the amount of $1,222,333.51.
September 22nd, 2000 – Jull files appeal against her restitution order.
November 27th, 2000 – Jull sentenced to 30 months in prison with 3 years of supervised release. Requested fine waived. Ordered restitution amount is increased to $1,289,333.51.
December 5th, 2000 – Jull files second appeal against sentencing, judgment against her and ordered restitution.
January 12th, 2001 – Ronae Jull incarcerated, begins 30 month sentence.
December 19th, 2001 – Both of Jull's appeals are denied.
October 25, 2002 – Jull released early on probation (21 months served).
Ten years after her release, the DOJ made an ex-parte filing pertaining to continued garnishment of Jull's wages to satisfy her judgment. That February 9th, 2012 order hasn't been scanned.
At the time Jull was working in nursing homes. Subsequent filings detailing garnishment of her wages.
A Writ of Continuing Garnishment filed in November 2014 reveals that, at the time of filing and of the $1,289,433.51 Jull was ordered to pay, "a balance of $1,269,994.53 remains outstanding."
Jull's wages continued to be garnished. As of June 2021 Jull was working in a medical center in Idaho.
A June 9th, 2021 write of continuing garnishment reveals that, at the time of time filing and of the $1.2 million Jull was ordered to pay, "a balance of $1,082,574.19 remains outstanding".
If I'm reading a June 30th, 2021 filing correctly, Jull ceased working at the Idaho medical center on March 27th, 2021.
Some later in 2021 Jull joined HyperFund as an investor. She was appointed executive Compliance Officer sometime in the second half of 2021.
The last filing on Jull's case was docketed on March 17th, 2022. It is a DOJ Motion to Modify Payee. Presumably due to personal information contained in the filing, the document is not publicly viewable.
If I didn't know any better, Ronae Jull is satisfying a $1 million plus Ponzi fraud restitution judgment, by scamming people in MLM crypto Ponzis almost 22 years later.
Either that or Jull's just pocketing her ill-gotten gains, I can't say for sure.
The kicker for me is Jull stumping as a Compliance Officer, for a company engaged in the very thing she was previously convicted for.
In her role as HyperFund's Compliance Officer, Jull publicly stated;
Investments are highly regulated. In order to offer an investment of any kind, or financial product of any kind, you have to meet these rules and be licensed to offer a financial product.

Because HyperFund is a membership, not an investment product, we don't qualify for oversight of the SEC.
Jull also implied HyperFund had received approval from FTC attorneys and other "regulatory agencies";
When you look at the Service Agreement, that document … was drafted by the founders and their legal counsel, along with sitting down with a couple of attorneys from the Federal Trade Commission in the US, and legal counsel for regulatory agencies in two other jurisdictions.

They sat down and they drafted this document, that would make the HyperFund rewards plan absolutely legal in every jurisdiction in the world.
You can't make this shit up.