Quaestor Solutions pulls the plug on boxing

We last visited Quaestor World earlier this year. Back then owner Svend Rasmussen was desparetly trying to set up a money laundering channel through boxing.
Now, nine months later, Rasmussen is pulling the plug on the whole QBoxing operation.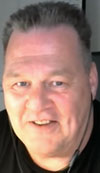 After Rasmussen's relationship with Peder Forsman broke down, Rasmussen (right) stepped up to front QProBoxing.
He was set to pass the public spotlight over to Thomas Mollenberg, however Mollenberg pulled out.
As per information received via email;
They had big plans to take over the Scandinavian pro boxing scene and hired a lot of employees and fighters.

Now all fighters have been released, and they have produced their last boxing event. After only two events.

Q Pro Boxing had 11 fighters under contract and had its own streaming platform, Q Pro TV, where they tried to generate PPV revenue money from these boxing events.

Some of the streaming profits should have been re-invested into the Quaestor coin project, or so they told investors in web conferences.

Maybe as a tactic to maintain investors and lure more victims in. But after two events it is all over.
A December 10th press-release published on the QProBoxing confirms the shutdown.
Promoter Svend Rasmussen has decided to close QProBoxing and thereby release all boxers from their contract.

This is due to months of harassment of QProBoxing.
Turns out "harassment", at least according to Rasmussen, is Danish citizens contacting authorities about Rasmussen and his Quaestor Solutions shitcoin scam.
Since we held Quaestor Fight Night in Gilleleje we have experienced e-mails being sent to city councils and businesses, which we have been in contact with regarding new events, Svend Rasmussen says.

The content of these e-mails has been accusations that are not true. Furthermore, we have indications that the information of these mails have been given from an internal source.

While the harassment has been reported to the police, the promoter team has decided to put an end to the boxing stable.
Hopefully if the police do investigation they might uncover Rasmussen's fraudulent business, operating right under their noses.
Personally I think it's far more likely Rasmussen has spent all he wants to spend, and/or what he's scammed out of Quaestor Solutions' victims is running low.
Our email source suspects the same.
Svend Rasmussen claims that they have been threatened and harassed in mails and found it impossible to continue.

Other people think, that this is just an excuse, because they are running out of money.

It has been rumored, that Q Pro Boxing have spent way too much and generated way too little from the boxing activities (much less than they expected) and simply stopped paying certain creditors.

It will be interesting to see, what will happen to Quaestor Solutions now. Perhaps this is a sign, that there is not much left to launder from the invested Quaestor Solutions funds. So perhaps the whole scam project will collapse very soon.
BehindMLM documented Quaestor Solutions showing signs of an initial collapse back in February.
Svend Rasmussen demanded affiliates recruit new investors, under threat of losing access to their funds.
Alexa rankings for Quaestor Solutions' website show a sharp drop off in activity from mid June.
For an MLM shitcoin scheme, an Alexa ranking of 2.4 million is as good as dead.
Again, this is all taking place right under the nose of Danish authorities. Whether they do anything about it remains to be seen.