Freedom Fighters Network Review: Failed EN feeder?
Freedom Fighters Network launched in mid July. A contact address for an entity called "Quick To Profit Inc." in the US state of Colorado is provided on the company website.
Although no formal management structure is provided on the Freedom Fighters Network, a marketing video suggests the company is owned by Jordan Schultz & Angela Moore.
The Freedom Fighters Network website domain ("thefreedomdfightersnetwork.com) is registered to Moore using a PO Box address in the US state of Florida.
Schultz bills himself as an "MLM success coach", and appears to have gotten involved in network marketing around 2009.
A YouTube account in Schultz's name reveals marketing videos for both TVC Matrix and Numis Network: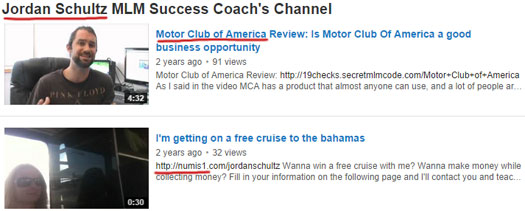 TVC Matrix is a recruitment-driven matrix opportunity, attached to an irrelevant auto insurance service. Affiliates pay a fee to join, and then are directly compensated for recruiting new affiliates into the scheme.
Numis Network (no review available) launched in 2009 and revolved around the buying and selling of numismatic coins. In 2013 the company merged with WorldVentures, a travel-based matrix opportunity that pays on the recruitment of new affiliates.
Sometime after that, Schultz joined Empower Network (internet marketing). Moore is also an Empower Network affiliate.
Read on for a full review of the Freedom Fighters Network MLM business opportunity.
The Freedom Fighters Network Product Line
The only mention of products on the Freedom Fighters Network website is a tiny link on the bottom of the page for "product description".
A spiel on the linked page reads:
The Freedom Fighters Network product line was designed and created to simplify an otherwise overly complicated and confusing online marketing world.

The owners came together after being online for 6 years and helping some people succeed, but mostly watching a lot of people fail to effectively market their businesses online with this one mission, to simplify everything.

The Freedom Fighters Network product line is extremely different for these reasons.

First and foremost, we've taken away the complicated technical setup process by building the websites and providing all the marketing tools necessary to get up and running online, even if you're brand new, in less than 60 minutes.

We provide all the email marketing resources, training videos, and marketing videos as well.

Then as part of our monthly membership we include the most up-to-date marketing methods in our training library on an ongoing basis as part of the $47 monthly membership.

We also include a wide array of interviews with successful people from different walks of life to help shift their mindset.

Some of these areas include building a business, becoming a successful entrepreneur, how to live a joyful and happy life, how to have great relationships with others, how to live a healthy lifestyle, and many other topics.

Everything in our product line is all-inclusive as long as you continue to pay your monthly membership.
No specifics are provided, with the $47 monthly affiliate membership what is ultimately actually offered up for sale.
As such, the Freedom Fighters Network does not have any retailable products or services.
The Freedom Fighters Network Compensation Plan
The Freedom Fighter Network compensation plan sees affiliates rewarded for recruiting new affiliates into the company.
A direct $25 a month commission is paid out per affiliate recruited, with the only qualification for commissions being the continued payment of a $47 a month affiliate fee.
A second level commission of $5 a month is also offered (paying out on affiliates recruited by an affiliate's direct recruits).
The easiest way to visualize the Freedom Fighters Network is via a unilevel compensation structure, capped at two levels:

The company pays out on two levels, the first paying $25 a month and the second $5 a month.
Joining the Freedom Fighters Network
Affiliate membership to the Freedom Fighters Network is $47 a month.
Conclusion
Comments from Freedom Fighter Network affiliates on social media suggest that the company was initially intended to be a feeder for Jordan Schultz & Angela Moore's Empower Network downline(s).
If the comments are to be believed, a compliance issue however saw the Freedom Fighters Network rejected by Empower Network:
Empower Network and David Wood are sticklers on Legal compliance to the point of going way overboard. David Wood has a 20 year vision for empower and wants the opportunity to be there for those that believe in the vision of Empower Network.

Freedom Fighters ended up not passing the compliance test for Empower, there is nothing wrong with it. Just didn't pass the ridiculously strict EN compliance for 3rd part promotion tools.

So in effect, Jordan and Angela were way to deep to scrap Freedom Fighters and it had become their identity, AND rightfully so. So they are in the negotiation to plug in a system similar to Empower.
The issue appears to be the $150 income guarantee offered by Freedom Fighters: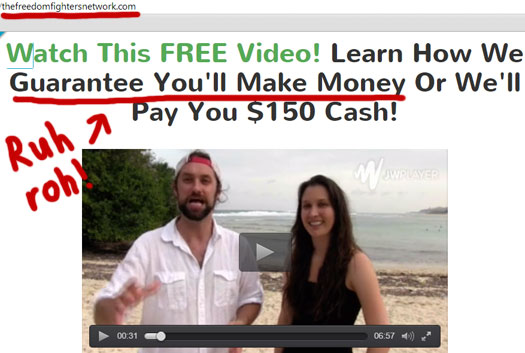 Marketed as a simple "make money or you get $150" guarantee, the fine-print contains the following additional clauses:
In order to qualify to receive the $150 from our 30 day make money guarantee, wherein we guarantee you make money in your first 30 days after paying your $47 membership fee, you must meet the following criteria:

-you must stay active for 30 calendar days from the date of purchase of the $47 membership, not from date of free trial

-you must generate 150 unique 'real person' leads with our system capture pages using the lead generation strategies we recommend including Step 3 and/or Step 4 of the Getting Started Guide.

(A unique real person lead is a 'real person' website visitor who has entered their email address into one of our system capture pages with your individual affiliate ID).

-must complete all of our getting started guide videos and steps in their entirety if you quit and get $150 cash, you can NEVER join The Freedom Fighters Network again

-Must have $0 in pending commissions in queue, and have been paid out $0 to date
Empower Network compliance aside, the guarantee of income in any MLM opportunity is frowned upon by regulators.
Worse still, with no retail revenue and all commissions paid out of affiliate membership fees, Freedom Fighters Network operates as a recruitment-driven pyramid scheme.
Affiliates join for $47, recruit new affiliates and get paid – as long as they and those they recruit continue to pay their $47 a month participation fee.
Once the recruitment stops those at the bottom stop paying their monthly fee, which in turn means those above them stop getting paid. They too then stop paying their monthly fee and as this effect trickles up the compensation plan, eventually the company suffers an irreversible collapse.
And for what it's worth, at the time of publication I didn't see a "plug-in system similar to Empower" offered. The product page contains a vague marketing spiel (some of which is quoted above), and a link to a twenty-minute video.
The video, at least as much as I could stomach to watch, has Jordan Schultz & Angela Moore blabber on about their house in Indonesia and how successful they are.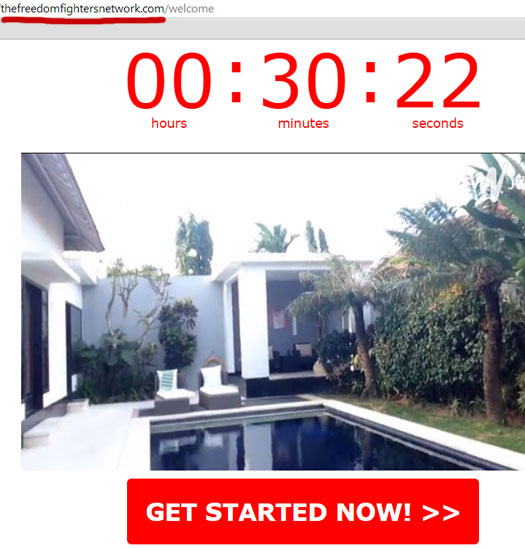 I stopped watching around the half-way mark, at which point nothing specific about Freedom Fighters Network's products had been revealed.