Quaestor Solutions Review: Quaestor coin & pyramid recruiting

As I write this the Quaestor Solutions website is returning a database error.
Perusal of Google's cache of the website reveals the website appears to still be under development.
The Quaestor Solutions website domain ("quaestor-solutions.com") was privately registered on April 16th, 2018.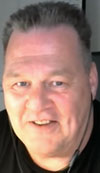 Further research reveals an official Quaestor Solutions webinar hosted by Keld Mathiesen. Mathiesen credits himself as Quaestor Solutions' "Founding Master Distributor".
In the webinar, Mathiesen cites Svend Rasmussen (right) as owner of the company.
Prior to launching Quaestor Solutions, Rasmussen was promoting IZEcoin through an affiliate opportunity called "20 Again".
Here's how Rasmussen pitched 20 Again on Twitter: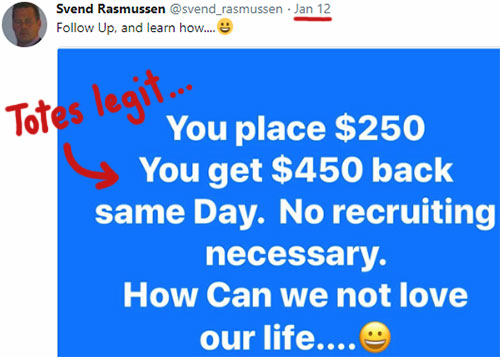 IZEcoin was a pointless altcoin launch that by all appearances has since flopped.
Going farther back, in 2015 Rasmussen was promoting the collapsed Global Currency Coin opportunity.
Both Keld Mathiesen and Svend Rasmussen are based out Denmark.
Read on for a full review of the Quaestor Solutions MLM opportunity.
Quaestor Solutions Products
Quaestor Solutions has no retailable products or services, with affiliates only able to market Quaestor Solutions affiliate membership itself.
The Quaestor Solutions Compensation Plan
Quaestor Solutions affiliates invest in Quaestor coins, of which there are twenty million.
The company also recycles affiliate fees to pay recruitment commissions.
With respect to commission qualification, the term "active" is used to differentiate between Quaestor Solutions affiliates.
Although not defined in the company's compensation plan, I believe active refers to continued payment of the €100 EUR Quaestor Bot access fee.
Quaestor Bot Fee Commissions
Access to the Quaestor Bot costs €100 EUR a month.
Quaestor Solutions take this fee and use it to pay commissions via a 3×10 matrix.
A 3×10 matrix places a Quaestor Solutions affiliate at the top of a matrix, with three positions directly under them: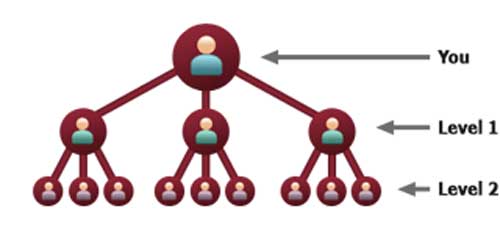 These three positions form the first level of the matrix. The second level of the matrix is generated by splitting these first three positions into another three positions each (9 positions).
Levels three to ten of the matrix are generated in the same manner, with each new level of the matrix housing three times as many positions as the previous level.
Positions in the matrix are filled via direct and indirect recruitment of Quaestor Solutions affiliates.
Commissions are paid when affiliates pay their Quaestor Bot €100 EUR monthly fee as follows:
levels 1 and 2 – €1.50 EUR per affiliate
levels 3 to 5 –  €3 EUR per affiliate
levels 6 and 7 – €6 EUR per affiliate
level 8 – €3 EUR per affiliate
levels 9 and 10 – €1.50 EUR per affiliate
Matching Bonus
To qualify for the Matching Bonus, a Quaestor Solutions affiliate must recruit and maintain at least three active affiliates within their first 14 days.
The Quaestor Solutions compensation plan states that if the 14 day limit passes, an 'affiliate will not be able to earn any Matching Bonus ever'.
Quaestor Solutions pay the Matching Bonus via a unilevel compensation structure.
A unilevel compensation structure places an affiliate at the top of a unilevel team, with every personally recruited affiliate placed directly under them (level 1):

If any level 1 affiliates recruit new affiliates, they are placed on level 2 of the original affiliate's unilevel team.
If any level 2 affiliates recruit new affiliates, they are placed on level 3 and so on and so forth down a theoretical infinite number of levels.
Quaestor Solutions cap the Matching Bonus at five unilevel team levels.
The Matching Bonus is a 20% match on Quaestor Bot Fee Commissions earned by downline affiliates across these five unilevel team levels.
Qualification criteria to earn the Matching Bonus on each of the five unilevel team levels is as follows:
level 1 (personally recruited affiliates) – qualify for the Matching Bonus within 14 days of signing up
level 2 – recruit and maintain at least six active affiliates
level 3 – recruit and maintain at least nine active affiliates
level 4 – recruit and maintain at least twelve active affiliates
level 5 – recruit and maintain at least fifteen active affiliates
World Bonus and Founder Pools
Quaestor Solutions take 5% of company-wide revenue and place it into the World Bonus Pool.
The World Bonus Pool is paid out equally to qualified affiliates quarterly.
To qualify for the World Bonus Pool, a Quaestor Solutions affiliate must recruit and maintain twenty or more active affiliates.
A Founder Bonus Pool is also available, which also consists of 5% of Quaestor Solutions's company-wide revenue.
Qualification for the Founder Bonus Pool requires the building of a downline of at least one hundred affiliates by October 31st, 2018.
Transaction Fees
Quaestor Solutions charge a 0.2% transaction fee of Quaestor coin within their network.
The company states transactions fees are "shared 100% by active affiliates" but fails to provide specific details.
Joining Quaestor Solutions
Quaestor Solutions affiliate membership is €200 EUR.
Quaestor Solutions affiliates are billed monthly based on how many Master Node investment positions they have.
1 Master Node positions = €100 EUR a month
2 or 3 Master Node positions = €270 EUR a month
4 to 6 Master Node positions = €480 EUR a month
7 to 10 Master Node Positions = €700 EUR a month
11 or more Master Node positions = €1000 EUR a month
A Master Node is created by an Quaestor Solutions affiliate at a cost of 2000 Quaestor coins, or via recruitment of fifty active affiliates (recurring).
Access to the Quaestor Solutions' trading bot is an additional €100 EUR a month.
Conclusion
Quaestor Solutions' Quaestor coin presents itself as yet another pointless MLM altcoin launch.
At the moment the focus is on affiliate recruitment, which is being spurred by a €100 EUR a month trading bot fee.
Svend Rasmussen is marketing the Quaestor Bot with specific weekly ROI amounts: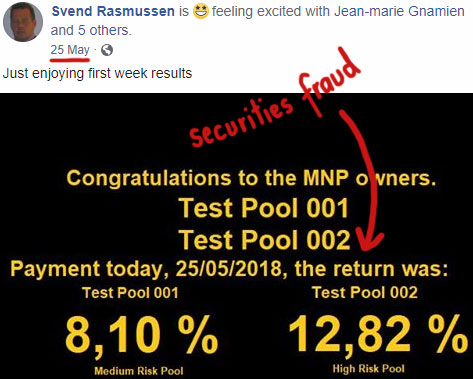 Details of the trading bot have not been disclosed, nor is there any indication Quaestor Solutions or Svend Rasmussen have registered their securities offering with appropriate regulators in any jurisdiction they operate in.
Quaestor Solutions' securities violations are not limited to Quaestor Bot either. The company is also marketing its Master Node investment positions as a ten-year ROI opportunity:
In a nutshell, Quaestor Solutions is a pyramid recruitment front-end with cryptocurrency investment tacked on.
Commissions are paid as long as every coughs up €100 EUR a month. Beyond that there's the usual "our altcoin will be worth a fortune" implication, which Quaestor Solutions are hoping will be enough to convince people to invest.
It's worth noting though that by the time you see any benefit from invested Quaestor Solutions, the company itself will have likely long-since collapsed.
At the time of publication there's not even an internal exchange available to cash out Quaestor coins.
The company has slated Quaestor Exchange for launch in the third quarter of 2019, meaning until then you can't do anything with invested Quaestor coins.
No doubt this will see the internal value manipulated up the wazoo, as there's no actual liability until Quaestor Solutions affiliates can put in Quaestor coin withdrawal requests (which they can't unless there's an exchange).
Public trading is at this stage out of the question. No doubt a result of Rasmussen seeing altcoins he's invested in tank after going public.
As is common with MLM altcoins, use-case is secondary to affiliate recruitment and investment hype.
The only statement issued by Quaestor Solutions at this stage is Quaestor coin will be attached to
more products to come, which (will) make Quaestor Coin usable.
But in the meantime, please start investing in our concept because… well who doesn't want a ten-year monopoly money ROI?
And it's worth nothing that with respect to the ten-year Master Node investment scheme, what you can and can't do with your issued Quaestor coins is pretty limited.
As per the Quaestor Solutions compensation plan, affiliates awarded Quaestor coins through their Master Node positions cannot
change them to cash
transfer generated coins or
sell them
Master Node awarded Quaestor coins will literally be nothing more than numbers on a screen.
What we're left with is another pointless MLM altcoin launch.
Quaestor Solutions will likely crash internally before Quaestor Exchange launches, but it might be propped up with the meaningless internal value.
With no withdrawal mechanism that value can be pumped without repercussion. Obviously at some point Quaestor Exchange will have to be launched, at which point the whole scheme collapses.
As with every other MLM altcoin launch, what you don't make back in recruitment commissions you're going to lose through Quaestor coin investment.