QNet affiliates arrested in Ghana over hostage recruitment

Two QNet affiliates in Ghana have been arrested following a hostage recruitment situation.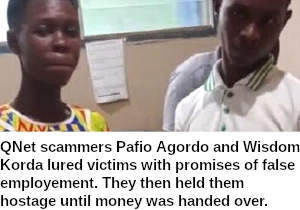 Pafio Agordo and Wisdom Korda lured a school contact to Koforidua in eastern Ghana.
The victim, a laborer, was told he would be given a position in a fictional import company.
When he arrived Agordo and Korda took the victim to a rented apartment. They then confiscated his phone and what money he had on him.
Agordo and Korda held the victim hostage until he agreed to contact his mother and grandmother.
In an interview with GhanaWeb, the victim recalled;
They forced me to deceive my grandmother for money but my grandmother decided to come and see me in person.

They demanded ID cars from my grandmother with made her upset and she left.

They also forced me to deceide my mother to go for a loan of GH900 and sent it to me, which they took all the money.

Similarly, (they) forced me to deceive my Pastor who also sent GH350.
These funds are then funneled into QNet.
GhanaWeb later interviewed the victim's uncle, who claimed the hostage recruitment scheme was commonly being used by QNet affiliates.
They pressed him under duress and asked him to call family and friends.

They took his phone, went through the contact list, asked him who is this, who is that. Then they sat on his neck to call them and demand money from them.

Unfortunately for the boy, he doesn't know anybody here until we came in.

This kind of business is illegally being operated, it is a fraud, it is a scam.

We are calling on the government to as quickly as possibly and urgently dissolve this QNet business.

When you go to where they operate in fact it is an eyesore. Then children don't have food to eat, they don't allow them to visit their relatives.

The(y) police them like prisoners.
Authorities in Ghana have had a hard time policing QNet recruitment.
In 2019 authorities deported fifty-two QNet affiliates, who had illegally entered to promote the pyramid scheme.
Luring unsuspecting victims on the premise of false jobs has been going on for a while. Earlier this year we reported the practice was still widespread across Ghana.
Some victims are forced or encouraged to take lout loans they can't afford. One such QNet victim took his own life in July.
Officially QNet is protected in Ghana by the Ministry of Business Development. In March 2021 Joe Tackie, Chief Director of the Ministry, stated it was 'glad to have QNET in Ghana for the long haul.'
With the government unwilling to shut QNet down, Ghanaian authorities have had to petition the High Court to dissolve QNet as a business.
The Attorney-General … in July this year filed a petition at the Accra High Court seeking an order to win up (dissolve) QNet company.

In the petition … filed last Monday, the A-G accuses the company of engaging in dishonest, illegal, and fraudulent business activities.

"Investigations by the National Security Council Secretariat disclosed that QNet operates in a manner akin to a Ponzi scheme, by luring clients to make deposits and investments with them which they eventually lose," the petition said.
Whether anything comes of the AG's petition remains to be seen.
Update 4th November 2022 – Following a regulatory enforcement action against the company, QNet has been ordered to get out of Ghana.