QNet affiliate crippled by signup loan, takes life

A QNet affiliate in Ghana has committed suicide.
The death follows reports the former teacher took out a loan to join QNet.
Crippling loan repayments saw John Atta Asamoah Duodu was taking home just 500 GHC a month (~$84 USD).
Speaking to the media, Duodu's brother stated
Atta complained that he only takes home GH¢500 after deduction of his loan, He incessantly complained of hardship and recently started hallucinating.
As reported by GhanaWeb, Duodu hung himself on July 18th.
Starr News has gathered that he was allegedly deceived to take a loan to invest in an online marketing business which turned out to be a scam.
This is the second known suicide attributed to recruitment into QNet.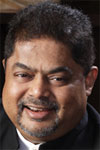 Despite several arrests and deportations, authorities have struggled to tackle QNet recruitment in Ghana.
QNet is a Malaysian MLM company founded by Vijay Eswaran (right).
BehindMLM reviewed QNet in 2017. Based on its business model, we concluded QNet is a pyramid scheme.
Based on Alexa traffic estimates, QNet is currently being promoted across Tanzania (21%), India (15%) and Egypt (6%).
Update 4th November 2022 – Following a regulatory enforcement action against the company, QNet has been ordered to get out of Ghana.