Prizm Ponzi and Aleksey Muratov linked to Donetsk separatism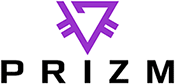 A report from the Centre of Information Resilience has tied Prizm and founder Aleksey Muratov to Donetsk separatism in Ukraine.
As per their website, the Centre for Information Resilience is
an independent, non-profit social enterprise dedicated to countering disinformation, exposing human rights abuses, and combating online behaviour harmful to women and minorities.
Prizm's ties to Donetsk separatist funding is explored in an April 5th report; "The Separatist's Guide to Circumventing Sanctions".

Prizm is an MLM crypto Ponzi scheme founded by Aleksey Muratov (aka Alexei Muratov, right).
Muratov's Ponzi career goes back years. He was a prominent leader in MMM Global, the successor of one of Russia's largest Ponzi schemes.
CIR identifies Muratov, a former Russian politician, as currently having
a leadership role in the self-proclaimed government of the separatist Donetsk People's Republic in Eastern Ukraine.
The DPR, also known as the DNR, was formed in 2014. It is a Russian-backed separatist state in eastern Ukraine. The Ukrainian government considers the DPR to be an occupying terrorist organisation.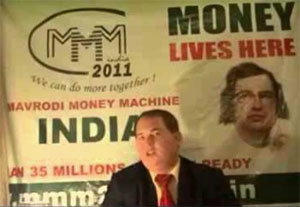 The DPR's connections to the MMM Global Ponzi scheme run deep.
Current head of the DPR, Denis Pushilin, is a former MMM Global "Regional Representative".
In 2013, Muratov was arrested for MMM Global Ponzi scamming in India. The circumstances Muratov escaped India are unclear.
CIR reports that following his arrest, Muratov returned to Moscow and formed the "First information Agency" (Первое
информационное агентство, also branded as '1infa').
1Infa produced media content supporting the pro-Russian separatists in the conflict that was then raging in Eastern Ukraine.

This included regular glowing coverage of Muratov and Kramar's former MMM colleague Denis Pushilin, who was working his way up the ranks of the newly declared Donetsk People's Republic.

It also included interviews with Muratov and Kramar themselves, billed as the First Deputy Heads of the "Donetsk Republic" movement.

Emails belonging to key Putin aide Vladimir Surkov, which were hacked and leaked in 2018, show that during 2014 Muratov was also attempting to interest the Kremlin in a proposal for a covert influence campaign to help expand the conflict in Eastern Ukraine further west.

The plan drawn up by Muratov, which he codenamed "Operation Troy", included a budget of $181,000 to fund protests, bribe Ukrainian intelligence agents and civil servants, and buy vehicles.

This plan does not appear to have been put in motion. Muratov and Kramar's news agency 1Infa appears to have become inactive in 2016.
While all that was going on, in 2016 MMM Global also collapsed. While MMM Global was collapsing, E-Dinar, another MLM crypto Ponzi scheme, launched.
CIR ties Muratov to E-Dinar and the notorious OneCoin Ponzi scheme.
In 2016 Muratov visited Thailand, and participated in the Bangkok business conference for OneCoin, a now-infamous Ponzi scheme posing as a cryptocurrency.
The Ponzi side of OneCoin collapsed in January 2017. E-Dinar collapsed a few months later.
Muratov's political shenanigans in Ukraine earned him a spot on the US' sanctions list in June 2017.
As stated by the US Treasury at the time;
Aleksey Muratov is an official representative of the so-called "DNR" in Russia.

He was involved in raising funds in Russia for relief aid for Donetsk and Luhansk, but it is alleged that only a small portion of the funds reached the intended recipients.

Muratov is being designated for being responsible for or complicit in, or having engaged in, directly or indirectly, actions or policies that threaten the peace, security, stability, sovereignty, or territorial integrity of Ukraine; and acting or purporting to act for or on behalf of, directly or indirectly, the DNR.
Following E-Dinar's collapse, Muratov registered Prizm's original website domain "prizm.club", in May 2017. The Ponzi scheme launched shortly thereafter.
Prizm's PZM was your typical Ponzi coin pump and dump:
The PZM flatline in mid 2021 coincides with Roy Club taking off.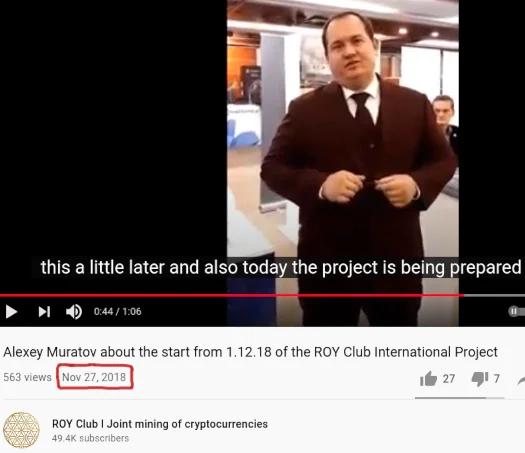 Roy Club is yet another MLM crypto Ponzi launched by Muratov. It surfaced in late 2018 but didn't take off till mid 2021.
I wasn't aware of Muratov's political ties but, as evidenced by the provided links, have tracked the MLM side of MMM Global, Prizm and Roy Club over the years.
Before we get into what came after Roy Club, here are where it and Prizm are presently at:
Prizm is dead, Muratov collapsed what was left of it in mid 2021.
Roy Club website traffic has tanked since late 2021, it has likely also collapsed.
In December 2017 Prizm won some bullshit blockchain bro award in Sochi, Russia. Muratov didn't attend the event. Instead he sent Alexander Lavrentyev, Prizm's "Director for Infrastructure and Development".
Lavrentyev is also tied to the assassination of Aleksandr Zakharchenko, the DPR's first Head of State and Denis Pushilin's predecessor.
Lavrentyev is not a cryptocurrency expert. He is a close associate of Denis Pushilin, the current leader of the DNR, and is perhaps best known for being caught on film in Turkey in June 2018 allegedly discussing the planned assassination of DNR's then-leader Aleksandr
Zakharchenko.

Zakharchenko was killed in an bomb attack on a café in August 2018. A week later, Pushilin was installed as the acting head of the self-declared Donetsk People's Republic, a shift which also elevated his allies Muratov and Lavrentyev.
Although it wouldn't flatline till mid 2020, Muratov and friends rug pulled PZM in mid 2019.
This coincided with the launch of Ouroboros. Instead of fronting his new Ponzi scheme himself, likely due to US sanctions, Muratov put Lavrentyev in charge.
Ouroboros launched as more of the same. An MLM crypto Ponzi built around OURO, a Ponzi shitcoin. Over time however Ouroboros, through Blockchain Technology LLC, morphed into a Ponzi shitcoin factory.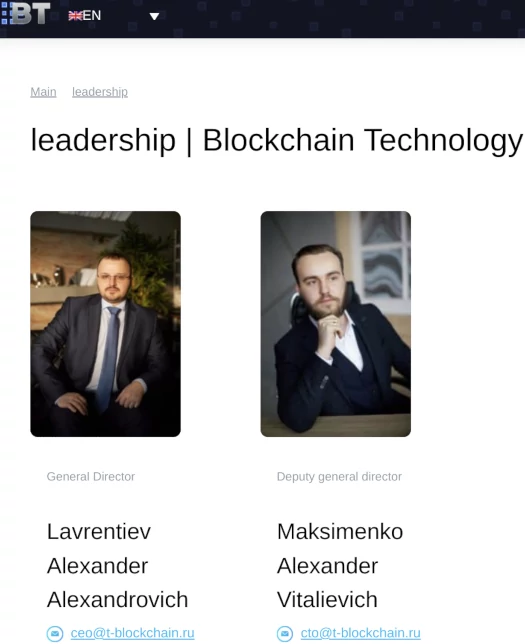 Since being incorporated by Lavrentyev in Russia in February 2020, Blockchain Technology LLC has gone on to launch Sputnik (SPT) and Karaganda (KRG) Ponzi tokens.
Ouroboros was integrated into Blockchain Technology LLC. There are corresponding Android and iOS apps, through which the Ponzi token factory is run.
In 2020 and 2021, Lavrentyev has personally conducted a series of livestreams on the Blockchain Technology Youtube channel to discuss recent developments with Ouroboros and Blockchain Technology's other projects.

In a number of these videos he makes references to his prior role with Prizm, reaffirming the lines of continuity between Prizm and Ouroboros.

The main purpose of these livestreams seems to be attempting to reassure anxious investors that they will see a return on the money they have put into Ouroboros and other Blockchain Technology projects, and encouraging them to help bring more investment into those projects.
As at April 2022, withdrawals through Ouroboros' internal exchange have been disabled.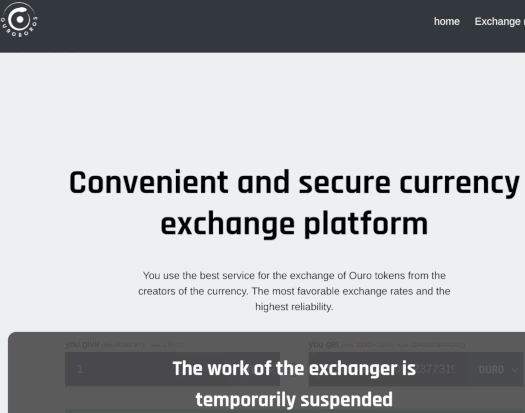 Ouroboros's marketing material touts its security as a key feature of the cryptocurrency.

However, a post from an anonymous Donetsk-based Telegram channel alleges that in reality Muratov and Lavrentyev have access to all user funds stored in Ouro Wallets, and are able to exchange and withdraw the funds in Bitcoin.
Anyone vaguely familiar with MLM crypto Ponzis should be able to identify an obvious exit-scam.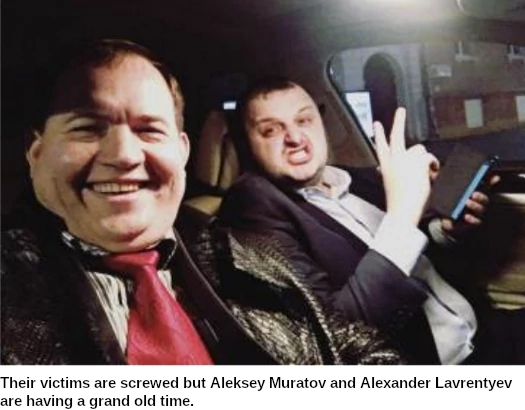 In conclusion, CIR puts forth that Muratov's MLM Ponzi exploits are primarily a way to get around sanctions.
The links to Muratov and the DNR … raise the question of sanctions violations.

Muratov is personally subject to OFAC sanctions in the US (which he has portrayed as an effort to stop him from spreading the word about Prizm and liberating the world from US financial dominance), while financial transactions with the DNR are subject to sanctions in the US and many other jurisdictions around the world.

Despite this, Muratov has been able to openly promote his financial scheme, Prizm, all over major US-based social media platforms for years after being sanctioned.

The regime in the self-declared DNR is enacting an illegal occupation of the territory of Ukraine.

It is perpetuating an armed conflict that has claimed an estimated 14,000 lives so far and it has been accused of committing human rights abuses.

It is now serving as the pretext for an expanded, overt invasion of Ukraine by Russia, and may provide a beachhead for a fullscale Russian assault on areas of eastern Ukraine currently outside Russia's control.

It would be very difficult – and perhaps ultimately impossible – to determine based on open sources exactly how much money has moved to individuals in the DNR through the Prizm and Ouroboros cryptocurrency schemes.

Much of this money has flowed through payment platforms controlled by the scheme operators, making it particularly difficult to track fiat exchange rates over time.

But there is still room for further analysis of cryptocurrency transactions, which could shed some additional light on the financial flows from these projects.

What is clear is that Prizm, Ouroboros and their related projects are generating enough profit to make it worthwhile for Alexey Muratov, Alexander Lavrentyev and their associates to invest significant time and resources into keeping these operations going over many years.

It is less clear, however, where the money flowed next – whether into the personal accounts of Muratov and Lavrentyev or onwards to other DNR figures.

The findings of this investigation highlight several issues. One is the ease with which US-sanctioned individuals like Muratov can promote financial schemes and solicit money across major social media platforms based in the US.

Muratov has spoken openly about the use of cryptocurrencies to evade sanctions.

The successful marketing of Prizm across Facebook, Twitter, YouTube and other US-based social media platforms raises questions about whether those companies do or should have responsibilities over the promotion of financial schemes by sanctioned individuals or armed groups on their platforms.

The ability of Blockchain Technology to get multiple apps into both the Apple and Android app stores, without any significant effort to obscure the involvement of Lavrentyev, is another issue.

What level of due diligence should be expected from Apple and Google when it comes to their app stores?

Arguably the most direct harm from these schemes is to those who have entrusted their money to it.

The structure of Prizm, and to a lesser extent Ouroboros, has strong echoes of the MMM Ponzi scheme.

Such schemes prey on the hopes, steal the savings, and damage the lives of people around the world.
The use of cryptocurrency to circumvent sanctions is just another layer of fraud cryptocurrency in general exists to facilitate.
There are of course as much layers of fraud taking place in cryptocurrency as there are in fiat. The difference is with a fraction of the policing and regulation.
I don't have any answers for that. As far as the MLM industry goes, I look forward to the day cryptocurrency is either outlawed or the regulatory framework catches up.
I feel that after NFTs, MLM crypto bros have run out of buzzwords to launch "please invest in my shitcoin so I can steal your money" scams with. Although I'm sure there's new garbage to latch on to just around the corner.
Social media and its "i'M nOt A fInAnCiAl AdViSoR" scammers play a big role in promotion of MLM crypto Ponzis.
Uploading a video of me robbing a bank to FaceBook or YouTube would be swiftly taken down. So why are promotion of MLM Ponzi schemes (and Ponzi schemes in general) prolific?
If it's because it's far easier to identify the crime in robbing a bank than it is to pull apart a Ponzi scheme, then that needs to be addressed through legislature.
These are unfortunately changes that will evolve over decades. With the speed scammers can deploy MLM crypto Ponzi schemes, I don't know where that leaves us in the interim.
Earlier this year the DOJ named the Director of its new National Cryptocurrency Enforcement Team. We've yet to see anything come out of that but its very much early days.
Getting back to Aleksey Muratov and his MLM crypto Ponzi empire, back in his MMM Global scamming days Muratov published a manifesto.
In it, Muratov claims he
realized the background of that conflict [in Eastern Ukraine] was not a national idea by the Ukrainian people, not a desire to enter the European Union but a threat from international corporations to start third world war.

This would prevent Russia from further development and stop it from becoming a new superpower.
The Russian/Ukraine Boris CEO Ponzi has become somewhat of a meme here at BehindMLM. It's hard not to laugh at the sloppy production and wonder who are these scams being pitched at?
Here's who;
In a presentation to Prizm's 2020 conference in St Petersburg, Jennifer Glukhova nee Menezes (formerly an MMM promoter in India, now a Regional Director in Europe for CWT and 'citizen' of the DNR) explained how Prizm targets communities who largely do not have internet access:

"In India networking is very different, because only 34% of people use internet in India… There were a lot of questions, like you know how, how do we believe in this… the network, like how it works is there is like a huge leader, there are leaders, so they take responsibility for the community.

So what happens is, imagine I am from the village. I am a person who has knowledge of internet, so my people come to me and they say, okay, I just give you my money and you do what it is… This is exactly how networking works in India. There is a lot of trust in people."
Here's a fucking phone. Watch this fucking video. Wow, what a shiny fucking office. Money please. Thank you and goodbye.
Obviously not every Boris scheme is a proxy funding project for terrorism in Ukraine. And ironically, with perhaps the exception of Blockchain Technology LLC, Muratov has fronted his MLM crypto Ponzis.
But in a niche full of smoke and mirrors, you have to wonder where all of this money winds up. There are sanctions everywhere.
What better way to get around them then through push-button MLM crypto Ponzis, that can be collapsed and rebooted as simply as restarting your home computer?
President Volodymyr Zelensky of Ukraine in his latest address seized on an apparent Russian threat to use chemical weapons against the remaining defenders of Mariupol, as they prepare for what he called a "new stage of terror against Ukraine."

Mr. Zelensky's comments came after Eduard Basurin, a spokesman for the Kremlin-backed, separatist Donetsk People's Republic, said on Russian television that Russia should bring in "chemical forces" to use in Mariupol, the besieged southern city.

He said the remaining Ukrainian forces in Mariupol were dug in at a steel plant and that Russia should encircle it and "smoke out the moles."

Referring to those remarks, Mr. Zelensky said in his latest video address, "We take this as seriously as possible."
This is the price of greed. Think about that the next time you sign up under some schmuck on social media selling you a scam.
Update 17th May 2022 – Both the Prizm and Roy Club Ponzi schemes have collapsed.