Prelim injunction granted against DIS promoter Brandon Frye

A preliminary injunction has been granted against Digital Income System promoter Christopher Brandon Frye.
The decision to impose an injunction against Frye, one of DIS' most prominent promoters, was made following his non-appearance at a December 1st show cause hearing.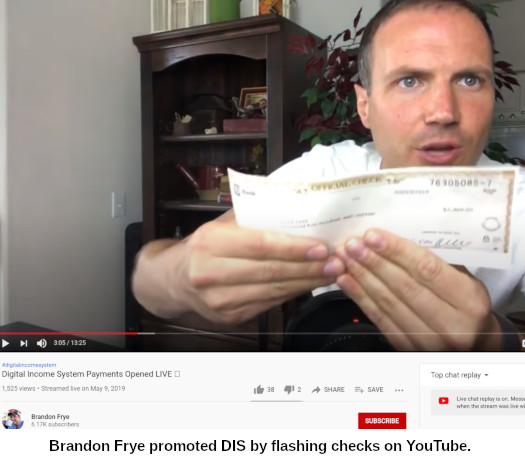 In issuing an injunction against Frye the court found, based on evidence submitted by the FTC, that he
misrepresented purchasers of Digital Income System will earn or a likely to earn substantial income;
failed to furnish prospective purchasers with required disclosure documents;
made unreasonable and unsubstantiated earning claims;
failed to provide potential recruits with an earnings claim statement;
misrepresented potential sales, gross or net income or profits earned by DIS affiliates; and
misrepresented Digital Income System will find customers for affiliates as advertised.
Frye's injunction is an ominous foreshadowing to the other DIS defendants, with the court also finding
There is good cause to believe that Defendants Digital Income System, Inc., Derek Jones Foley, William J. Foley, Christopher Brandon Frye, Jennifer Hedrick, and Kaitlyn Scott have engaged in and are likely to engage in acts or practices that violate the FTC Act … and The Business Opportunity Rule, and that the FTC is therefore likely to prevail on the merits of this action.

The FTC has established a likelihood of success in showing that Defendants have made serious misrepresentations that have enticed consumers to lose large amounts of money.

There is good cause to believe that immediate and irreparable harm will result from Defendants' ongoing violations of the FTC Act and the Business Opportunity Rule unless Defendants are restrained and enjoined by order of this Court.
As per Frye's injunction, he is prohibited from
continuing to misrepresent the Digital Income System opportunity; and
using acquired DIS customer information for any purpose.
Frye's assets have been frozen and turned over to the court-appointed Receiver. He will also have to inform the DIS Receiver of any new business activity going forward.
Frye's social media accounts went dormant in October, a month before the FTC filed their Digital Income System lawsuit under seal.
On YouTube Frye was last promoting List Leverage, a marketing opp that looks similar to Digital Income System.
Frye's last Facebook post is dated 13th October and is a promotion for Daily Digital Club (branded as Direct Pay Club), a gifting scheme run by serial scammer Peter Wolfing.
We don't have a timeline but are expecting injunctions to be issued against the remaining Digital Income System defendants at some point.
Stay tuned as we continue to cover the case.