FTC seeks def judgment against Brandon Frye & Kaitlyn Scott

Following a preliminary injunction being granted against Digital Income System promoters Brandon Frye and Kaitlyn Scott, the FTC has now moved for default judgment.
As per the FTC's January 13th court filing;
The FTC's Complaint alleges that Frye, Scott, and the remaining Defendants—Digital Income System, Inc., Derek Jones Foley, William Foley, and Jennifer Hedrick — have bilked consumers of millions of dollars by deceptively marketing membership in a scam business opportunity called "Digital Income System" or "DIS."

Scott and Frye were personally served with the FTC's Complaint and failed to answer or otherwise respond to it.

The Court accordingly entered default against Scott and Frye under Fed. R. Civ. P. 55(a) on December 23, 2010, and ordered the FTC to move for final default judgment.
The FTC is seeking a $600,000 judgment against Frye and $171,500 against Scott.
Additional relief is also sought, 'to prevent (Scott and Frye) from participating in future deceptive enterprises.'
Christopher Brandon Frye was personally served the FTC's Digital Income System lawsuit on November 18th. He failed to file an answer and was absent for the preliminary injunction hearing.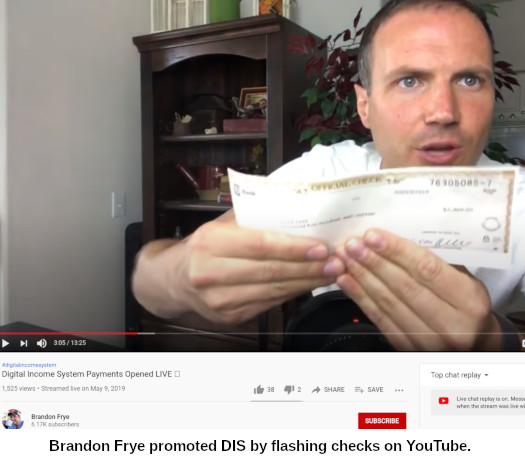 Frye has touched his social media accounts since October 2020. His current status is unknown.
Kaitlyn Scott stipulated to the granted preliminary injunction, but otherwise has made no appearances. Neither Frye or Scott have retained legal counsel.
Pending default judgment being awarded to the FTC, stay tuned…
Update 3rd April 2021 – Default judgment has been granted against Frye and Scott.