Digital Income System a "fraudulent opp", sued by FTC

Digital Income System, its owners and top promoters have been sued by the FTC.
According to the regulator, Digital Income System is a
fraudulent money-making opportunity scheme that preys on consumers hoping to earn money from home.
The FTC's lawsuit was initially filed under seal. We became aware of it thanks to a reader tip-off yesterday.
BehindMLM reviewed Digital Income System in April 2019. In our review we identified DIS as a $25,000 traffic rotator pyramid scheme.
Reader comments on our review suggest Digital Income System was shut down or collapsed in or around May 2020. The FTC's lawsuit was filed in November 2020.
Named defendants in the FTC's lawsuit are
Digital Income System Inc.
Derek Jones Foley (owner, Florida resident)
William Foley (owner, Florida resident)
Christopher Brandon Frye (promoter, Arizona resident)
Jennifer Hedrick (promoter, California resident) and
Kaitlyn Scott (promoter, South Carolina resident)
The FTC alleges the above defendants
falsely tell consumers that, through Digital Income System's program of selling memberships, consumers will or are likely to earn large sums of money.

While Defendants extract steep fees for membership, the vast majority of consumers who pay Defendants never earn substantial income, much less the claimed amounts.

In fact, many consumers never earn anything from the program.
Of the named promoters, Brandon Frye was probably the most prominent.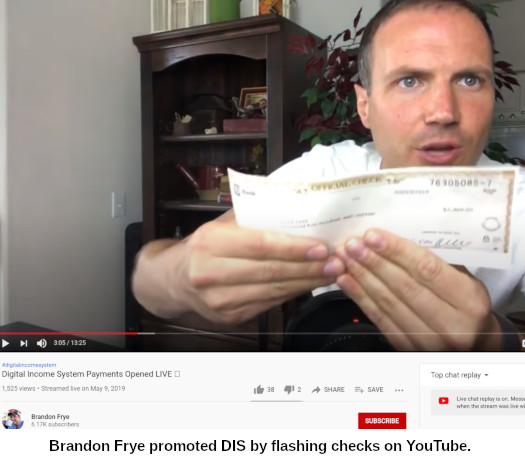 Digital Income System's website featured Frye, boasting $224,500 in earnings "since joining". Frye would personally later claim to have made just over half a million dollars through the pyramid scheme.
Jennifer Hedrick used the COVID-19 pandemic as a marketing tool, telling one consumer
people need to learn to make money from their home because of being laid off or out of a job due to coronavirus.
Frye, Hedrick and Scott all brandied Digital Income System checks as part of their social media marketing.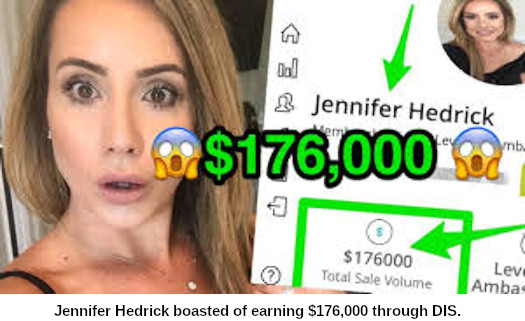 Digital Income System owner Derek Foley also made fraudulent income representations;
When you see the Free Video I've made for you, you'll realize, maybe for the first time, that you actually can have all the money and the lifestyle you've been longing for all these years, because we have taken away the #1 reason people fail in their attempts to make money.

We have put together something that allows complete novices all the way up to the burned out business owner to make money with almost ZERO effort.
After signing up, new Digital Income System affiliates were promised leads through "the system".
Predictably, "the system" didn't work.
Consumers have complained to DIS, to the owners, to their coaches and to the promoters that, contrary to (the) defendant's promises, DIS has generated no sales on their behalf.
The Digital Income System defendants addressed these concerns
by convincing consumers to buy additional leads, or "traffic", from recommended businesses, claiming the increased traffic will enhance their earning potential.

In numerous instances, the additional traffic has resulted in no commissions.
At the time of publication the total dollar amount lost to Digitial Income System and its promoters hasn't been calculated.
Through their actions, the FTC asserts the Digital Income System defendants violated the FTC Act and Business Opportunity Rule.
The FTC has sued the Digital Income System defendants for
misrepresentations regarding earnings;
disclosure document violations;
earnings claims violations;
general media earnings claims violations;
misrepresentations regarding income or profits; and
misrepresentations (general).
The FTC's November 16th filed lawsuit seeks a permanent injunction, disgorgement of ill-gotten monies and costs.
On November 17th a Temporary Restraining Order (TRO) was granted against the Digital Income System defendants. A Receiver to manage the defendant's frozen assets was also appointed.
In late November attorney appearances were entered into on behalf of Digital Income System, Derek Foley, William Foley and Jennifer Hedrick.
On December 1st a show cause hearing pertaining to the TRO was held.
Brandon Frye was absent, prompting the court to 'recommend that a preliminary injunction be issued against' him.
Later that same day an appointed Magistrate published a report,
recommending that that the Court issue a preliminary injunction enjoining all Defendants from the violations of the law alleged in the Complaint, continuing the freeze of their assets, continuing the receivership, and imposing such additional relief as may be appropriate pending a final ruling on the Complaint.
The FTC filed a motion requesting the granted TRO be extended, which was granted on December 2nd.
As it stands the TRO is in place and has been extended to December 22nd.
Looking forward, a decision on the requested preliminary injunction remains pending. An Initial Scheduling Conference has been scheduled for January 4th, 2021.
I've added the FTC's Digital Income System case to our court calendar. Stay tuned for updates as we receive them.
Update 19th December 2020 – A preliminary injunction has been granted against Brandon Frye.
Update 24th April 2021 – As per an April 8th scheduling order, a trial has been scheduled for August 27th, 2021.
Update 15th May 2021 – Following a mediation conference held in late April, each of the DIS defendants have reached settlement with the FTC.