The public fight back against Polaris Media Group
Whilst talk of class action lawsuits have drifted in and out of the discussion sphere surrounding Polaris Media Group, there hasn't really been that much of a non-internet based public challenge to distributors of the company.
Sure there's the backlash that's raged over the internet, but what about informing those that aren't internet savvy? How do you reach out to those people before they've lost money?
Here in Melbourne at least one person has taken the fight for public awareness of Polaris Media Group to the streets…
For the most part posting up bandit signs in Australia is illegal as virtually every council has outlawed them. They're tacky, look ugly and are often so small that nobody whizzing past at even 60 km/h is going to take any notice of them.
Obviously they're relatively cheap to produce but as I've said before, bandit signs are a rubbish way to promote your business. Some Polaris Media Group associates however still seem hell bent on using them.
Here's what happens when members of the community, often frustrated at a lack of response and accountability by local councils, start to fight back.
This sign was posted up around Monash University: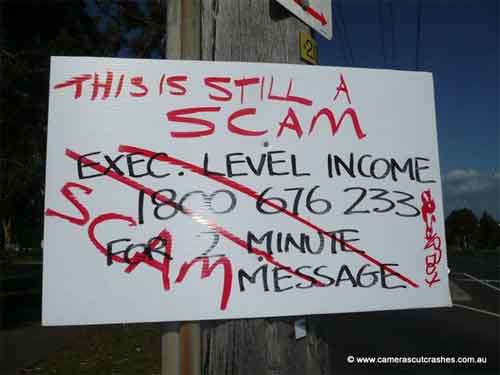 A similar modified sign was also seen in Heatherton.
This next sign seems to have been plastered over a widespread area of Melbourne's east.
This particular one was found in Patterson River: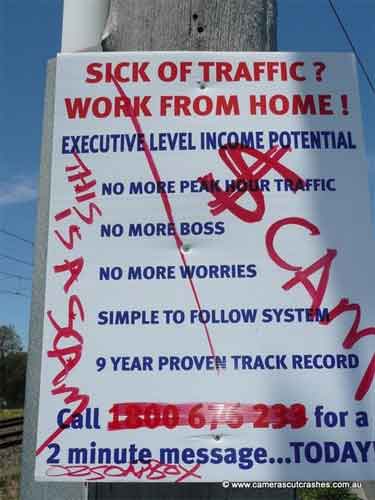 Identical signs were also found 'edited' at Carnegie, Chadstone, Bentlieigh East and Ashwood.
Wealthyu.com.au had several signs in Springvale Junction and Waverly Gardens that were taken out: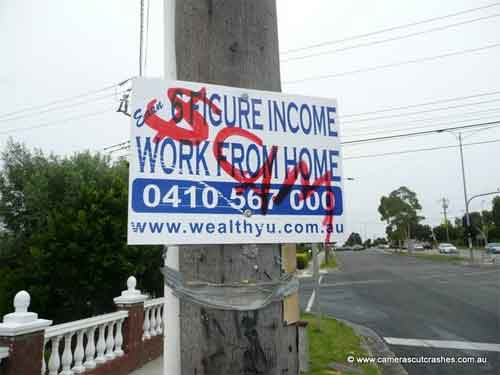 Whilst definitely a little on the cheeky side, it seems some people have taken it upon themselves to take action against the illegal advertising signs.
Sure beats waiting for the council to rock up and remove them!
Images supplied by CamerasCutCrashes and used with permission.
Note: Whilst the name OzSoapbox does appear in some of the defaced signs, I or anyone I personally know didn't have any involvement in the sign editing.