Polaris Media distributors still misleading Australia
Since Liberty League changed over to Polaris Media Group there has been much talk and insistence by Polaris supporters that Polaris is now truly about the retail products and building a retail business for yourself.
Gone are the days of promised incomes, building a sales pyramid and luring people into the business opportunity with misleading information.
A few days ago I went to check my mail and there was a little bit of paper sitting in the mailbox. As I glanced over it and walked over to the recycle bin I paused for a second and realised I might be looking at my first ever Polaris Media distributor flyer.
I'd heard rumours of Polaris flyers in widespread circulation up in Queensland and NSW but to date had not actually seen any Polaris paraphernalia down here in Melbourne.
As I got inside I went over to the computer and punched in the web address, sure enough good old Unified Wealth Solutions came up.
Now at this point I'd have most likely just thrown the flyer in the bin and left it at that. There's hundreds of Polaris Media Group distributors marketing the same products to Australia and I certainly don't need to write about each and every one of them.
What caught my eye with this particular advertisement was the marketing. The same nonsensical claims that got Liberty League into trouble with the Australian authorities are still being used to promote Polaris Media Group.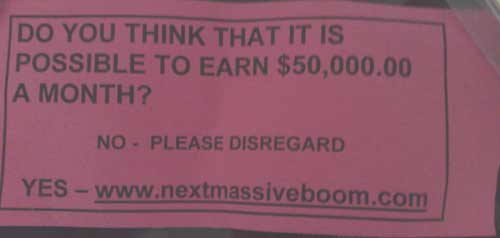 Now the flyer itself, the very entry point of exposure to Polaris by a distributor, makes the claim that it's possible to earn $50,000 a month. It's a bold claim and very much in breach of the Polaris Media Group advertising guidelines which state;
No income claims are allowed in any advertising or marketing, including testimonials. No dollar amounts are allowed in any type of advertising.

The following income claims are prohibited: "six figure income" "executive income" "CEO income" "turn your yearly salary into your monthly salary" "earn ($ amount) per year/per week."

No Advertisements may link Company products to any claims of income or guarantees.
The 'Next Massive Boom' website itself doesn't get any better. Run by Nicholas Tang and Yi Li the domain nextmassiveboom.com redirects to a standard Unified Wealth Solutions website where more claims are made.
I am Nicholas Tang and my wife's name is Yi Li.We were both working in our corporate jobs earning six-figure income.

A self-made millionaires (sic) shared with me a full-proof, easy to duplicate system with a huge income potential.

Tap into a lucrative home-based business system that is 10,000 times more powerful than MLM and can be worked from anywhere!
As you can see this is a far cry from the 'new' Polaris media group in which supposedly distributors are focusing on the retail arms of the business.
Bottom Line: I teach people how to make money.
At least Tang is honest in admitting Polaris has nothing to do with personal development or selling retail products.
Staunch supporter of Polaris Media Group 'Josep' recently stated:
The intention of pmg from my understanding is to have consistent base of distributors with an ever expanding base of retail customers. I feel the 5 to 10 million dollars per year income will be achieved with a large retail base of customers. It may sound unrealistic to you, but your example of the recruiting progression to me is unrealistic.

How people will choose to run their enterprise? I do not know.
As someone who might not know anything about Polaris Media Group, I just got a leaflet in the mail that redirects me to a website selling me a "huge income potential". At no point are the retail products mentioned or explained.
Instead, as with Liberty League I am encouraged to leave my contact details at which point someone
will personally contact you within 24-48 hours to conduct a brief interview and let you in on the Unified Wealth Solutions System so you require to make a confident, educated decision (sic).
Sounds awfully familiar doesn't it?
Tang also mentions the '7 Figure Alliance' on his website:
Plug into a team self-made millionaires (the 7 Figure Alliance) who are willing to show you everything they know about making money.
A simple google search revealed the website for the 7 Figure Alliance. Those familiar with Polaris Media Group will instantly recognise the EMC members featured at the top of the page. What was interesting is that the page hasn't had it's copyright updated since 2007, leading me to believe it was perhaps defunct.
However, the first result in a google search (the 7 Figure Alliance website is actually the second) is Polarismarketing.org, run out of Queensland, Australia by Ian Gundrill. You can see the publicly available whois information for the domain here:
Registrant Name:Ian Gundrill
Yes, I too wondered why his tweets are protected, hiding them seems kind of odd for an internet marketer.
The PolarisMarketing page that mentions the 7 Figure Alliance has since been modified to read the 'Executive Alliance', however Google is still caching the old version.

Given it was cached on September 21st, after Polaris Media Group was launched I'd say it's definitely current.
For those unfamiliar with Unified Wealth Solutions, they were the 'reccomended' cookie cutter website creation system for Liberty League associates and were spruiked by EMC members.
Why?
Because they all had a financial stake in it.
Shannon Lavenia (who recently invited people to join her in doing a Scientology course), lists herself as a co-owner of Unified Wealth Solutions on her LinkedIn profile:
Co-Owner

Unified Wealth Solutions LLC. – (Marketing and Advertising industry)

October 2007 — Present (2 years 1 month)

We provide superior marketing tools and education to associates of Liberty League International.
This E-zine article also associates Polaris EMC members John Lavenia, Tony Rush, Wendy Stevens (no longer with Polaris) and Gene Braxton (these are the guys who's photos are at the top of the 7 Figure Alliance website) with UWS but I'd take it with a grain of salt.  E-zine articles are usually unverified and widely used by marketers to flood search engines with favourable "articles".
So what can we draw from all this information?
Well for starters the claim that Polaris Media Group is all about the retail products is a lie. Nicholas Tang claims on Next Massive Boom that "a self-made millionaires (sic) shared with me a full-proof, easy to duplicate system with a huge income potential".
Polaris distributors are well known for following systems and if he's doing it, they're all doing it. What's more is that, as clearly shown above, Tang's "system" is easily traced back to the Polaris EMC leader group.
What we have here is the same dodgy claims and marketing being used that got Liberty League into hot water in Australia in the first place. Worse still it's seemingly all approved by Polaris Media Group's compliance team!
At just under two months of trading as Polaris Media Group (I received the flyer just this week) I have to admit it took a lot less time for distributors to relapse back into pushing the income opportunity then I thought it would.
I can't wait to read the explanations and excuses given as to why.