Wellmont Capital: Antony Norman gobbles up what's left of IQ Chain

Trying to track the current status of whatever company is fronting the Ormeus Coin scam, reveals a convoluted mess of shell companies.
Here's what I've been able to piece together.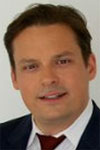 Sometime last year Antony Norman created Wellmont Capital Group, a company that supposedly has offices across Europe.
Norman (right) first appeared on BehindMLM's radar in 2014, as CEO of ViralAngels.
ViralAngels was a short-lived pyramid scheme with a securities fraud backend.
In January 2017 the Angel Business Club Ponzi emerged, and appeared to be a new iteration of the ViralAngels scam.
Norman didn't publicly front Angel Business Club, but is believed to have been involved through its Angel Equity International (incorporated around the time ViralAngels collapsed).
Angel Business Club as the Ponzi scheme we reviewed in 2017 was again short-lived.
Today it still exists as part of Angel Equity International, but only as a "private equity community".
Today Angel Business Club claims membership provides "free shares in our exciting portfolio of companies".
If you haven't already guessed, Antony Norman (aka Anthony Norman) is at the center of all of these companies.
On April 12th Wellmont Capital announced it had acquired InnerQuest Global Limited.
InnerQuest was a series of unsuccessful attempts to resuscitate Ormeus Global's Ormeus Coin.
The last attempt we have on record was IQ Legacy in December 2018, which we recorded as Ormeus Global's third reboot.
According to Wellmont Capital's acquisition press-release, InnerQuest 'has long been a trusted strategic partner of' Wellmont Capital.
Bear in mind I hadn't heard of Wellmont Capital till today (that includes research into all our Ormeus Global coverage), so no idea what that means.
"The synergies of IQ products will significantly improve our Wellmont Capital Group customer's experience."

The two companies have shared a long history of working closely with one another and look forward to expanding the business by bringing in additional mergers.

Please stay tuned for updates on new management and further launch dates.
So IQ Legacy is no more, fair enough. But what does Wellmont Capital actually do?
According to the "about us" section of their website;
Wellmont Capital Group is a private European asset management company founded in 2018 in Amsterdam, The Netherlands.

Specializing in cryptocurrency trading, Wellmont Capital has a global reputation for taking a unique and personal approach to private banking and asset management.
Here we go again…
The same page advises that Wellmont Capital Group was formerly New Motor Media… but by now you've probably lost count of Norman's here today, gone tomorrow companies.
Anyhoo, looks like Wellmont Capital plans to kick off as the fourth Ormeus Global reboot – but perhaps not quite.
While the usual MLM crypto scam plays are there (Ormeus Global started off as a bullshit trading bot scheme), it seems they might have given up on Ormeus Coin itself.
Ormeus Global exit-scammed Ormeus Coin by dumping it on public exchanges in late 2017.
Gullible affiliate investors who paid far too much for the coin saw it pump from $4.50 to its current value of 12.5 cents.
Antony Norman knows it's dead in the water, and so he wants to migrate what's left of the IQ Legacy affiliate base over to The Sprinkle Group.
Wellmont Capital Group N.V. is pleased to announce that it has entered into an agreement with The Sprinkle Group, a Sweden-based FinTech company specializing in Blockchain technologies, to offer Ormeus Coin holders an exchange of their coins for Sprinkle's Liber8 token.

This exchange allows you to use the Liber8 token to trade and withdraw listed equity on The Sprinkle Group's Likquid.com platform, which in turn can be placed on the open market.

The formal exchange will be executed by Ormeus Coin holders depositing their coins with TWP in an escrow account with the full process to be provided in the following days.

We believe this offer provides holders of Ormeus Coin with a strong option of being able to liquidate their position or diversify their holding.

The exchange price will be based on the total value of the Likquid Reserve Vault that will show a real-time value of the Ormeus Coin from the date of launch.

The platform will open on May 1st, 2019, and will be available to holders of Wantage One packages.
The Sprinkle Group's website domain was only registered on January 31st, so it's yet another newly created company.
There's currently nothing on the internet tying The Sprinkle Group to Likquid, which seems unusual seeing as it's purportedly "their" platform.
A visit to the Likquid website reveals what sounds like a fraudulent cryptocurrency investment scheme.
It has been long said there are only five asset classes in the world and LIKQUID is your home for all of them.

Shares, Bonds, Property, Commodities, Cash, Cryptocurrency.

You'll notice we also added a sixth asset class, Cryptocurrency such as Bitcoin, Ethereum, etc as it's own asset class.

However you look at it, LIKQUID is your home for holding, trading and converting all of your assets in one nice tidy little platform.

LIKQUID is the platform driven by Stockholm IT Ventures AB, a publicly listed and traded company on the Deutsche Börse stock exchange under the symbol SVAB in Frankfurt, Germany.

Inside of our platform you will be able to buy, trade and hold very specific assets inside of your wallet and invite your friends to do the same.

Above and beyond that, our platform also allows users to deposit select crypto currency into a staking wallet which can potentially earn daily returns.
Stockholm IT Ventures is another company to add to the list.
But while Likquid represents Stockholm IT Ventures is a publicly traded German company, there's no indication it is registered to provide financial services or offer securities anywhere in the world.
And it's more than strange there's no mention of The Sprinkle Group or (their yet to be created?) Liber8 token on the Likquid website.
Although which of his companies Antony Norman ultimately decides to launch this latest Ormeus Global reboot on I can't as yet say, it does appear it's going to follow the same trading bot trajectory.
New shit token, same trading bot scam.
Along for the ride is Kenny Nordlund, who was appointed Wellmont Capital's "Head of Strategic Partnerships and Acquisitions" earlier this month.
Kenny joins Wellmont Capital Group N.V. from Crowdbridge Global.

During his time with the company, he implemented a new strategic direction and increased sales.
Crowdbridge Global was an ERC20 shit token Ponzi scheme launched in late 2017.
Whatever new investment "sales" Nordlund brought to the table were short-lived, as Crowdbridge Global collapsed in early 2018.
Wantage One was a shell company attached to Crowdbridge Global…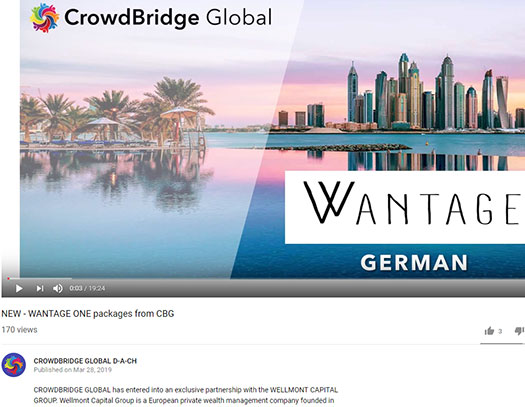 …which Wellmont Capital claims it acquired last month.
So here we are, on the cusp of what appears to be Ormeus Global's forth reboot. We'll do our best to keep you updated if anything actually launches.
Update 25th April 2019 – In the time it took me to research and put together this article, Wellmont Capital removed the quoted The Sprinkle Group news article from their website.
It seems they don't want anyone to know about their secret ORME –> Liber8 shit token deal just yet. Oh well.