Viral Angels Review: 39 – 990 EUR "credit union" scheme

Viral Angels launched a while ago but earlier this year rebooted the company as a fully-fledged MLM business opportunity.
Primarily targeting Europe, the company appears to be based out of Sweden and is headed up by CEO Anthony Norman (right).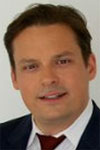 According to Norman's Viral Angels corporate bio:
Following the dot com collapse, Anthony worked as a consultant for a number of VC firms in Europe and the US, restructuring tech companies. After selling off his main business to a Swedish public company where he stayed on the management team for three years, he formed his stand alone venture capital firm in early 2006.

Anthony has in the past 15 years formed and managed over forty private companies and has been on the board of a number public companies as well as the advisor for over 15 public companies on various markets in the UK, Sweden, Poland, Germany and the United States.
Tracing Norman's MLM history is tricky, but it has its origins dating back to early 2012 with the companies SpinGlo, Synkronice and Enwire.
SpinGlo was a shopping portal MLM opportunity. On the side they offered investment opportunities in other companies – which was intertwined with Anthony Norman's company, Viral Angels.
Synkonrice was the company behind SpinGlo (appears to be a parent relationship), and was renamed Enwire in early 2013. SpinGlo shortly thereafter was renamed Trig.
Enwire kept on marketing Trig but a few months after launch the opportunity collapsed.
According to a message published on the Enwire website, they appear to have tried to salvage the company through a partnership or some such with OPN, however that also seems to have fallen through.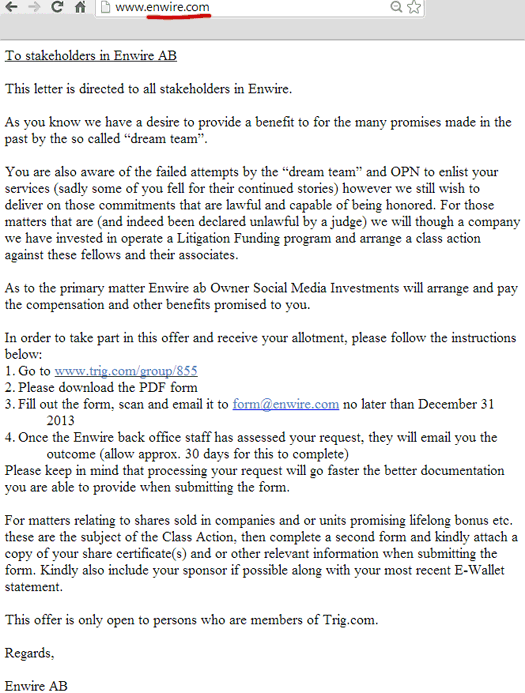 Who the "dream team" are is not clarified. Which is a little strange considering Enwire appear to blame them for the collapse.
In a Facebook posting dated 12th of September 2013, whoever was left running the company attempted to clarify exactly what went wrong.
It is in this update that Anthony Norman (appearing as "Tony Norman") is referenced: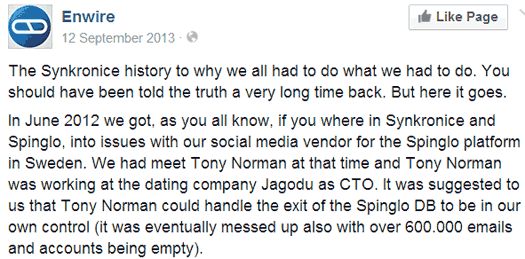 The Synkronice history to why we all had to do what we had to do. You should have been told the truth a very long time back. But here it goes.

In June 2012 we got, as you all know, if you where in Synkronice and Spinglo, into issues with our social media vendor for the Spinglo platform in Sweden.

We had meet Tony Norman at that time and Tony Norman was working at the dating company Jagodu as CTO. It was suggested to us that Tony Norman could handle the exit of the Spinglo DB to be in our own control (it was eventually messed up also with over 600.000 emails and accounts being empty).

Tony Norman initiated and also suggested the new product (that Tony had ran a few years back and failed miserably) called Viral Angels. We where all very excited and told Tony to set it up.

At this time, June 2012 we where also introduced to Phillip Cook, the person Tony knew since several years back.

Phillip Cook was living in UAE after crashing in the financial market in the UK a few years earlier. (Ozedit: This explains why Enwire claimed on their website that the company was "managed and run from the United Arab Emirates")

New ideas were brought to the table that Phillip would be in charge of. One was the auction-bidding site Justbid.

The Justbid site was created and programmed by people hired by Tony Norman. It was financed by investors from Finland (they never got anything from that either) and like other development that Tony Norman was in charged of, he never paid for it.

One debt for developing Justbid.me was put on to Spinglo and had to go to court, where Spinglo had to defend its innocence regarding what Tony Norman ordered in the name of Justbid. The company is owed over 15.000€ and yet another programmer not paid by Tony.

In August 2012 the Tony Norman and Phillip Cook RAID started for real (even though we never saw it coming at that point in time).

Tony Norman took over the responsibility for the payment gateway and started to run it through DWW International GmbH, the same company Tony Norman used for Viral Angels. Justbid also used the same payment gateway when it was launched in September 2012.

Suddenly we started having issues paying networkers in the Synkronice network (you might all remember that).

Tony's excuses were always that we had development costs for the money coming in through the network (we still wonder what was developed when we build the new Spinglo for less then 2000€ using Social Engine as core for the social media platform. See link here to the software license and stats postimg.org/image/jop2utt9j/).

Without all the investments brought in by others and us in Aug/Sep 2012 Synkronice and Spinglo would never have made the cruise for 120 people to the Caribbean.

The money coming in through DWW was now controlled by Tony, and besides that he made two smaller transfers to our banking system in September and October that was used to pay bonuses out, NOTHING came in to pay anyone. Over 130.000€ vanished! Where did it go?

Tony Norman was always saying it was used for developments!? He has yet to answer that question.

In this process it was also suggested that we should make Cellpoint into Synkronice (or Enwire as its called today). This so we quickly could become a listed company, since Cellpoint already was listed on Aktietorget in Sweden.

That idea was voted down and a new idea came up by Tony Norman and Phillip Cook that was sold to us all. Lets start fresh and new.

Enwire was thought up of. No papers were ever signed, the only thing was to focus on listing the company and that was no problem according to Phillip Cook and should happen in January 2013.

Again we all collectively started brining money into the company. Enwire struggled and could not even get a bank account or payment gateway opened and still is having issues paying its bills. Where did all the money go?

Over 600.000€ came into Enwire during the month of Dec 2012 to May 2013, through direct investments, through co-operations in Millioo, through Viral Angles monthly payments and through selling of shares received on deals made with Cellpoint and via the network.

And still many bills where unpaid and networkers where not getting paid. Where did it go?

Enwire has several black marks in Sweden for not paying its bills. Information about listing was promised every week by Phillip Cook and Tony Norman but nothing came out.

They slowly just tried to get the founders of the network and the investors out of the game. Manipulating information being sent to people and lying to people. New companies was formed that they controlled and funded using money you all brought to the table.

Many things are yet to be answered but if you start asking yourself questions of your own you should not be so cleaver to figure out that this has been a systematic plan directed by Tony Norman and Phillip Cook from day one.

They have put in their friends and relatives in the board of the companies. The chairman of the board for Enwire resigned in beginning of August 2013 since he felt the situation was getting out of control. He knows there are no real equity in the company or values, just a pumped up vision of Viral Angels owning large parts of none listed and delisted companies.

In fact not a single Viral Angels company is anymore listed. The one that was listed in January was delisted (IQMoney) and Cellpoint has been put on the observation list and have to reapply for listing since it is not meeting the criteria for a listed company.

Now to the questions again;

• Without a network, Tony Norman and Phillip Cook cannot sell anything. They can't sell shares; they can't sell Viral Angels (or any of the projects that are controlled by them).

• Not paying the network but instead paying themselves is rule number ones in business.

Where did Phillip Cook get money to pay for his cosmetic surgery in beginning of June 13?

He had nothing when he came to all of us. We send him money several times on Western Union so he could pay his phone bills.

10.000€ he used company funds to pay the cosmetic surgery. Is that what you do when you are not paying the networkers? Your money!

• Why has Tony transferred over 120.000€ in 5 months from Viral Angles to his personal account?

According to him, it went to all cases? The cases are Tony Norman's and Phillip Cook's! Besides investing in companies that are not listed on Viral Angels through a private company called Grey Knight Capital AB.

• Why has the Viral Angels Company in Sweden got its tax status revoked (well, for not keeping the records in order and field any tax declarations or yearly books).

• Why has Cellpoint got put on the observation list at Aktietorget? That's because its clear that the audit did not go well and they cant really show what values they have in the company.

• Why have not Enwire listed yet? It was said in January, then February then March etc!

Tony Norman and Phillip Cook have different meanings here. Tony says that it has not been focused on (because he had to clear his own debt to the tax office and did not really have time to do it).

Phillip on the other hand is saying its because of the owners and people behind it (us all).

Looking at what he is communicating to others then Phillip Cook through Justbid FZE is the sole owner of all Enwire shares. Its my company Phillip roars!

• Why was all networkers promised to get their e-wallet money paid out and gift-wallet money? That was a way to keep people in the game directed by Tony and Phillip.

They have paid some leaders really well to keep them in the game. Some in Sweden (you know who) and some in Portugal (you know who) and that is why Viral Angels still are being promoted.

Not because it is working, just because some leaders are being groomed into the false picture they have been painting.

We were naïve and believed in it also. We were also stupid and very ignorant. We thought they could deliver on the promises we had been given by Tony Norman and Phillip Cook.

The truth will always prevail and the truth is what it is. We all got set up; you got set up and everyone else. They stole your money and our money! These two raiders came in and took advantage of all of us.

Neither of them has brought one euro to the table, or any one person that has build this up. You have all been a part of that and now they are trying to justify a re-start of the Network Enwire again?!!?

They have no experience at all and will fail again, like they have in the past.

If you choose to believe in what they are saying, good luck.
Call me cynical, but it would appear this latest incarnation of Spinglo/Enwire is Norman's attempt to salvage whatever remains of his Viral Angels empire.
Phillip Cook is also still involved, listed as the head of "Strategy and Business Development" over at Trig. Trig itself still appear to be active, but are only mentioned on the Viral Angel's website as a separate company (Trig Media Group AB).
Viral Angels today describe themselves as 'the world's largest private equity and business angel network'. Given that, I'd assume there's some way for Viral Angels affiliates to pump money into Trig once they've joined (via virtual shares or otherwise).
Anyway, now that you've got an idea of the mess Anthony Cook has been a part of these last few years, let's take a look at his latest offering.
Read on for a full review of the Viral Angels MLM business opportunity.
The Viral Angels Product Line
Viral Angels has no retailable products or services.
The company markets affiliate membership packages on its website, ranging in price from 39 EUR a month (Silver) to 990 EUR a month (Black Diamond).
The main drawcard of each affiliate membership package (of which there are eight in total), is access to a "share-allocation" at each level.
Various other financial sounding stuff is also bundled with affiliate membership. And as an example, here's what's bundled with Black Diamond:
Brokerage account
VA Open
VA Prime
Saletraining
Education
Payvault (prepaid card)
Option Pool
Underwriting
Performance Pool
Index Pool
T24 Black card
The Viral Angels Compensation Plan
The Viral Angels compensation plan pays affiliates to recruit new affiliates using a unievel compensation structure.
Various bonuses tied to an affiliate's rank are also offered, along with a somewhat murky share offering.
Viral Angels Affiliate Membership Ranks
There are ten affiliate membership ranks within the Viral Angels compensation plan.
Along with their respective qualification criteria, they are as follows:
Member – purchase a Viral Angels affiliate package (39 to 990 EUR a month)
Trader – recruit and maintain 3 affiliates
Senior Trader – recruit and maintain at least 5 affiliates (one of which must be Trader ranked), and have a total downline of at least 10 affiliates generating at least 1150 EUR a month in membership sales volume
Executive Trader – recruit and maintain at least 6 affiliates (two of which must be Trader ranked), and have a total downline of at least 20 affiliates generating at least 2300 EUR a month in membership sales volume
Manager – recruit and maintain at least 8 affiliates (two of which must be Senior Trader ranked), and have a total downline of at least 40 affiliates generating at least 4500 EUR a month in membership sales volume
Senior Manager – recruit and maintain at least 10 affiliates (two of which must be Executive Trader ranked), and have a total downline of at least 80 affiliates generating at least 9000 EUR a month in membership sales volume
Executive Manager – recruit and maintain at least 12 affiliates (two of which must be Executive Trader and one Manager ranked), and have a total downline of at least 150 affiliates generating at least 17,000 EUR a month in membership sales volume
Director – recruit and maintain at least 14 affiliates (two of which must be Manager and one Senior Manager ranked), and have a total downline of at least 300 affiliates generating at least 35,000 EUR a month in membership sales volume
Senior Director – recruit and maintain at least 15 affiliates (one Executive Trader, two Senior Managers and one Executive Manager), and have a total downline of at least 500 affiliates generating at least 58,000 EUR a month in membership sales volume
Executive Director – recruit and maintain at least 16 affiliates (one Manager, two Executive Managers and one Director), and have a total downline of at least 1000 affiliates generating at least 115,000 EUR a month in membership sales volume
President – recruit and maintain at least 16 affiliates (one Senior Manager, two Directors and one Senior Director), and have a total downline of at least 2000 affiliates generating at least 230,000 EUR a month in membership sales volume
Fast-Track Bonus
Viral Angel's Fast-Track bonus rewards affiliates for reaching certain affiliate membership ranks within a set time period from the time they sign up.
The Fast-Track Bonus is paid out via shares and cash:
Trader in seven days – 100 EUR in shares
Senior Trader in thirty days – 500 EUR in shares
Executive Trader in sixty days – 1000 EUR in shares
Manager in 90 days – 2500 EUR in shares
Senior Manager in 120 days – 5000 EUR in shares and 3600 EUR in cash (300 EUR a month for 12 months)
Executive Manager in 180 days – 10,000 EUR in shares and 7200 EUR in cash (400 EUR a month for 18 months)
Director in 12 months – 16,000 EUR in shares and 12,000 EUR in cash (500 EUR a month for 24 months)
The shares offered appear to be virtual shares in Trig.
Recruitment Commissions
When a Viral Angels affiliate sells an affiliate membership package, the company pays out a direct recruitment commission:
If you invite a friend or business colleague to Viral Angels and your invited member pays for a membership you will receive a bonus directly into your account.
This commission is paid out via a unilevel compensation structure.
A unilevel compensation structure places an affiliate at the top of a unilevel team, with every personally recruited affiliate placed directly under them (level 1):

If any level 1 affiliates go on to recruit new affiliates of their own, they are placed on level 2 of the original affiliate's unilevel team. If any level 2 affiliates recruit new affiliates they are placed on level 3 and so on and so forth down a theoretical infinite number of levels.
Viral Angels cap their recruitment commissions down five levels of recruitment. How the commission payout determined by how much a newly recruited affiliate pays for their membership, and what level they fall on the unilevel team.
Silver – 1 EUR on levels 1 to 4 and 2 EUR on level 5
Gold – 10 EUR on level 1, 3 EUR on level 2, 2 EUR on levels 3 and 4 and 4 EUR on level 5
Platinum – 15 EUR on level 1, 6 EUR on level 2, 3 EUR on levels 3 and 4 and 6 EUR on level 5
Ruby – 30 EUR on level 1, 10 EUR on level 2, 6 EUR on levels 3 and 4 and 12 EUR on level 5
Sapphire – 45 EUR on level 1, 13 EUR on level 2, 8 EUR on levels 3 and 4 and 16 EUR on level 5
Emerald – 60 EUR on level 1, 18 EUR on level 2, 12 EUR on levels 3 and 4 and 18 EUR on level 5
Diamond – 80 EUR on level 1, 23 EUR on level 2, 16 EUR on levels 3 and 4 and 23 EUR on level 5
Black Diamond – 105 EUR on level 1, 30 EUR on level 2, 20 EUR on levels 3 and 4 and 30 EUR on level 5
How many levels an affiliate can earn from is also tied into their Viral Angels affiliate membership rank (separate from their buy-in level):
Trader ranked affiliates can down 3 levels of recruitment
Senior Trader affiliates can earn down 4 levels of recruitment
Executive Trader or above affiliates can earn on all five recruitment levels
Note that the Trader affiliate membership rank requires the recruitment of three affiliates. Until a Viral Angels affiliate has met this qualification they do not earn recruitment commissions.
Leadership Bonus
The Leadership Bonus extends a Viral Angel affiliates recruitment commission payouts beyond the initial five levels offered.
Starting at the Executive Manager rank, an affiliate is able to earn 0.5% to 2.5% on the sales volume generated from the sixth level of their unilevel team.
Executive Manager – 0.5%
Director – 1%
Senior Director – 1.5%
Executive Director – 2%
President – 2.5%
Note that if an affiliate beyond the first four levels is at the Executive Manager or higher rank, then the difference between their rank payout and the affiliate qualifying for the commission is paid.
Eg. If an Executive Director has a Senior Director in one unilevel leg beyond level 4, they are paid only 0.5% of that affiliate's sales volume (2% – 1.5%).
Quarterly Cash Bonus
As the name suggests, the Quarterly Cash Bonus is paid out quarterly.
I'm not sure how exactly it works, with the description provided in the Viral Angels compensation plan being rather poor.
When an affiliate qualifies at the Director level, I believe personal sales volume over the next four months are then tracked. At the end of four months, 5% of that amount is then paid out as a bonus.
Sales volume generated by affiliates who are that the same or a higher rank than the affiliate qualifying for the Quarterly Cash Bonus is not counted.
Annual Cash Bonus
The Annual Cash Bonus is a yearly bonus paid out on personal sales volume.
Sales volume is tracked for twelve months starting at the Director rank, and if an affiliate maintains at least the sales volume generated in the first month they qualified for the bonus over the next twelve months, a percentage bonus is paid out on the fourteenth month.
How much of a percentage is paid out is determined by an affiliates membership rank:
Director and Senior Director – 0.25%
Executive Director – 0.5%
President – 1%
After the twelfth, the process repeats again for the next year (with the twelfth month counting as the sales volume benchmark for the next twelve months).
Monthly Leadership Bonus
The Monthly Leadership Bonus is a cash payment made each month an affiliate maintains various affiliate ranks:
Senior Manager – 300 EUR
Executive Manager – 500 EUR
Director – 750 EUR
Senior Director or higher – 1000 EUR
Shares (revenue-sharing?)
Be it Trig or another company, Viral Angels affiliates are given shares each month. These shares are supposed to be for Viral Angels companies that "will be going public soon".
I've also seen affiliates talk about "dividends", but I'm not really sure what that's about (sounds like a points based Ponzi model):
Viral Angels is a credit union, and hence owned by its members. The profit of the four individual funds shall be distributed as a dividend to its members, pro rata their points.
Points in the above example could of course mean shares, which would explain the use of pro-rata (although the four funds sounds individual revenue-sharing pools).
Joining Viral Angels
Affiliate membership to Viral Angels is tied to the purchase of one of eight monthly subscriptions:
Silver – 39 EUR
Gold – 89 EUR
Platinum – 145 EUR
Ruby – 295 EUR
Sapphire – 420 EUR
Emerald – 585 EUR
Diamond – 750 EUR
Black Diamond – 990 EUR
Conclusion
The whole SpinGlo mess is a sad and sorry affair, with Anthony Norman latest attempt to resuscitate the corpse falling foul of multiple regulatory fronts.
First and foremost is the glaring problem of nothing being sold to retail customers. All that's on offer in Viral Angels is affiliate membership, with the more spent on said membership increasing commission potential.
This is known as "pay to play".
As for the commissions themselves, this is straight-up recruitment.
Affiliates buy in at whatever level, and are then directly and indirectly paid on the recruitment of new affiliates. How much they're paid directly correlates to how much newly recruited affiliates pay when they sign up.
That's about as pyramid schemey as you can get.
As to the whole shares thing, sounds to me like it's all virtual, and reminiscent of the OPN debacle.
OPN ultimately were only able to register themselves under a different company name on the Cyprus Stock Exchange (they were terminated and banned from listing on theBritish GXG stock exchange).
Trig is certainly not a new company, so one would think if it was going to public it would have already by now. Yet all we see are vague promises about it happening sometime in the future.
In the meantime the money being pumped into Viral Angels by affiliate investors is most definitely real, and most likely to fail regulatory scrutiny if the company ever does approach a reputable stock exchange for listing.
The more pressing issue for Viral Angels however is what happens when the recruitment slows down and those at the bottom stop paying their monthly affiliate fees?
Will we then see yet another incarnation of SpinGlo/Synkronice/Enwire/Trig/Viral Angels?
Although I'm sure Anthony Norman has a barrage of excuses to explain away his involvement in the past failures of SpinGlo et al., his track record speaks for itself.
This whole "we're going to go public one day" ship was first floated around 2012, and to date the ship hasn't left port. In the wake of Norman's failures, all we've seen is missing investor funds and a series of collapses.
Stay tuned for nothing different this time around I guess.