OnPassive's "mega event" was a Dubai marketing campaign

I have a confession to make; I've had the OnPassive "The Top Live" event stream sitting open on a broswer tab now for over a month.
It has survived three or four browser updates and a couple of system reboots.
Every time I went to watch the 4.5 hour stream it I couldn't get through more than a few minutes. My mind wandered and before you know it I was frantically clicking for any distraction to make the pain stop.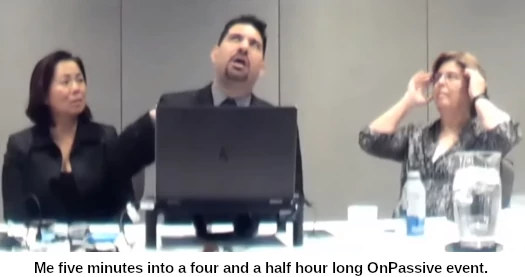 A while back I adopted a different strategy. Pulling the webinar from my YouTube account library, I loaded it up on my phone before bed.
I'd get comfortable, force myself to concentrate and… wake up the next morning with no recollection of the webinar and a dead phone battery.
This went on for a few weeks and I was no closer to getting through the "mega event".
Today I decided enough was enough. One way or another I was going to get through this.
Turns out there was only twenty or so minutes of footage I needed to watch.
Ash Mufareh's OnPassive Dubai event started with forty-five minutes of time-wasting and technical difficulties.
This is kind of odd, coming from a company that states it's an "AI Software product development company (that) brings a competitive advantage, innovation, and fresh perspectives to business and technology challenges".
Oh and speaking of technology; Rather than use its "O-Connect" webinar platform, billed as "the most reliable AV conferencing platform", OnPassive hosted the event on Zoom and broadcast to YouTube.
And instead of delegating running of the event to aRtIfIcIaL iNtElLiGeNcE or a competent host, Mufraeh, being the control freak that he is, micromanaged everything through his laptop.
This led to janky flow, awkward transitions and a ton of wasted time.
But hey, I'm not here to bitch about that. OnPassive: The Dubai extravaganza began with paying off local authorities: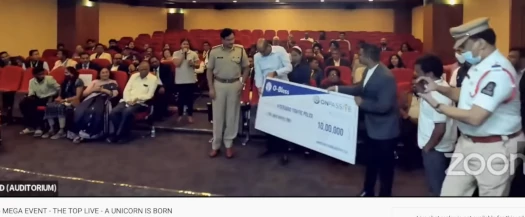 The Hyderabad Chief of Traffic Police happily accepted a check for one million rupees (~$13,093 USD), praised Ash and then scurried off. He was purportedly between meetings or something.
India is the top source of traffic to OnPassive's website. So next up we had a bunch of Indian OnPassive recruiters receive phones and cars.
Faithful US OnPassive affiliates, seated around Mufareh, were made to watch on. More than a few were likely wondering where their recognition was.
Then it was time for the main event. Like plenty a scams before it, OnPassive ran a promo on the Burj Khalifa.
It was a bit of an awkward affair, sandwiched after The Dubai Fountain Show – the actual attraction anyone in the vicitinity was there to see.
After that Mufareh announced OnPassive had bought two floors of the Burj Khalifa for office space, 134 and 151. Also a third space somewhere else in "Dubai Internet City".
Seeing as Mufareh is based out of the US and all of OnPassive's grunt work is done in India, I don't know why OnPassive needs an office in Dubai, let alone three.
Such that OnPassive will actually have a physical presence in Dubai, I suspect the third (cheaper) office will primarily be used.
The last item of interest was the announcement of a OnPassive ad campaign in Dubai.
Today is the beginning of this one single marketing campaign. The biggest in history, with Emaar Entertainment.

The largest in history. Any business, taken (???). This will never stop. This is day one.
I ran a brief fact-check on this. Absolut Vodka ran an ad campaign non-stop for 25 years. The most expensive ad campaign ever run was by Chanel, coming in at $33 million. I'm not sure by what metric OnPassive's Dubai campaign is "the biggest in history".
Anyway that was it pretty much it. The next two hours were OnPassive randoms congratulating Ash and themselves.
One month after OnPassive's Dubai advertising campaign kicked off, I thought we might look at what impact it's had.
Unfortunately SimilarWeb hasn't updated its website traffic analysis for April yet. At least not for OnPassive's website.
Going further back though we can see a spike last December followed by a slump: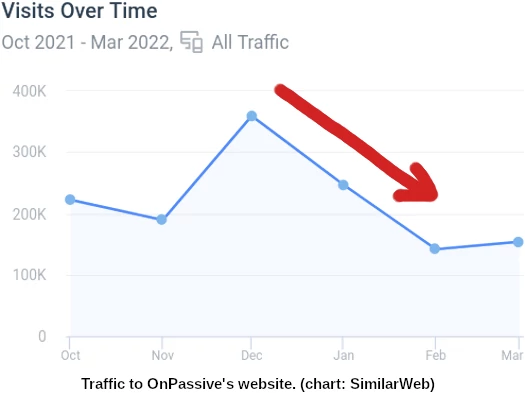 Can we take a step back and appreciate just how silly an ad campaign for OnPassive in Dubai really is though?
Forget about Dubai being the MLM scam capital of the world and take the place at face value. If you ran a company and I offered to fly you anywhere in the world to market it, how far down on your list is Dubai?
Between the shopping tourists, other scammers and Sheiks running around, honestly how effective is a marketing campaign for anything in Dubai going to be?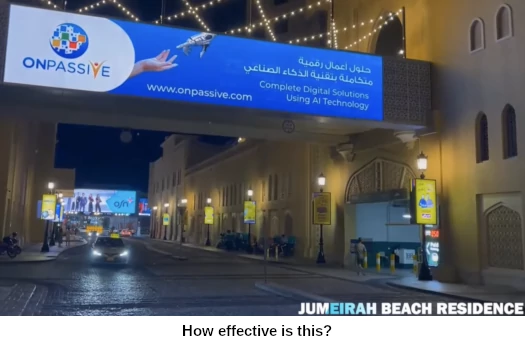 Meanwhile what's changed for OnPassive affiliates?
Commissions paid? None.
Has the company actually launched anything? No.
Has anything materially changed for affiliates since the Dubai event? No.
All I see a colossal waste of money on advertising. Money that could have been paid out or spent on actual product development (has anyone seen any programming beyond OnPassive's website?).
I might be mistaken but I don't think anyone has seen any of OnPassive's purported Dubai offices either.
Between GoFounders, OnPassive and now O-Founders, Ash Mufareh's MLM company has been in prelaunch for three and a half years.
Over this time, Mufareh is believed to have collected millions in membership fees.
Many OnPassive affiliates are believed to have purchased multiple accounts. Some are suspected of owning hundreds.