OneCoin lawyer Per Danielsen loses Norwegian govt case

Disbarred OneCoin lawyer Per Danielsen has lost his case against the Norwegian government.
In handing down its June 23rd decision, the Oslo District Court found Danielsen had "persistently deviated from acceptable lawyer behavior".
The District Court rejected Danielsen's claim that there had been "procedural errors" leading to his disbarment.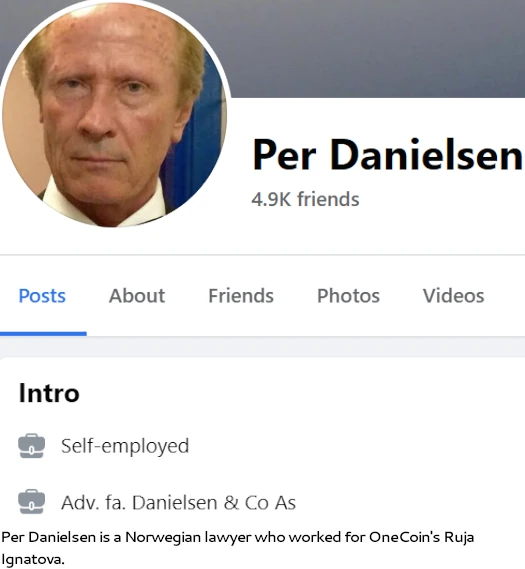 Danielsen filed suit after he was disbarred for working for Ruja Ignatova in a manner that was "aggressive and reckless".
In addition to being suspected of assisting Ignatova launder OneCoin Ponzi funds, the District Court
further emphasized that the 67 disciplinary complaints and 14 disciplinary convictions against Danielsen between 2017 and 2022 are important in the overall assessment.
In handing down her order, Judge Heger noted;
Repeated reprehensible actions and breaches of professional duties have been proven, resulting in an extensive loss of trust for Danielsen.

It will also result in a serious loss of confidence for the legal profession if Danielsen is allowed to keep the licence.
BehindMLM first came across Danielsen in early 2017. At the time Norwegian authorities were looking into going after Norwegian OneCoin promoters.
Speaking on behalf of his client, Per Danielsen insisted OneCoin "had no business in Norway". Danielsen also denied OneCoin was a pyramid scheme, as alleged by the Gaming Board at the time.
Despite Danielsen's denials and misinformation, the Norwegian investigation into OneCoin continued.
In December 2018 the Gaming Board revealed it had requested information on Norwegian investors from OneCoin.
In response to the Gaming Board's disclosure, Danielsen laughably claimed OneCoin "is worldwide and does not have separate figures for Norway."
At the time OneCoin was in the midst of a KYC legitimacy marketing campaign.
Finally in December 2019, Danielsen made several public statements in response to OneCoin money launderer Mark Scott's conviction, and news Konstantin Ignatov was cooperating with US authorities.
Ignatov has never stated that Onecoin is fraudulent. He has only testified against (the) US Attorney (Mark) Scott and stated that the lawyer must have carried out wire fraud, ie transferring money between states in the United States without permission.

It has no connection with Onecoin.

Ignatov is now released because he has cooperated with the prosecutor's office in the United States.

So he is not being pursued for his position with Onecoin, and will probably soon become a free man.
When asked about US authorities claiming OneCoin was a fraudulent business in court, Danielsen again issued laughable denials.
You are misinformed. The US prosecutor has not stated what you are referring to.

The fact that an employee of the tax authority has stated something in this direction is not evidence of what the prosecuting authority thinks.

It is just an expression of what a random employee thinks. As unimportant as what a journalist might think, in fact.
How much dirty money Ruja Ignatova paid Danielsen is unclear.
US Prosecutors are on the record claiming OneCoin was a $4 billion dollar Ponzi scheme.
Mark Scott was convicted of laundering stolen OneCoin Ponzi funds.
Konstantin Ignatov is not a "free man". He remains under home detention, pending completion of his cooperation with US authorities.
And Per Danielsen is a dishonest scumbag who has finally been disbarred. As of May 2023, Danielsen can no longer practice law in Norway.