OneCoin lawyer disbarred, files case against Norwegian govt

A disbarred lawyer has filed a case against the Norwegian government.
At a ten day hearing that started on May 25th, Per Danielsen, of the firm Danielsen & Co. AS, is accused of working with OneCoin's Ruja Ignatova.
Danielsen, who describes himself as someone "both hated and liked at the same time", is alleged to have assisted Ruja Ignatova with money laundering.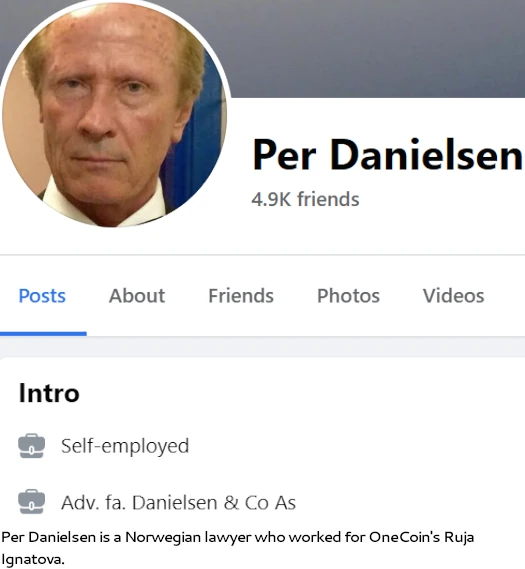 An Advocate from Norway's Financial Supervisory Authority (Finanstilsynet), representing the government, claims Danielsen's conduct was "aggressive and reckless".
In the lead up to the December 2022 decision to disbar Danielsen, Finanstilsynet's investigation uncovered
Danielsen did assignments for companies connected to Bulgarian Ruja Ignatova.

Ignatova's name appears on invoices found during inspection visits to Danielsen's Law Firm.

In the case description it says "Ignatov, USA", which is strangely similar to this Ignatova.
In the course of this legal work, Finanstilsynet claims Danielsen did not
exercise a very high degree of care in his work with the company, particularly with regard to the risk of money laundering.

We cannot see any traces of sufficient diligence in the documentation from Danielsen, or any signs of self-criticism.

There was an extremely large and imminent danger of money laundering, and all warning lights should have flashed.
In his defense, Danielsen's firm argued that OneCoin was a legitimate company.
She spent large parts of her introductory lecture presenting judgments from Bulgaria and other documents that will prove that this was not such a suspicious company.
In light of OneCoin being a $4 billion Ponzi scheme, Ruja Ignatova being on the FBI's top 10 most wanted list, and a slew of OneCoin insiders having been indicted for fraud in the US, Danielsen's defense certainly seems flimsy.
As to what specifically Danielsen got up for Ruja Ignatova, that hasn't been disclosed.
All we know for now is Danielsen was hired to go after a Norwegian publication for writing about Ignatova. Danielsen has only confirmed he acted as a mediator, and provided "assessment of an Italian judgment".
Invoices from Danielsen & Co. AS reveal Ignatova was charged 5.6 million NOK for his services (~$500,000) USD).
The Norwegian government suspects that amount, and what Danielsen has disclosed, is just the tip of the iceberg.
In the 28 page decision disbarring Danielsen last December, he was found to be
unfit to practice law, and that he has lost the trust that is necessary in the profession.
In addition to helping Ruja Ignatova with money laundering, Danielsen has a long history of complaints from clients and mishandling of money.
These complaints and incidents were factored in the the decision to disbar him.
Whereas OneCoin money launderers in the US have been prosecuted, Norwegian authorities have thus far declined to file criminal charges.
Danielsen's case is expected to wrap up sometime in the first half of June.
Update 30th June 2023 – Danielsen lost his case against the Norwegian government. He remains disbarred for dishonest conduct.