Nexo raids in Bulgaria have suspected ties to OneCoin

Bulgarian authorities have raided the offices of the Nexo crypto Ponzi scheme.
That itself is just another day in crypto but authorities are apparently alleging Nexo's founders had ties to OneCoin.
Nexo itself is your typical crypto "staking" Ponzi hiding behind an exchange. Nexo investors earn up to 10% annually on staked cryptocurrency.
And of course there's Nexo's own token, which helps the scam obfuscate ROI liabilities against invested crypto.
All of that's boring and no different to all the other crypto exchange collapses/busts since May 2022. This line from a Novanite report however catches the eye;
The suspicions are that the Bulgarians behind the large company acted according to the scheme of Ruja Ignatova and the OneCoin pyramid led by her.
Novanite is a Bulgarian/English news agency – granted the sentence is a bit janky. The Tokenest broke down Novanite's sentence into this;
According to Novinite, prosecutors suspect that Bulgarians behind Nexo participated in a scheme orchestrated by Ruja Ignatova.
Dea Dimitrova of Standardt News, a Bulgarian newspaper, attributes the connection to Antoni Trenchev.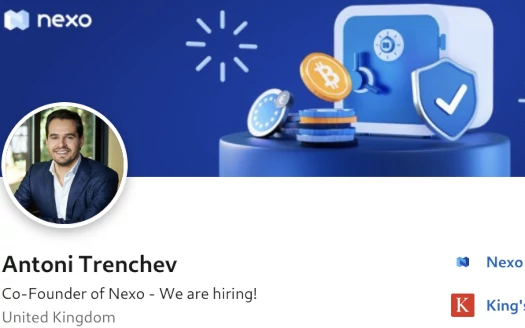 Trenchev is a normally UK-based Bulgarian national.
Crucial to Ruja Ignatova's timeline, is Nexo launching in late 2017. Ruja Ignatova disappeared in October 2017 – and that's not the only coincidence.
Some 300 Bulgarian authorities, accompanied by undisclosed "foreign agents", raided fifteen addresses in Sofia.
Thus far, other than Nexo being the target, Bulgarian authorities have only disclosed they are investigating an "organized crime group" suspected of "money laundering, tax offenses, banking without a license (and) computer fraud".
Over the last 5 years, the turnover through the platform has crossed over 94 billion dollars.

Evidence has been collected that a person who used the platform and transferred cryptocurrencies has been officially declared a terrorist financing person.
Getting back to Novanite's report;
The investigation into the activities of the crypto company in Bulgaria began a few months ago, after foreign services detected suspicious transactions, which were reported to be aimed at circumventing the sanctions imposed by the European Union, Great Britain and the United States against Russian banks, as well as companies and citizens of the Russian Federation.
Ruja Ignatova is long suspected of either fleeing to the middle-east or Russia, where she has connections. Nexo's ties to organized crime in Russia isn't a surprise.
Antoni Trenchev's partner in crime is Nexo co-founder Kosta Kantchev – also a Bulgarian national.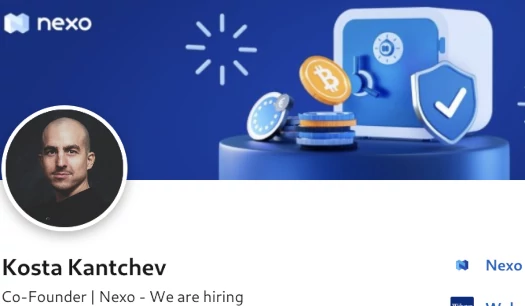 Together, the pair are believed to have made billions running the Nexo Ponzi scheme. Like OneCoin, Nexo operates through a series of shell companies.
Under the protection of Bulgarian authorities, OneCoin is still operating out of Sofia – although the notorious Ponzi side of the scam collapsed in January 2017.
That brings us to Nexo's political connections. This is from Standart News;
According to BNT, the son of former Deputy Prime Minister Lydia Shuleva, Georgi Shulev, is being questioned as a witness, as he represented the cryptobank in 2018, after which he left it and filed lawsuits against the other co-founders.

Also associated with Nexo are Kalin Metodiev – financial director, and Sokol Yankov – representing the company until 2019.
As to why Trenchev and Kantchev haven't been arrested yet. They've, you guessed it, already fled to Dubai.
The owners of Nexo are not in Bulgaria, say sources from the services.

Antoni Trenchev and Kosta Kanchev left for Dubai already in the summer, after accusations were brought against them by several American states.

Investigators had evidence that they had become citizens of the United Arab Emirates through investment by purchasing property there.
This again follows Ruja Ignatova's criminal connections to the UAE.
Since Ignatova disappeared, there's been a big question mark on who is actually running OneCoin out of Sofia. It's obviously someone with political connections who's confident in being protected from the US.
Wouldn't it be something if it turns out Nexo's co-founders, or their associates, took over OneCoin after Ignatova disappeared. It'd certainly explain a lot.
Nexo is alleged to be a $94 billion dollar scam. Whether authorities will be able to bring Kanchev and Trenchev to justice remains to be seen.
Despite being raided and its founders hiding in Dubai, Nexo maintains it's
always cooperating with the relevant authorities and regulators, and we are hopeful that we will have some exciting news in the weeks to come.
I'm expecting my next update to this article will be Nexo disabling investor withdrawals.
Update 20th January 2023 – The SEC has charged Nexo with securities fraud in the US.
In or around June 2020, Nexo Capital Inc. ("Nexo") began to offer and sell the socalled Nexo Earn Interest Product ("EIP") in the United States.

The EIP allowed United States investors to tender to Nexo certain crypto assets, which Nexo deposited in interest- yielding
accounts and then used in various ways to generate income for its own business and to fund interest payments to EIP investors.

These included staking, lending, and engaging in arbitrage on purportedly "decentralized" finance platforms.

As of March 2022, Nexo's EIP had approximately 112,000 U.S. investors and $2.7 billion in assets from U.S. investors.
After the SEC went after BlockFi for securities fraud in early 2022, Nexo preemptively realized the "pretending crypto securities fraud isn't a thing" era was over.
On February 18, 2022, after the Commission announced charges with respect to a crypto investment product similar to the EIP … Nexo voluntarily ceased offering and selling the EIP to new U.S. investors.

After February 18, 2022, existing U.S. investors continued to earn interest (at varying rates) on assets held in EIP accounts as of that date, but assets added after that date would not earn interest.

In early March 2022, just as Nexo put in place these restrictions for U.S. investors, there were approximately 440,000 global investors in the EIP and 112,000 investors in the U.S.

As of March 2022, the value of EIP assets was approximately $9 billion globally and $2.7 billion in the U.S.

On December 5, 2022, Nexo proactively announced that it was terminating the EIP in certain states and "phasing out" all of its products and services in the United States, including permanently ceasing to offer and sell the EIP to U.S. investors, and winding down the EIP for existing U.S. investors who continued to earn interest on funds held in the EIP prior to February 18, 2022.

Nexo will cease the EIP as to all U.S. investors by April 1, 2023 and will exit the U.S. entirely shortly thereafter.
An SEC investigation into Nexo not surprisingly concluded it had committed securities fraud.
Nexo settled the SEC's findings for $22.5 million.
Respondent shall pay a civil money penalty in the amount of $22,500,000.00 to the Securities and Exchange Commission for transfer to the general fund of the United States Treasury.
How much in fees Nexo collected through its $9 billion Ponzi scheme is unclear.