Controversy dogs OneCoin's blockchain whitepaper

The problem with OneCoin affiliates getting excited about their blockchain whitepaper reveal earlier today, is it suggests that OneCoin are only now using a blockchain.
Despite evidence to the contrary, OneCoin has maintained its Ponzi points have operated as a legitimate cryptocurrency since day one.
At a training event earlier today it OneCoin's whitepaper was revealed… sort of.
Nobody was given a copy, nor were they told what the contents are – other than the whitepaper itself being ten pages in length.
The author of the document was revealed to be Marcelo Garcia Casil, CEO of DXMarkets.
As per their website;
DXMarkets integrates blockchain technology into enterprise-based financial processes, increasing efficiency and reducing costs.

DXMarkets works with a number of blockchain platforms to develop custom made yet universal and scalable solutions for each of its clients.
Basically for a fee, DXMarkets will design and implement a blockchain for your business.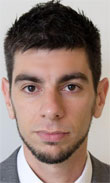 Casil's DXMarkets corporate bio cites him as a "technology guru" with 'extensive experience designing and building large-scale enterprise-grade applications'.
How much OneCoin paid Casil (right) for his services is unclear. DXMarkets do list a legal advisor as part of their corporate team, but as a company are evidently fine with accepting stolen Ponzi investor funds as payment.
Upon learning Casil was the author of OneCoin's blockchain whitepaper, Bjorn Bjercke reached out for answers.
Bjercke himself is a blockchain expert. OneCoin recently threatened him with legal action after he revealed the company was using a SQL database to record Ponzi point balances in lieu of a blockchain.
Intimately familiar with how a blockchain works, Bjercke thew Casil some pretty standard questions over Skype.
When was the blockchain operational?
Do the transactions happen in the SQL database or on the blockchain?
With OneCoin itself not making its whitepaper public, Bjercke also asked Casil for a copy.
Casil refused the requests, stating
I can't send you the white paper, you need to get it from the OneCoin staff directly.

I'm bound by NDA and therefore I'm not allowed to distribute their material or to comment on their IT infrastructure beyond what I elaborated on the white paper.

I'm not afiliated with OneCoin Limited in any capacity and therefore I can't comment on their behalf.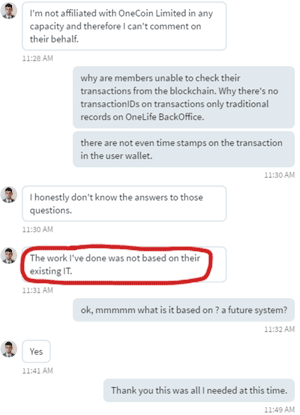 Short of swearing Casil to secrecy regarding the lack of an actual blockchain, I can't think of reason OneCoin would make him sign an NDA.
I mean surely the whitepaper is intended for public consumption, right?
Bjercke continued to press Casil on why OneCoin's current setup didn't function like a legitimate blockchain.
Why are members unable to check their transactions from the blockchain?

Why there's no transaction IDs on transactions, only traditional records on OneLife BackOffice?

There are not even time stamps in the transaction in the user wallet.
To which Casil replied,
I honestly don't know the answers to those questions.

The work I've done was not based on their existing IT.
Bjorne sort clarification on this point and asked, "What is it based on? A future System?"
Casil confirmed the whitepaper indeed was.
This is inline with Kari Wahlroos' whitepaper presentation, during which he stated
We have the blockchain being uniquely designed for the use of the company and being fit and proper for the use of the company.
Remember last year when OneCoin released its "new" blockchain?
At the Coin Rush event in London, OneCoin CEO Ruja Ignatova stood on stage and made everyone watch stock video footage of rolling numbers. As the footage played, Ignatova pretended to "switch on" OneCoin's new blockchain.
With the revelation that a blockchain is currently being developed, what was all that about then?
And again the question arises, if OneCoin currently doesn't have a blockchain, why have they been claiming they did for over two years now?