OneCoin's blockchain lies exposed by GDPR

As annoying as the GDPR might be, lo and behold some good has come of it.
Before we get into that though, let's revisit early 2017.
Blockchain developer Bjorn Bjercke had just dropped the "OneCoin has no blockchain" bombshell.
Through an executive job offered through Asenshia, Bjercke claimed OneCoin offered him the role of Chief Technology Officer.
Once appointed CTO, OneCoin wanted Bjercke to develop a blockchain for them.
Seeing as OneCoin claimed to have had a blockchain since inception in 2014, this begged the question of what the company had been using for a year and a half.
Based on correspondence with Asenshia regarding the position, Bjercke came to the conclusion OneCoin had no blockchain.
From what the rep. at ASENSHIA described, a non-technical person, it sounded much like a MS SQL, or could maybe but doubtful (be) Oracle DB, as that is way too expensive for this organization and without a credible CTO.

It was very clear from our conversation that they did not have a blockchain.
Rather than assist a Ponzi scheme with continuing to defraud investors, Bjercke turned down the position and went public.
In my opinion OneCoin is like a cancer to the cryptocurrency community.

cannot give up, I cannot hide the truth, I cannot stay quiet about OneCoin/OneLife being a SCAM.
Two and a half weeks later, on March 9th, OneCoin flatly denied a job offer had been made.
In relation to recent online publications regarding Onecoin and its blockchain, we would like to reassure you that the published information contains entirely false and misleading statements.

Please be kindly informed that the Company has never offered a position to this person, and he has never been asked to "build" a blockchain for Onecoin.

Therefore any claims related to offers and salaries are totally false and untrue.
Given Bjercke had no reason to make any of this up, doubts persisted.
A month later OneCoin threatened to sue Bjercke unless he withdrew his statements and publicly apologized.
That never happened and nothing came of OneCoin's threats.
For those unfamiliar with the recently introduced General Data Protection Regulation (GDPR), a condensed explanation for the purpose of this article is that it gives individuals in Europe access to information on how companies are using their stored data.
In an effort to be GDPR compliant, many companies have sent out emails informing anyone who's data they have stored regarding their rights.
Asenshia is one of those companies.
The GDPR email Asenshia sent Bjorn Bjercke is nothing unusual;
We respect your rights and in order for us to keep you informed about relevant opportunities, we need to hold some information about you.

If you object to us keeping your information, would like to learn more about what your privacy options are, or if you would like to provide us with an updated profile, please click on the link below to review our privacy policy.
Bjercke responded by requesting an "updated profile", which in turn provided concrete evidence OneCoin lied about offering him a position.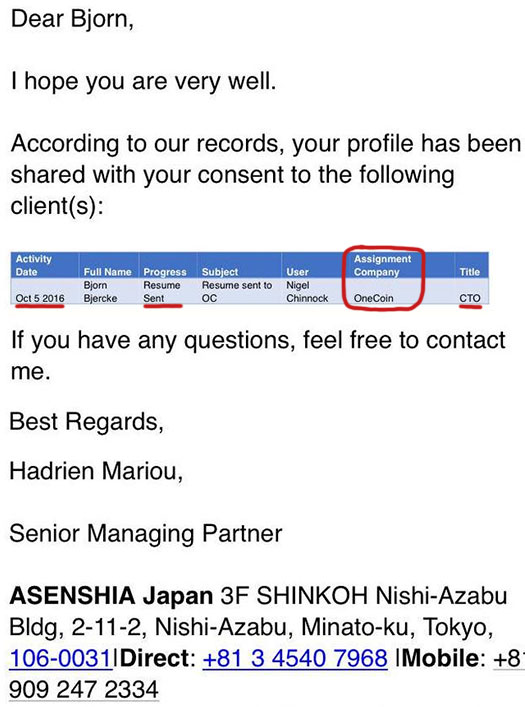 And there you have it.
As Bjercke claimed, Asenshia sent his resume to OneCoin for consideration of the position of Chief Technology Officer.
Back in early 2017 this isn't something Bjercke would've known back in 2017 unless OneCoin contacted him regarding the position.
At a bare minimum Asenshia might have informed Bjercke they were sharing his profile with an unnamed company (disclosing the name runs the risk of them losing their commission), but even then I'm not sure that's part of their process.
The bottom-line is that OneCoin lied about offering Bjercke a position and, by extension, probably everything else the company has ever claimed.
Of the lies told, the two most prominent in mid 2018 are that Ruja Ignatova is on maternity leave and OneCoin will go public in October 2018.
Globally OneCoin has all but collapsed or been shut down by authorities.
As we near OneCoin's self-imposed October deadline, one of two things is going to happen;
OneCoin will miss the deadline and formally hire Igor Krnic come up with more lies excuses, or
OneCoin will go public with some altcoin script (takes 5 minutes to set up), the public price will crash and that'll be the end of it
Maybe then OneCoin's investors will come to terms with their losses. Or not.
What's left of OneCoin's investor-base have to be some of the most gullible schmucks I've ever seen.
At this point Ruja Ignatova herself could put out a video confessing everything and they'll still call it out as a hoax.
We're just under four months out from October 8th. Stay tuned…