One Thor Review: Chinese backed TelexFree clone?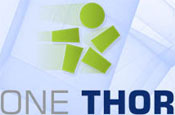 One Thor launched in November 2013, with a "Misael Martins" credited as the President of the company on the One Thor website.
Misael Martins appears to be one of Brazil's top TelexFree affiliates, with a Google search revealing a ton of TelexFree marketing material mentioning him by name: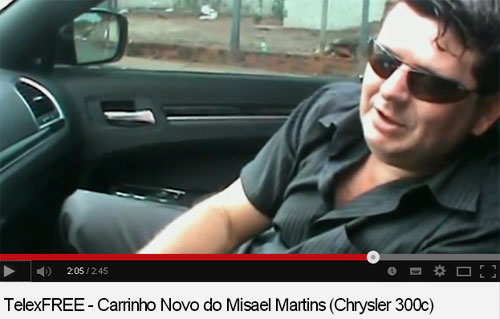 Martins appears to rely heavily on exotic cars in his TelexFree marketing efforts. Martins is also credited as a "top 10" affiliate in official TelexFree marketing videos: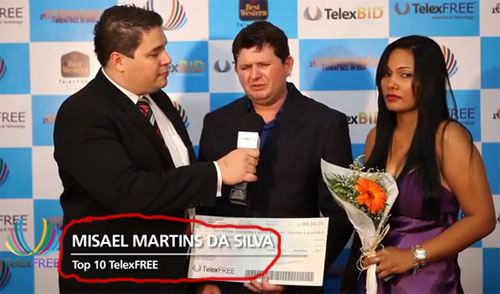 Further research revealed One Thor affiliates relying heavily on Martins association with TelexFree to pitch the new opportunity. A marketing pitch example from one affiliate is reproduced below:
One of TelexFree's leading affiliates (Sr Misael Martins) enters the Brazilian market on the day 11/09/2103.

One Thor promises to be the new wave of MLM world, with high earnings and even franchises.
The One Thor website domain ("onethor.com") was registered on the 6th of October 2013, the domain registration however is set to private.
Read on for a full review of the One Thor MLM business opportunity.
The One Thor Product Line
On the One Thor website there is mention of four primary product categories: digital electronics, wellness ("Vital" branded supplements), Wish energy drink and "digital advertising".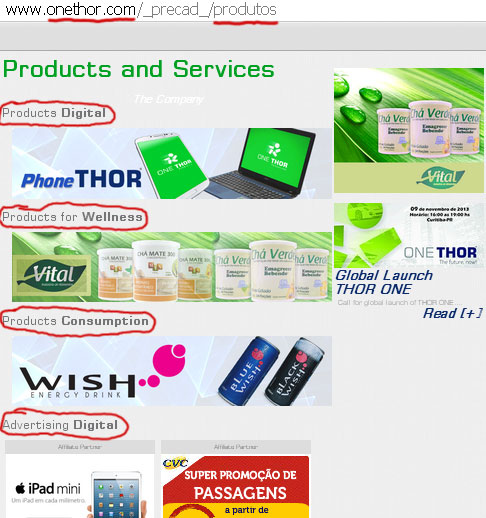 Other than the mention of "e-commerce", how these products integrate into One Thor's business model is not clarified. As per the One Thor compensation plan analysis below, it appears the above products have nothing to do with the commissions One Thor affiliates earn.
The One Thor Compensation Plan
The One Thor compensation plan is largely a clone of TelexFree, with the core business being the purchase of "Adcentral" ($350) and "Family" ($1500) accounts by affiliates.
Recruitment Commissions
When a One Thor affiliate recruits a new affiliate and they purchase either an AdCentral or Family account, the recruiting affiliate is paid a commission.
The purchase of an AdCentral account generates a $30 commission and AdFamily account $150.
Binary Commissions
Each AdCentral or Family account purchased by One Thor affiliates is placed in a binary compensation structure.
A binary compensations structure places a One Thor affiliate at the top of two binary teams (left and right).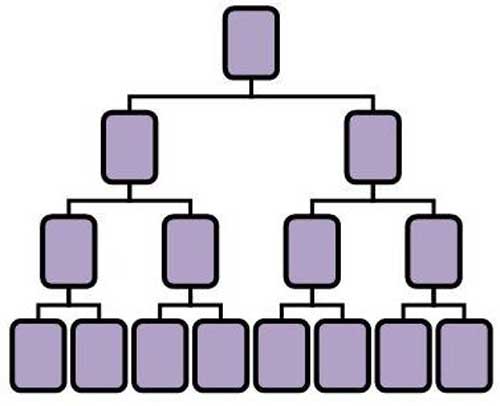 Initially starting at one position, each side branches out into two additional positions down a theoretically infinite number of levels. Each of the positions filled in both binary sides represents an AdCentral or Family account purchase by an affiliate.
Each day new filled positions on the left and right sides of an affiliates binary teams are paired up against eachother, with each pair generating a $20 commission.
If recruited affiliates purchase three or more accounts together (referred to as a "trio"), and this is paired up on both sides of the binary, the commission payout on that particular pairing is $80.
AdCentral and Family Position ROIs
Offered as an investment return, One Thor pay out a weekly ROI of $25 per AdCentral account purchased and $125 per Family account.
In order to qualify for their weekly ROI, affiliates must spam the internet daily with advertisements for One Thor.
Referral commissions are also offered on affiliate ROIs, paying out 2% down six levels of recruitment. This equates to 50 cents per AdCentral account and $2.50 per Family account per week.
"Free" Family Accounts
As an incentive to get affiliates to invest large sums of money with the company, One Thor offer affiliates "free" accounts when they invest in Family accounts in bulk.
If an affiliate invests in two Family accounts, One Thor will reward the affiliate with a single "free" Family account.
If an affiliate invests in five Family accounts, One Thor will reward the affiliate with two "free" Family accounts.
If an affiliate invests in ten family accounts, One Thor will reward the affiliate with four "free" Family accounts.
Note that these free accounts are paid for at the same rate as an affiliate's ROIs are paid out on their Family account investment, with the positions created once the balance has been accrued over the required amount of weeks (determined by how many Family accounts are purchased together).
Family Account Investment Incentive Bonus
As One Thor affiliates market the business opportunity and attract new investors, the company keeps track of the amount of Family account investments an affiliate generates.
For each Family account that an affiliate personally invests in or has their downline invest in, they are rewarded one point. When an affiliate reaches 200 points they are paid a cash bonus of $5000.
After this initial 200 point bonus, a One Thor affiliate can continue to generate bonuses by choosing one affiliate in their downline at a time to code to.
This chosen coded affiliate must have at least 100 points, and upon reaching 200 and generating their own $5000 payment, the affiliate coded to them is rewarded 200 points. At this point the affiliate must choose another affiliate in their downline to code themselves to.
In this manner an affiliate can continue to generate $5000 bonuses up until they have accumulated a total of 1200 points (6 bonuses in total).
Note that in order to qualify for One Thor's Investment Incentive Bonus, an affiliate must have personally recruited at least ten new affiliate investors into the scheme, with at least five on each side of their binary.
Leadership Pools
One Thor offer affiliates a share in two Leadership Pools, each consisting of 2.5% of the company's monthly revenue.
The first Leadership Pool is shared out equally amongst the company's top 20 affiliate recruiters for that month.
The second Leadership Pool is shared out equally amongst the company's top 20 new investment volume generators for that month.
Joining One Thor
Affiliate membership to One Thor appears to be free, however affiliates must invest in either an AdCentral ($350) or Family Account ($1500) if they wish to earn any commissions.
Note that One Thor also offer optional "insurance" on the above investment amounts, raising the cost of investment to $402 for an AdCentral account and $1725 for a Family account.
Conclusion
No doubt due to One Thor President Misael Martins' heavy involvement in TelexFree, it's not surprising that both companies' compensation plans revolve around a core affiliate investment mechanic.
Affiliates invest in at either $350 or $1500, and are paid a weekly ROI under the guise of advertising. In addition to this they are also offered various incentives for recruiting new investors into the scheme and getting them to invest.
The more money invested, the higher the ROI paid out to an affiliate (and commissions generated via recruitment incentive bonuses).
In this sense One Thor is no different to TelexFree, albeit they do offer stronger incentives for affiliates to bring new affiliate investors into the scheme. One area the two companies differ in is the product front for the scheme, with One Thor opting for physical and digital goods over TelexFree's VOIP service.
That said, as with TelexFree, One Thor's products have nothing to do with affiliate investment or their ROIs. Whatever "e-commerce" activities the company is promising at this stage appear to be entirely external to the core affiliate investment mechanic.
Typically this results in a company running a Ponzi scheme on the side whilst promising legitimacy via additional activities (e-commerce), which have nothing to do with the investment side of the business.
The whole "investment insurance" angle is interesting, as it echoes TelexFree's Carlos Costa claiming to be able to offer insurance to their investors via insurance company Mapfre.
Once Mapfre were made aware of this claim however they were quick to distance themselves from Costa's claim, which resulted in Costa and TelexFree being caught out lying to their affiliates.
With One Thor, the so-called investment insurance is being offered by "First Insurance International":
(insurance)
Who First Insurance International are however remains a mystery. At the time of publication, a Google search for the company name returns 8 results – none of which have anything to do with a company name "First Insurance International":
(first insurance international google results)
Am I surprised that First Insurance International appears to be entirely made up?
Not really.
Taken from the One Thor website:
Developed from the project CJM GLOBAL BUSINESS of December 20, 2011, the THOR ONE is born with experience plus 20 years in companies that use sales tool called MULTILEVEL MARKETING.

Consisting of Brazilian businessmen and headquartered in Hong Kong in China, features the Brazilian market and the world, the EVOLUTION in segment direct selling company.
Whilst there's nothing inherently wrong with companies headquartered in Hong Kong, of late Chinese scammers have been relentless in their targeting of the South American market.
The two largest MLM Ponzi schemes in operation at the time of publication today, WCM777 and Better Living Global Marketing, both claim to be based out of Hong Kong – with both companies running heavy advertising campaigns targeting South America.
Here with One Thor it appears yet another Chinese company is looking to launch a Ponzi scheme in the region, and figured the best way to do it was to hire a top TelexFree affiliate and pretty much clone the company.
TelexFree were effectively shut down in Brazil back in June, after a Judge granted an injunction prohibiting the company from signing up new investors or paying out existing affiliates their weekly ROIs.
After no less than fourteen failed appeals and a rejected bankruptcy protection application, the company remains in limbo while Brazilian authorities investigate and prepare a case against them.
Probably bitterly angry at having his Ponzi returns halted, it probably didn't take much to convince Misael Martins that his best bet was to get in on the management side of things and launch his own Ponzi scheme.
Given the regulatory spotlight that's currently shining down on all things TelexFree in Brazil, how long One Thor will remain operational seems questionably brief at best.
The Chinese pulling strings from offshore might hamper regulators initially, but that's not going to stop them hauling Misael Martins in if affiliate investment spirals out of control like it did with TelexFree.
I'm betting Martins Chinese backers aren't too proficient in Portuguese, meaning that local Brazilian management is the weak change in this TelexFree reboot masterplan.
Shut that down and it's game over, even if the Chinese owners do run away with the bulk of funds (which they'll no doubt keep offshore having learnt from TelexFree's shutdown).
The bottom line?
TelexFree, by virtue of its business model and compensation plan, is an obvious Ponzi scheme that relied on constant new investment by affiliates to keep on paying out those who had already invested. One Thor, essentially operating as a clone but under the guise of "e-commerce", is no different.
Irrespective of regulatory action, due to the drip-feed nature of the ROIs ($20 a week), affiliates who participate are unlikely to see the inevitable collapse coming before it's too late.
Worse still, due to the offshore nature of One Thor, there's pretty much going to be zero chance of investment recovery when the scheme goes kaboom.
That is of course unless you really believe an insurance company that doesn't even appear to exist is stupid enough to insure your Ponzi scheme investments.