Darren Olayan issued Mintage Mining securities fraud C&D

The state of Michigan has issued Darren Olayan a securities fraud cease and desist pertaining to Mintage Mining.
Michigan's notice was issued on April 8th, however I only came across it today as part of my research into Olayan's $595,000 Utah fine.
As per Michigan's cease and desist;
The Administrator's staff conducted an investigation of Respondent's activities under the Securities Act.

The investigation developed evidence that Mintage Mining, LLC and BC Holdings and Investments, LLC offered and sold unregistered securities to (a) Michigan resident.
Neither Darren Olayan, Mintage Mining or BC Holdings and Investments are registered to offer securities in Michigan, or indeed anywhere in the world.
Consequently, the state of Michigan concluded;
Respondent Darren Olayan materially aided Mintage Mining, LLC and BC Holdings and Investments, LLC to offer and sell unregistered, non-exempt securities, in violation of … the Securities Act.
Olayan was issued with the cease and desist. Unfortunately it doesn't appear any further action was taken.
Mintage Mining's website is still up. Following a brief spike in website traffic in mid 2020, investor recruitment appears to have collapsed again.
I say unfortunately because Olayan has had more than his fair share of run-ins with US regulators.
Olayan's troubles with US regulators began in mid 2018, when Texas issued a Nui & Mintage Mining securities fraud cease and desist.
That eventually led to a paltry $25,000 fine.
Montana and Utah (previously referenced), have also taken action against Olayan.
For its part Nui claimed Mintage Mining was "pre-compliant" with US securities law.  The company also claimed it had  "protection with the SEC".
Nui affiliates staked the legality of offering unregistered securities on the law firm Jones Day.
Of course none of that held up, as evidenced by the regulatory action against Nui and Olayan that followed.
In response to the Texas C&D, Olayan made the bizarre claim that securities regulation doesn't exist.
One would think all this would be enough to trigger a federal SEC investigation, but as of yet nothing has materialized.
The unfortunate sentiment stems from Olayan continuing to commit securities fraud, targeted at non-English speaking investors outside the US.
Since his regulatory run-ins Olayan has gone underground. Outside of dated social media profiles and a personal website, Olayan doesn't exist.
His communications to Nui International investors appears to be through Spanish videos spread through Telegram and other private channels.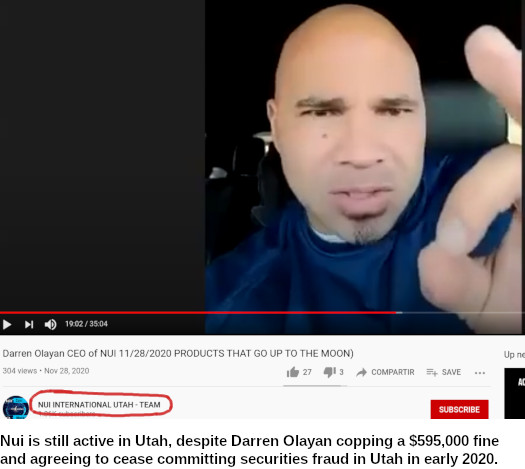 As above, a few of these videos eventually make it to more accessible platforms such as YouTube.
Nui International is essentially a continuation of Olayan's securities fraud. The ruse this time around is the standard "trading bot" rubbish.
Nui International markets a daily ROI of up to 2.5%, with affiliates able to invest up to $100,000 a pop.
A visit to Nui International's website reveals a 404 error code. The backoffice portal however is still active, which is how the scheme is accessed.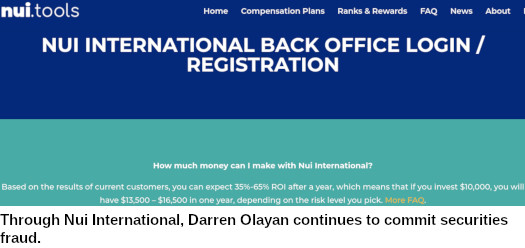 Olayan and his accomplices are pitching Nui International at Spanish speaking investors (primarily in South America).
Nui International affiliates in Brazil promote the Ponzi scheme on the false premise that the company is "fully legalized".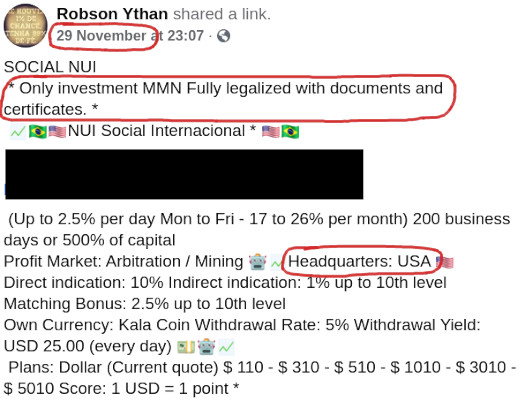 Curiously, Alexa pegs South Africa as the top source of traffic to Nui International's website (84.8%).
Whether Olayan is still in the US or not is unclear. What is clear is US regulators need to finish what they started.