Nui served securities fraud C&D in Montana last Sep.

From time to time I run a few searches to check up on our cast of characters.
Last night I came across an interesting search result. Turns out Montana served Nui a securities fraud cease and desist last September.

In hindsight, this goes a long way to explain Darren Olayan's subsequent disappearance and the whole Appliqate debacle.
The notice against Nui was filed by the Montana State Auditor, Commissioner of Securities and Insurance (CSI), on September 19th, 2019.
Listed as respondents are:
Nui Social, a Utah LLC;
Symatri LLC, creator of KALA token;
Mintage Mining LLC, Nui's crypto mining platform;
Darren Olayan, registered agent (owner?) for Nui Social (also CEO), Symatri and Mintage Mining;
Paul Macdowell, a Montana based Nui promoter; and
Reid Tanaka, President of Nui.
According to CSI, they began investigating Nui in July 2018. The investigation probed securities fraud committed by the respondents spanning January 2017 to present.
At issue is Nui's investment opportunity, offered through Mintage Mining.
As detailed in CSI's fraud notice;
A CSI investigation of Respondents indicates they are offering investments in 3 types of programs – Hash Rate Unit Investments, Open-Ended Units/Open-ended Hardware Rentals (likewise cryptocurrency mining programs), and KALA (pre-configured hardware designed to passively mine Kala).

Respondents made claims that investment programs would generate returns of up to 250% annually and claimed the companies were in compliance with relevant state securities laws.

The investments in Hash Rate Unit Investment Program and the Open-Ended Unit Investment Program are securities and have not been registered by qualification, notification, or coordination.

No exemption has been granted for their sale in Montana.
In classic MLM Ponzi fashion;
The CSI investigation determined that it appeared the success of Respondents depended entirely upon the recruitment of new participants.
Having concluded Nui was offering unregistered securities, CSI requested sanctions by way of a
a fine of $5000 for each identifiable violation;
a permanent injunction;
restitution for NUI's Montana victims.
The notice issued NUI with a cease and desist, prohibiting the opportunity in Montana as of September 2019.
Nui was given fifteen days to challenge the notice. As far as I can tell, they didn't.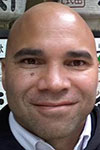 This is in line with the 2018 securities fraud notice Nui received in Texas. Darren Olayan (right) responded to that notice by claiming securities regulation didn't exist.
Texas regulators weren't convinced, and went on to fine Nui and Olayan $25,000 for securities fraud.
I wasn't able to ascertain whether CSI imposed a monetary fine on Nui, but it appears the scheme remains illegal there.
Less than three weeks after Montana issued it's securities fraud cease and desist, Nui announced it has been acquired by Appliqate.
Appliqate already had ties to Nui, having appointed Darren Olayan its Chairman and CEO back in March 2019.
So in effect, one company Olayan had complete control over bought out another company he had complete control over.
The intent behind the Appliqate acquisition appears to have been to shift Olayan down to an executive role. Instead of he as an individual running Nui, you now had what was effectively a Wyoming shell company running the show. At least on paper.
Day to day at Nui nothing changed. Olayan did however delete his previously active Nui social media profiles.
There is one personal Facebook profile of Olayan's left, although he's scrubbed it back to a profile photo change in November 2019. The post before that last change is from September 2014.
So to what end was the Appliqate acquisition facade orchestrated?
As per the previously linked acquisition press-release;
Darren Olayan, APQT's CEO shared, "Our anticipation for this merger is extremely high, especially considering its collaborative ability to harness the marketing network for our blockchain projects and services.

Because of our strong representation in Latin America, Asia & Africa, we expect the next 12 months to produce exponential international growth, benefiting both companies significantly."
This brings us to Nui International.
Through Nui International, Nui offers a crypto trading bot investment opportunity… with one catch:

Mind you, pseudo-compliance banning US investors doesn't stop Nui from hosting Nui International events in the US:
Technically Nui still operates in the US. Only instead of the meat and potatoes investment side of the business, US residents are fed whatever random offers Olayan can cobble together: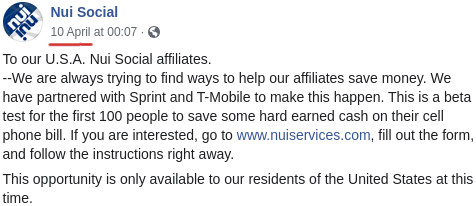 Going back to Olayan's quoted statement a few paragraphs back; Alexa currently cites Brazil (48%), South Africa (32%) and Venezuela (6%) as top sources of traffic to Nui International's website.
Olayan's plans for Asia seems to have flopped.
So here's the thing, running an MLM crypto trading bot isn't illegal in the US. All you have to do is register with the SEC and provide evidence you are in fact generating advertised returns through bot trading.
Oh and you also need to disclose to the SEC and public details about your bot. Who made it, past results to justify income claims etc. etc.
Appliqate is registered with the SEC. Their last filing however was back in August 2019. There is nothing about the Mintage Mining investment opportunity or Nui International trading bot opportunity in Appliqate's SEC filings.
In fact Appliqate haven't even bothered to inform the SEC that Darren Olayan is now running the show.
So why not just register with the SEC, prove you're paying returns through trading revenue and continue to solicit investment across the US?
Well, for the same reason Nui failed to defend the Texas and Montana securities fraud notices.
They're running a Ponzi scheme.
The hope seems to be that by scamming non-US residents, primarily those in Brazil and South Africa, US regulators will leave Utah-based Nui and Olayan alone.
Securities law meanwhile is relatively the same the world over. Any country that regulates financial markets regulates securities.
Nui or Olayan aren't registered to offer securities in Brazil, South Africa or anywhere else in the world.
All it'd take is one SEC subpoena for information to confirm securities fraud is taking place, and from there it'd be a repeat of the Texas and Montana actions – although with potentially much heavier penalties.
Despite two US states having issued Nui and Olayan with securities fraud notices, for their part the Utah Division of Securities haven't lifted a finger.
Based on supplied information, CSI pegged Montana resident NUI losses at $18,285. Total Nui US investor losses are unknown.