Nui Review: Cryptocurrency token investment with pseudo-compliance

Nui has its origins in Divvee, a failed "access to discounts" MLM opportunity that launched in mid 2016.
When Divvee's original model failed, the company rebooted as a mobile app promotion platform.
That also failed, prompting Divvee's descent into unregistered securities.
In late 2017 Divvee merged with Hodo Global. The merger created Nui, which focused on cryptocurrency related unregistered securities.
On July 11th the Texas Securities Board issued Nui and associated companies with a securities fraud cease and desist.
Nui has vowed to challenge the notice, however at the time of publication that's still playing out.
In the meantime Nui has "restructured" and is heavily pushing pseudo-compliance.
Today we publish an updated Nui review and see where the company is at.
Nui Products
Nui has no retailable products or services, with affiliates only able to market Nui affiliate membership itself.
Nui affiliate membership provides access to
Core and Reach (part of Symatri, which enables affiliates to acquire Kala tokens)
"1-year training"
Nui Blockchain Education and
access to the Mintage Mining passive ROI opportunity (costs an additional $500)
The Nui Compensation Plan
Nui affiliates sign up, pay a fee and are paid to recruit new affiliates who do the same.
Additional compensation plan components include Kala investment through Core and Reach, as well as direct investment into Mintage Mining.
Commission Qualification
A Nui affiliate must be "active" to qualify for commissions.
As per the Nui compensation plan;
To be active, you must have an active subscription order and have either a $100 Mintage Mining agreement, purchase of a
Kala Rig, or 1,000 points in CORE per month.

A Mintage Mining agreement and Kala Rig purchase makes you active for 52 weeks.
Recruitment Commissions
When recruited affiliates pay their $150 annual fee, Nui pays a direct and residual recruitment commission.
The direct recruitment commission is a set $30 to the recruiting affiliate.
Residual recruitment commissions are paid via a 3×10 matrix.
A 3×10 matrix places a Nui affiliate at the top of a matrix, with three positions directly under them: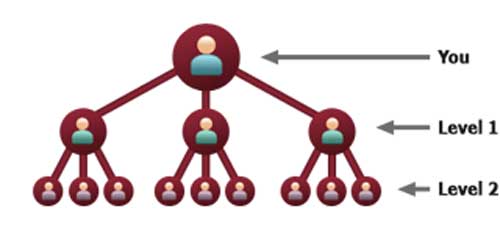 These three positions form the first level of the matrix. The second level of the matrix is generated by splitting these first three positions into another three positions each (9 positions).
Levels three to ten of the matrix are generated in the same manner, with each new level of the matrix generating three times as many positions as the previous level.
Positions in the matrix are filled via direct and indirect recruitment of Nui affiliates.
Nui take $30 of annual fees paid by affiliates in a matrix and split the commission 10% over 10 levels ($3 per level).
To earn on each level of the matrix requires personal recruitment of active Nui affiliates (see commission qualification).
One active affiliate personally recruited unlocks the first matrix level. Two active affiliates personally recruited unlocks the first two matrix levels and so on and so forth up to ten levels.
Investment Commissions
Investment into Kala equipment and Mintage Mining pays direct and residual commissions.
the Kala direct commission rate is not disclosed
Kala residual commissions (exact amounts are not disclosed) are paid out 10% on each level of the 3×10 matrix.
Mintage Mining investment attracts a 10% direct commission
20% of Mintage Mining investment is paid out residually through the 3×10 matrix (2% per level)
Core Commissions
The Core platform provides Nui affiliates with offers and activities to complete in exchange for Kala tokens.
Commissions generated via Core activity completed by matrix commissions.
Generated commissions are split between an affiliate and nine upline levels (reverse unilevel).
Joining Nui
Nui affiliate membership is available at five price-points:
Free – no cost
Member – $15 a month
Pro – $1150 (includes $1000 Mintage Mining investment position)
Elite – $2650 (includes $2500 Mintage Mining investment position)
Executive – $6700 (includes $2500 Mintage Mining investment position and purchase of Kala mining rig)
Premiere – invitation only, costs not disclosed
Paid Nui affiliate memberships all cost $150 a year to maintain.
Conclusion
Having been pinged for unregistered securities, Nui seem to believe they'll be able to pseudo-compliance their way out of it.
This includes the addition of a $500 fee Members affiliates have to pay if they wish to invest in Mintage Mining.
Affiliates who pay the fee are provided an Ant Router mining rig, which is capable of mining a small amount of LiteCoin each day.
This naturally has nothing to do with Mintage Mining's passive ROI payouts to affiliates. Nor does it have anything to do with Kala investment, or investing in and then cashing out Kala tokens based on Nui's set internal value (Kala is not publicly tradeable).
And so with unregistered securities the basis of Nui's offering, around that we have pyramid recruitment by way of commissionable affiliate fees.
Pyramid recruitment and unregistered securities is not a good combination for regulatory compliance, and is primarily why Nui is in the mess they're in now.
The company pretends what they're doing isn't regulated, however the fact of the matter is securities regulation in the US has existed since 1933.
Leave alone the fact that when you've been served a securities fraud cease and desist, claiming what you're doing isn't regulated is ridiculous.
Next we'll address Nui's post cease and desist drive towards pseudo-compliance.
No matter how the company dresses its offering up, affiliates are investing in Mintage Mining and Kala on the expectation of a passive ROI.
Nowhere is Nui's facade more exposed than in the company's own internal communications.
In an official Nui affiliate webinar held earlier this week, hosts Jim Paré and Casey Combden explained the $500 Mintage Mining fee as follows;
A lot of people say, "Well why do we have to pay $500 to (access Mintage Mining)?

You're not paying anything. You're putting your money into a mining unit and you're getting paid on it.

It's not money coming out of your pocket, it's… we're not allowed to say investment but that's the closest thing I can say.
No matter what Nui bundles with Mintage Mining and Kala investment, funds are still deposited on the expectation of a ROI.
There's simply no getting around that,leaving Nui with two options;
Either abandon the current investment ROI model and start again from scratch or register with the SEC and provide investors with full disclosure.
It should go without saying that signing up and investing in an MLM company that has an open securities fraud cease and desist against them is a bad idea, but I'll throw that in also as a final thought.