Nui affiliates stake legality of unregistered securities on US law firm

Despite US regulators cracking down on MLM cryptocurrency mining opportunities recently, Nui affiliates maintain their unregistered securities offering is legal.
This assertion is not based on US securities law or enforcement of it, but rather Nui's legal representation in the US.
Nui market a passive MLM cryptocurrency mining offering through Mintage Mining.
The problem, from a securities regulation standpoint, is that neither Nui, Mintage Mining or the company's management are registered to offer securities in the US.
Previously Nui has claimed it is "pre-compliant" with the SEC, which at first glance sounded like Nui planned to or had already registered Mintage Mining.
Following clarification from Nui CEO Darren Olayan however, all it meant was Nui had plans to disappear offshore should the SEC or a state regulator take action against the company.
Now Nui affiliates have taken the representation that Mintage Mining's unregistered securities offering is legal in the US one step further, based on Nui retaining the Jones Day law firm.
On May 4th in the "Team Kaizen 360" Facebook group, Nui affiliate Jeremy Jenkins made the following claims;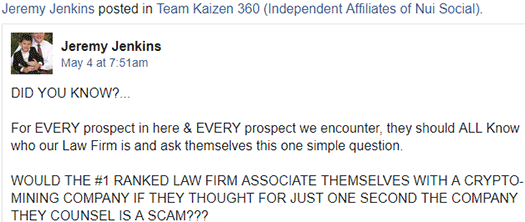 DID YOU KNOW?…

For EVERY prospect in here & EVERY prospect we encounter, they should ALL Know who our Law Firm is and ask themselves this one simple question.

WOULD THE #1 RANKED LAW FIRM ASSOCIATE THEMSELVES WITH A CRYPTO-MINING COMPANY IF THEY THOUGHT FOR JUST ONE SECOND THE COMPANY THEY COUNSEL IS A SCAM???

To you ALL – We are PAID EVERY WEEK on actual mining that is taking place & we have the ability to cash out, keep it in a Bitcoin Wallet, or compound it.

Oh and we do it all while being counselled and represented by the #1 Law Firm in our Country,

So, you tell me, are we a scam?

Seriously people, what are you waiting for? If you have not joined with us yet, get with someone who is in this great company and learn why you are missing a weekly payout & learn what you need to do to start receiving what everyone in our company is receiving.

WE GROW & EARN WEEK AFTER WEEK WITH ZERO MONTHLY FEES & NO RECRUITING NECESSARY!

As the Blockchain continues to grow, we continue to earn!!!
Whether Jones Day have advised Nui that unregistered securities are legal in the US is unclear.
For their part, Nui affiliates certainly give the impression this is what corporate have advised them.
I did find a video published by Jones Day last month regarding "blockchain", but nothing that suggested they believe unregistered securities are legal in the US.
Nonetheless, Nui corporate are claiming to be "pre-compliant with the SEC" and its affiliates that unregistered securities are legal.
USI-Tech recently pulled a similar stunt with respect to their MLM cryptocurrency opportunity.
Last August USI-Tech circulated a legal opinion published by Hart & David (now Hart David Carson), which claimed their unregistered securities offering was legal in the US.
Five months later USI-Tech received a securities fraud cease and desist in Texas, which eventually lead to the collapse of the company.
Granted USI-Tech claimed to be trading cryptocurrency as opposed to mining it, two cryptocurrency mining opportunities have since received similar securities fraud cease and desists (Power Mining Pool and Genesis Mining).
Update 12th July 2018 – On July 11th the Texas Securities Board issued Nui and Mintage Mining with a securities fraud cease and desist.