Darren Olayan fined $595,000 for Divvee securities fraud

The Utah Division of Securities has fined Divvee Social and Darren Olayan $595,000 as part of a securities fraud settlement.
The Utah Div Sec litigation pertains to Divvee Social. This stems from Olayan's original Divvee pyramid scheme, which was rebranded as Nui Social in November 2017.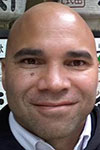 It's assumed "Divvee Social" is a shell company, one of many Olayan (right) runs his various scams through, as Divvee proper never offered securities. At least not publicly.
The $595,000 fine imposed on Olayan consists of $545,000 in restitution and a $50,000 monetary penalty.
The settlement was unanimously approved by the Utah Division of Securities in March, 2020.
As per records dug up by BehindMLM reader GlimDropper, who gets full credit for doing the legwork research, Utah began investigating Olayan in July 2019.
Since running up against US regulators, Olayan has gone underground. He is currently busy targeting non-English speaking victims for his Nui International Ponzi scheme.
Nui Social's parent shell company Appliqate abandoned the opportunity earlier this year.
For all intents and purposes, the only remaining active component of Olayan's fraudulent business operations is Nui International.
More to come.
Update 16th December 2020 – I've explored the current Nui International situation in our coverage of Darren Olayan's Michigan securities fraud cease and desist.