From Divvee to Nui to Mintage Mining unregistered securities?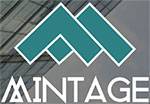 Divvee's original launch in mid 2016 saw the company charge $9.95 a month for access to discounts.
When that business model flopped Divvee introduced "Rank & Share" in late 2016, a platform that combined promotion and recruitment commissions.
Rank & Share was a key component of Divvee's MLM opportunity until a few months ago.
In July, 2017 it appeared Divvee was poised to offer forex ROIs through the Ryze AI trading bot.
Another MLM company, Hodo Global, had also been promoting Ryze a few months prior.
Divvee didn't appear to have any public connection to Hodo Global or Ryze, creating a bunch of question marks and confusion.
Then, out of nowhere, in late July Divvee and Hodo Global announced they were merging to create "Nui".
On Friday July 28th 2017 in Salt Lake City, Utah, a large group gathered in a big red Barn to merge two companies into one disruptive concept.

The announcement, Divvee Social and Hodo Global joining forces to form NUI, is an exciting merger within the MLM community.
According to Randy Schrum's announcement above, Nui's first product was supposed to be Ryze trading passive returns.
Nui's first product is Hodo Global's Ryze.Ai technology.

While past results don't dictate future results, the people who'd invested so far in the room were seeing an average monthly return of 3%, which compounds.

So, those few people in the room who'd been using the technology with Hodo mentioned a 4 month growth of 11 plus percent in returns.
That partnership seems to have since fallen through, with Nui stating on their website that, as of October 23rd,
Nui is not Ryze. That was a product we were interested in and no longer associate with.
Nui also clarify that they have nothing to do with Wealth Generators, following what appears to be speculation the two companies were entering into a partnership.
The "Executive Team" page of the Nui website lists Richard Smith and Troy Muhlestein as co-founders of the company and Darren Olayan as CEO.
Smith and Muhlestein are co-founders of Divvee with Darren Olayan serving as CEO.
Divvee initially launched with Allen Davis as CEO, although he seems to have been dropped sometime in late 2016.
There's no mention of Hodo Global CEO John Hammack on the Nui website.
On his Facebook profile Hammack still cites himself as co-founder of "Team Hodo", but there's no mention of Nui.
In any event, the Nui website appears to be more of a continuation of Divvee than Hodo Global.
Whereas Hodo Global marketed access to travel discounts, Nui markets "Core".
As per Nui's own description, Core sounds a lot like Divvee's Rank & Share;
CORE gives users the ability to earn by taking simple actions.

We've partnered with a variety of businesses around the globe to bring millions of offers your way.

Inventory includes everything from surveys to app downloads to video views to product trials and so much more.
Although there's no mention of it yet on the Nui website, it appears the company is now trying to branch out into cryptocurrency mining.
At first glance the Mintage Mining website doesn't appear to have anything to do with Nui.
The Mintage Mining website domain was privately registered on October 24th.
There is no information on the Mintage Mining website revealing who owns or operates the company.
Further research reveals Nui affiliates began marketing Mintage Mining on or around November 1st: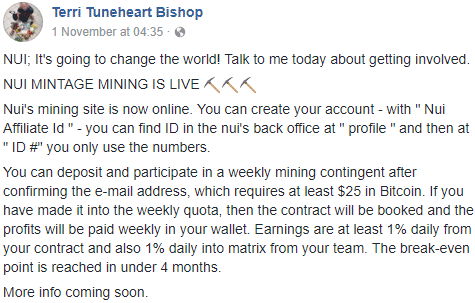 German Nui affiliates appear to be all over Mintage Mining, with a November 20th article on Affiliation Global providing more information;
Mintage Mining as a new external partner of NUI will be extremely brilliant.

The company has developed a mining algorithm that automatically mined the most profitable coins and has the world's largest mining pools as customers.

According to History, they generate an average of 3.6% per week.

Mintage and NUI are currently testing the collaboration (BETA) – as long as both sides are satisfied, Mintage will then appear in the NUI back office about 1-2 weeks after its launch.
So uh, a company that didn't exist up until a month ago has "the world's largest mining pools"?
Mmmhmmmm…
There's also mention of "Kala" which if I'm not mistaken is a planned ICO.
I am sure that the KALA ICO (will be) very well received by the cryptocommunity, as there is already a functioning system with a very high number of members.

This will contribute enormously to the growth of NUI-SOCIAL!
Another MLM ICO? They really are nothing more than a joke at this point.
But I digress, the real take-away is Divvee's return to unregistered securities through Mintage Mining.
Upon reading Nui had dropped the Ryze ROI product, I'd considered this was due to the fact neither Divvee, Hodo Global, Ryze or Nui were registered to offer securities in the US.
Ryze very much was a passive investment opportunity, requiring any company marketing it to US residents to register with the SEC.
That appears to not be the case, as now we've got Nui going down the same passive investment opportunity path.
As per Terri Bishop's Facebook post above, Nui affiliates invest $25 or more worth of bitcoin into Mintage Mining.
From there Mintage Mining pay a passive 1% or more weekly ROI, on top of pyramid recruitment commissions via a matrix.
The weekly ROI appears to be entirely passive, thus making Mintage Mining (irrespective of who is running it) a securities offering.
At the time of publication neither Nui or Mintage Mining appear on the SEC's Edgar database.
Whether Nui affiliates realize they are participating in an unregistered securities offering is unclear.
Company management should know better though, especially after the Ryze AI disaster. No excuses.
Update 12th July 2018 – On July 11th the Texas Securities Board issued Nui and Mintage Mining with a securities fraud cease and desist.