Noble 8 Revolution funneling elder abuse victims into Pyur Global

In the latest chapter of the disturbing Noble 8 Revolution story, victims of the scheme, many of whom are elderly, are being funneled into Pyur Global.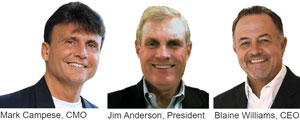 Mark Campese, Jim Anderson and Blaine Williams launched Noble 8 Revolution in January 2018.
Jim Anderson took his launch money and bailed a few months in, leaving Williams and Campese to carry on.
Noble 8 Revolution's business model was that of a simple 3×5 matrix cycler Ponzi scheme.
Attached to this was a monthly fee, which Noble 8 Revolution collected from members, despite not paying commissions until February 2019.
Now, after just one month of commission payments, Noble 8 Revolution is funneling its members into Pyur Global.
Noble 8 Revolution's transition from a Ponzi cycler to a Pyur Global downline feeder is being pitched as "wave 2".
In an email sent out to Noble 8 Revolution members on or around March 10th, Blaine Williams and Mark Campese wrote;
SHOW ME THE MONEY

Our plan is to create thousands of financial success stories with a Compensation Structure that PAYS!

BQM – Big quick Money

Serious overrides and spread in the early stages of the pay plan

Long Term Residual Income

Fabulous Recognition and Rewards

(Events – Trips – Leadership/Lifestyles Bonuses)

AND MUCH, MUCH MORE!
An "inaugural call recording" was also advertised as follows:
Listen to the FIRST ever Launch Call for PYUR Global – Featuring 2 of the Scientific Board Members and the Founders.

Find out WHY PYUR Global
Pyur Global is an independent MLM company that initially launched in late 2016.
Founded and run by CEO Bob Bremner, Pyur Global marketed a range of nutritional supplements, as well as a heart pulse device with an accompanying app.
The original Pyur Global appears to have collapsed, with the company's website now advising it is
on the doorstep of our Elite Founders Club Launch.

Please excuse our dust as we our completing the finishing touches of what will surely become an Elite Global network marketing company.

Please check back soon for updates.
It is this "Founders Club" reboot that Blaine Williams and Mark Campese are funneling Noble 8 Revolution members into.
What makes Noble 8 Revolution all the more depressing is footage of its events reveals the majority of victims appear to be elderly.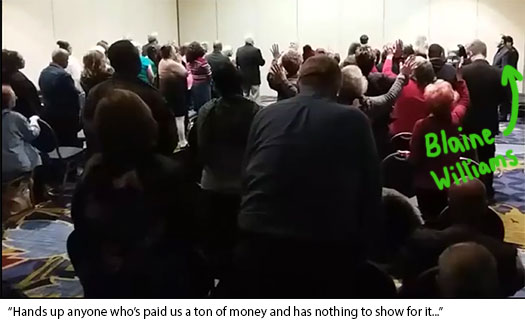 Campese and Williams also employ religion as part of their efforts to defraud, by way of scheduled "prayer calls" and religious association of Noble 8 Revolution itself.
Having been fleeced for monthly fees on the promise of riches for twelve months, Noble 8 Revolution victims were paid one month in cycler commissions.
The rest of the money Noble 8 Revolution took in remains unaccounted for, although some of it is believed to have gone towards Blaine William's ongoing medical expenses.
Now Noble 8 Revolution's elderly member-base are being asked to front over more money to join Pyur Global.
Naturally Williams and Campese will earn a cut in commissions for every Noble 8 Revolution member they convince to sign up.
Pyur Global is independent to Noble 8 Revolution, however the company does have a duty of care to police its downline.
In order to further bilk their members out of more money, Blaine and Williams have to have one or more Pyur Global distributor accounts.
By not closing these accounts down, Pyur Global acts as an accessory to the ongoing elder abuse Noble 8 Revolution has perpetuated.
Just five days ago the DOJ announced 'the largest coordinated sweep of elder fraud cases in history'.
The cases during this sweep involved more than 260 defendants from around the globe who victimized more than two million Americans, most of them elderly.

The Department took action in every federal district across the country, through the filing of criminal or civil cases or through consumer education efforts.

In each case, offenders allegedly engaged in financial schemes that targeted or largely affected seniors.
If the DOJ are looking to continue efforts to police elder abuse across the US, Noble 8 Revolution is a collapsed MLM opportunity surely ripe for investigation.