Pyur Global Review: Nutrition & aortic pulse wave velocity tracking

Pyur Global launched in late 2016 and operate in the nutritional supplement MLM niche. The company lists two corporate offices on the Pyur Global website, one in the US state of Virginia and the other in Manila, Philippines.
Heading up Pyur Global is CEO and founder Bob Bremner.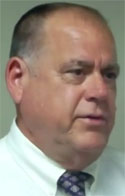 Bob Bremner (right) first popped up on BehindMLM's radar as CEO and founder The Legends Network in 2014.
The Legends Network operated as a matrix-based pyramid scheme with no retail activity.
In 2015 Bremner resurfaced with vStream TV, selling $349 piracy stream boxes. Once again the compensation plan was heavily favored toward affiliate recruitment.
The vStream TV website is still up today, however Alexa rankings reveal a sharp crash in traffic from November, 2016.
Read on for a full review of the Pyur Global MLM opportunity.
Pyur Global Products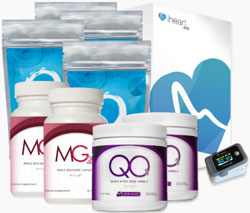 Pyur Global market nutritional supplements, as well as a heart pulse device and accompanying app.
O2 – "a proprietary natural mineral complex delivered in an easy-to-use sachet", retails at $42.95 for a a bag of 30 servings
QO2 – "a dietary supplement blend of high-grade and low dose base L-Arginine with other ingredients that trigger the production of healthful Nitric-Oxide in the body", retails at $49.95 for a a tub of 30 servings
MG20 – Muscadine grapes "antioxidant benefits", retails at $49.95 for a bottle of 30 capsules
iHeart Device – "get an insight of your fitness levels with regular monitoring of the key factors that are strong indicators of your overall health", retails at $195 for a finger device plus app (free or paid subscription)
A $142 bundle pack is also available, consisting of one bottle of MG20, one tub of QO2 and two bags of O2.
The Pyur Global Compensation Plan
The Pyur Global compensation plan pays affilaites to retail Pyur Global's products to retail customers. Residual commissions are paid out via a binary compensation structure, with a matching bonus also available.
MLM Commission Qualification
Pyur Global affiliates qualify for MLM commissions by maintaining "active status".
Active status qualification requires all affiliates to generate at least 50 PV every 35 days.
Retail Commissions
Pyur Global pay a retail commission on product sales to retail customers (non-affiliates).
Retail commissions are calculated as the difference between the retail and wholesale pricing of products ordered.
A bonus 25% is paid out each week on sales volume generated by retail customer orders for that week.
Weekly Bonuses
Pyur Global pay a 25% bonus on sales volume generated by retail customer and newly recruited affiliate orders.
25% of sales volume generated by all retail customers orders
25% of sales volume generated by product orders newly recruited affiliates place within 30 days of signing up.
Residual Commissions
Pyur Global pay residual commissions via a binary compensation structure.
A binary compensation structure places an affiliate at the top of a binary team, split into two sides (left and right):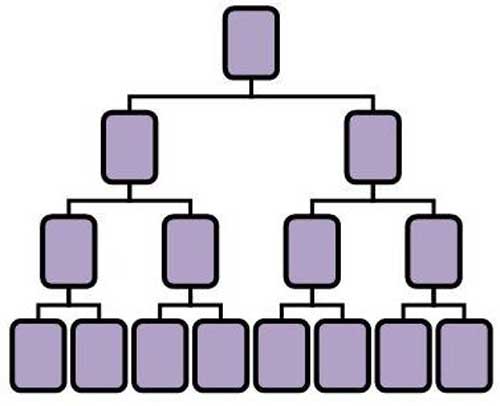 The first level of the binary team houses two positions. The second level of the binary team is generated by splitting these first two positions into another two positions each (4 positions).
Subsequent levels of the binary team are generated as required, with each new level housing twice as many positions as the previous level.
Positions in the binary team are filled via direct and indirect recruitment of affiliates. Note that there is no limit to how deep a binary team can grow.
Pyur Global track GV generated on both sides of the binary. Each time 200 GV and 400 GV is generated on both sides (which side is which doesn't matter), a commission is paid out.
affiliates who generate 50 GV a month earn $15
affiliates who generate 100 GV a month earn $20
Matching Bonus
Pyur Global affiliates earn a matching bonus on residual commissions earned by downline affiliates, paid out down multiple levels of recruitment (unilevel).
How much of a percentage and how many levels the Matching Bonus is earned on, is determined by a Pyur Global affiliate's rank.
Bronze Executive – 10% match on level 1 (personally recruited affiliates)
Silver Executive – 15% match on level 1
Gold Executive – 20% match on level 1
Platinum Executive – 20% match on level 1 and 15% on level 2
Pearl Director – 20% match on level 1, 15% on level 2 and 10% on level 3
The Pyur Global compensation plan states 'there are even deeper matching bonuses as you progress through the ranks', but doesn't go into further details.
Note that Pyur Global do not disclose rank qualification requirements.
Leadership Bonus Pool
The Leadership Bonus Pool is made up of "a portion" of Pyur Global's company-wide sales volume.
Qualified affiliates receive a share in the Leadership Bonus Pool quarterly.
Other than stating affiliates must "grow your team through the ranks to work your way toward a share in the pool", Pyur Global do not disclose Leadership Bonus Pool qualification criteria.
Joining Pyur Global
Pyur Global affiliate membership is available $39.95 to $499.
Basic affiliate membership – $39.95
QO2 & O2 Bundle – $109.90
2x QO2 & 2x O2 Bundle – $179.85
MG20, QO2 & 2x O2 Bundle – $181.95
O2, QO2 & iHeart Device Bundle – $299.95
2x QO2 & O2 & iHeart Device Bundle – $369.95
MG20, QO2, O2 & iHeart Device Bundle – $371.95
Builder Pack – $499 (2x MG20, 2x QO2, 4x O2 & iHeart Device)
Conclusion
Pyur Global's product line didn't strike me as anything out of the ordinary. I thought maybe there was something to the Muscadine grapes angle but discovered supplements are readily available for as little at $9.95 a bottle.
Definitely run a comparison with what's available locally price-wise before committing to purchasing Pyur Global's supplements.
The iHeart Device meanwhile is manufactured by a third-party and available directly for $195 (or $159 on Amazon).
Of note is a disclaimer provided on the Go iHeart website:
The iHeart System is NOT a medical device. It is to be used for personal health & wellness education only.

It is not intended to be used for any medical diagnosis or management of medical conditions.
Sort of guts the device reliably doing anything other than measuring your pulse, which you can do with two fingers for free.
The wearable device market might have cut into the iHeart Device's target demographic over the past few years too. There's all manner of wearable technology that can track all sorts of things available.
Pyur Global's compensation plan is a bit more encouraging, with a great 25% bonus serving to drive retail sales.
I think it's great to offer a bonus on top of the standard retail commission, although perhaps a stepped qualifier upon hitting certain retail volume targets might be an even better way to channel retail focus.
Eg. hit xx PV in retail volume and receive a 10% bonus. Hit xy PV in retail volume and receive a 15% bonus etc.
Nonetheless a 25% bonus on retail volume is still a great retail incentive. Unfortunately though there doesn't seem to be any retail qualifiers within the Pyur Global compensation plan.
MLM commission qualification is a flat PV requirement, which hopefully not so coincidentally aligns with available (and optional) affiliate autoship options.
This means chain-recruitment via affiliate autoship is possible, despite the retail incentives on offer.
The good news is verifying whether your potential upline is only focused on autoship recruitment is easy. If a Pyur Global affiliate is self-qualifying for commissions via autoship and isn't putting through equivalent retail volume each month, there's a good chance that's what their downline are doing too.
This means that, company-wide, Pyur Global would be operating as a product-based pyramid scheme.
I also don't mind cutting Pyur Global a bit of slack as an emerging company, but six or seven months in without a detailed compensation plan is pretty lax.
A summary is fine to browse through but full nuts and bolts documentation has to be made available for the more serious network marketer.
Retail pricing could also be more readily available (I had to go through a Pyur Global shop link with an affiliate code to get it).
Long and the short of it though, if your potential upline's Pyur Global business is a healthy mix of retail and downline volume then you've got nothing to worry about. But do keep in mind concerns about the Pyur Global product range expressed earlier.
Good luck!
Update 29th April 2019 – Pyur Global has merged with Noble 8 Revolution and rebooted as Pyur Life.