Nimbus Platform resurrecting Ponzi with 100% annual ROI

Nimbus Platform is an MLM crypto Ponzi that's been around since August 2020.
The original Ponzi scheme was built around NMBT tokens, paying up to 0.5% a day.
This collapsed in less than a year, prompting Nimbus Platform to reboot with NBU tokens. The second iteration of Nimbus Platform offered a far more modest 7% a year.
Here's how that's going: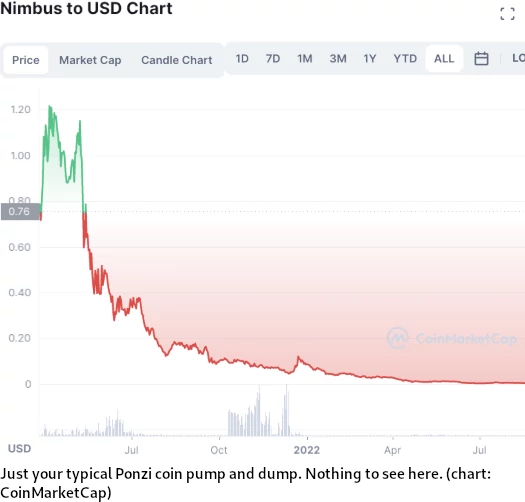 Now, in an attempt to resurrect the failed second reboot, Nimbus has upped the ante with a 100% annual ROI.
Nimbus' new Ponzi offering is wrapped up in an NFT grift they're called "Nimbus NFT Smart Staker".
Smart Staker n-NFT automatically generates rewards from two staking streams: with up to 40% APY and 60% APY correspondingly.
The 100% annual ROI comes via a staking grift;
Become a Liquidity Provider for Nimbus Swap to receive 2 types of rewards of up to 100% APY.
And Nimbus Platform's original NBU Ponzi has been "upgraded" to 20% a year;
Stake NBU or GNBU at up to 20% APY.
One other thing worth noting is the late 2021 launch of GNBU Token: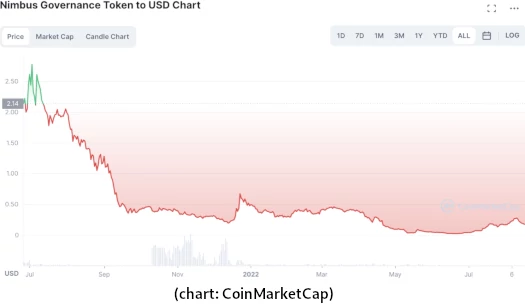 Another swing and a miss.
Nimbus Platform's website has an "affiliate program" section…
Invite your friends to Nimbus and get extra rewards and bonuses, including the possibility to win Nimbus NFTs.
…however specific details are withheld from the public. As such I'm unclear on whether Nimbus Platform is still operating as an MLM company.
As the company did when it first rebooted, Nimbus Platform has again changed CEOs.
When BehindMLM last reviewed Nimbus Platform for a second time in February 2021, Fernando Martinho was presented as CEO of the company.

Less than a week after the review was published, Martinho disappeared from Nimbus Platform's website.
We suspect Martinho cashed out and did a runner, however neither he or Nimbus Platform has ever addressed his sudden disappearance.
On November 28th 2021, seven months after Martinho disappeared, Nimbus Platform rolled out Alex Lemberg.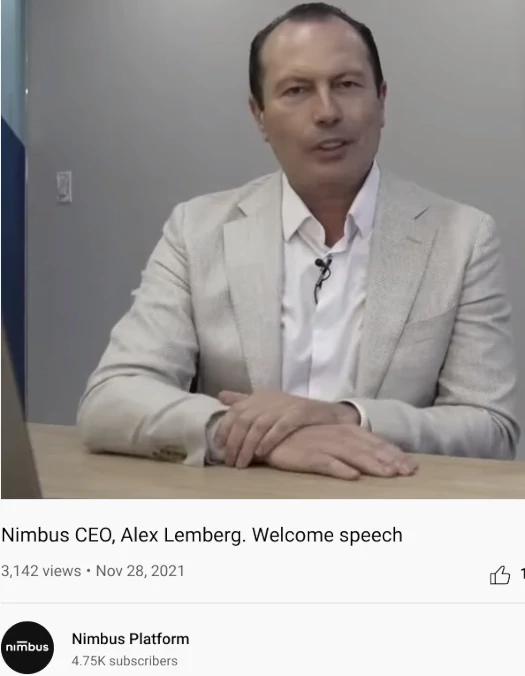 Lemberg is based out of the US and has a finance background.
Lemberg's last video appearance on Nimbus Platform's YouTube channel was on June 27th, 2022: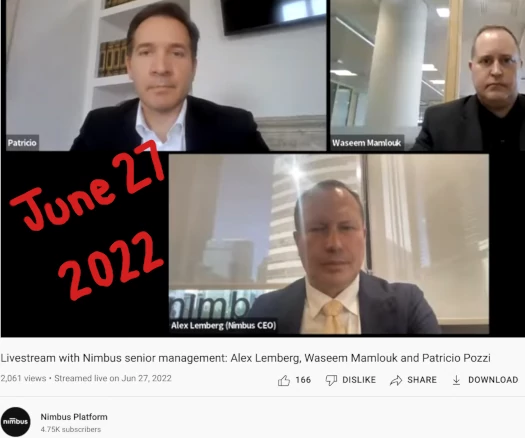 According to Lemberg's LinkedIn profile, he cashed out and left Nimbus Platform the following month.
As of July 2022, Lemberg's LinkedIn profile places him as CEO of BeMotion, a reseller of various software platforms.
For their part, BeMotion don't seem fussed Lemberg headed up a Ponzi scheme for ten months: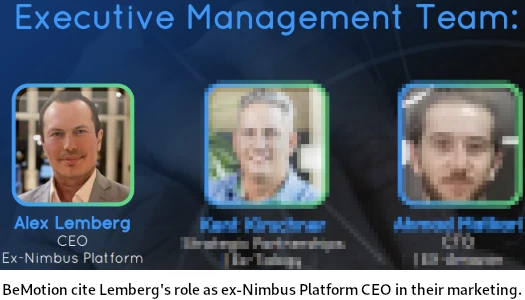 As to who's running Nimbus Platform now, the revolving CEOs suggests an undisclosed third-party actually run and owns the company.
Presumably until another CEO replacement is found, Nimbus Platform marketing videos is Nimbus Vice-President Waseem Mamlouk.
Mamlouk joined Nimbus in 2020 and was promoted to VP in late 2021. Around the time of his appointment, Mamlouk claimed Nimbus Platform was going to list "on a major North American stock exchange by the end of 2021".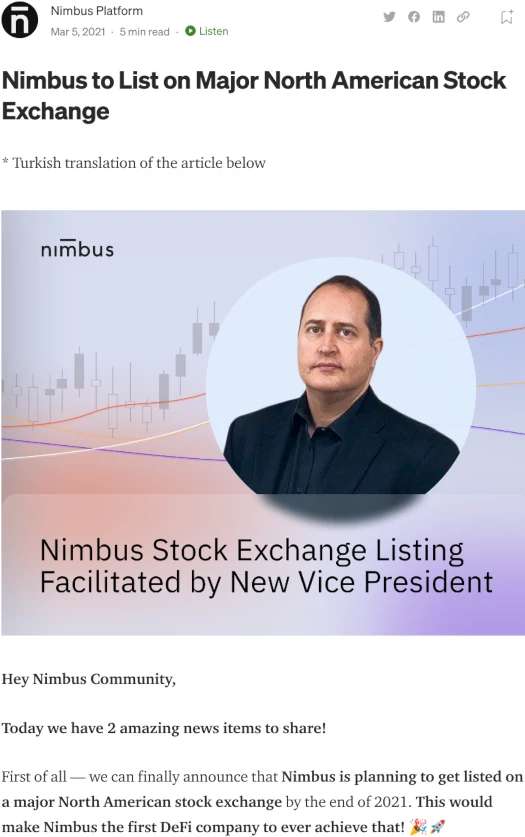 Not to take anything away from Canada, but the US is the most active regulator of unregistered securities on the planet. For obvious reasons, Nimbus Platform's announced exchange listing didn't happen.
Today Nimbus is banging on about obtaining some license from the Central Bank of Bahrain.
Central Bank Licensing and Supervision of the Kingdom of Bahrain

Nimbus Platform now has the required regulatory approval and licensing for tokens and NFTs in the Kingdom of Bahrain in accordance and consultation with the Central Bank of Bahrain (CBB).
Bahrain is a tiny kingdom country in the middle-east of around 1.4 million people. Notwithstanding Nimbus Platform isn't even active in Bahrain, any license obtained there is meaningless outside of the country.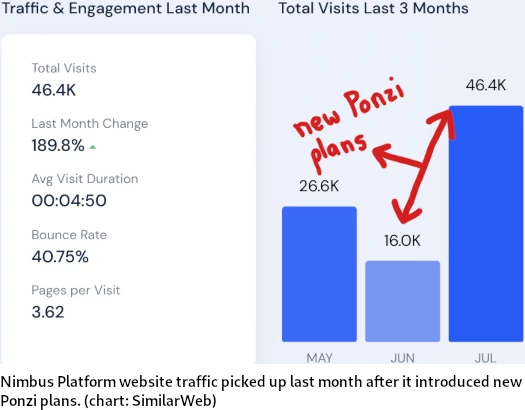 SimilarWeb currently tracks top sources of traffic to Nimbus Platform's website as Germany (67%), Turkey (15%), Colombia (10%) and Spain (3%).
Nimbus Platform is not registered to offer securities in any of these countries.
To that end Spain's CNMV issued a Nimbus Platform securities fraud warning in November 2020.
Who actually owns and runs Nimbus Platform and from where remains unknown.
Update 9th January 2023 – Nimbus Platform has collapsed for a second time. A third reboot has been launched with NIMB and GNIMB tokens.