Nimbus Platform collapses, ROI slashed + new SYNTA scam

Nimbus Platform's already twice collapsed Ponzi scheme has collapsed again.
In an immediate reboot has launched, complete with a third Ponzi shit token.
Annual ROI rates have been slashed and there's also a new SYNTA token scam launch.
Nimbus Platform's ROI changes were announced on December 31st, 2022.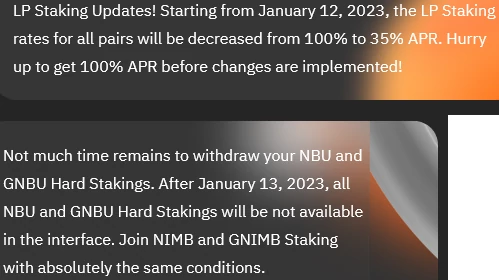 As per the communication above, from January 12th Nimbus Platform is reducing the previously advertised 100% annual ROI to 35% to 45%.
Nimbus Platform's new Ponzi scheme will be run through NIMB and GNIMB, which appear to have been launched a few weeks ago in late December.
Nimbus Platform launched in 2020 as a simple NMBT Ponzi points scheme. When that collapsed in early 2021, Nimbus Platform rebooted the Ponzi scheme with NBU tokens.
That second iteration collapsed in late 2022, prompting the third reboot with NIMB and GNIMB tokens.
How long Nimbus Platform's third reboot lasts for has yet to play out.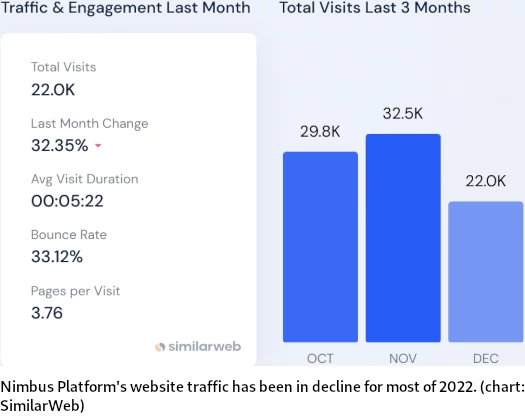 SimilarWeb is tracked declining traffic to Nimbus Platform's website throughout 2022. As of December 2022, top sources of Nimbus Platform website traffic are Germany, Spain and Colombia.
Recruitment in Germany appears to have collapsed, dropping to 41% in December (down 45% month on month).
Nimbus Platform appears to be on life support through recruitment of victims in Spain (13%, the second largest source of traffic). Traffic from Colombia dropped to 13%, down 30% month on month.
The other Nimbus Platform development is the launch of Synta.
As per a December 31st press-release, Nimbus Platform frames Synta's launch as a partnership.
We are working with SYNTA as a partner and assisting them with implementing crypto solutions in their product ecosystem.

SYNTA is a multi-finance brokerage infrastructure with a matching engine that can process 1000 orders a second.

The system is scalable and can be increased in case of customer needs, making SYNTA one of the fastest brokerages in the market today.
In addition to being a platform to launder cryptocurrency stolen through Nimbus Platform though, Synta also has its own fraudulent investment scheme attached.
A maximum of 300 million SYNTA tokens will be created and run natively on the BNB Smart Chain.

20% of audited net profits will be proportionally distributed among SYNTA holders via annual airdrop.

Also, if there's stability within the ecosystem for more than 360 days, the annual airdrop increases by 20%.
SYNTA token appears to be a BEP-20 shit token. These can be set up in a few minutes at little to no cost.
Synta's website domain ("synta.info"), was privately registered in April 2022. No ownership or executive information is provided.
SYNTA is in the works of launching first phase IDO — only 3 080 000 SYNTA tokens for sale on January 4th, 2023. It will possible to acquire the token with BUSD or BNB through the Nimbus Platform

Soon after the first phase IDO, SYNTA will be on Nimbus Swap.
Given the above, it's pretty obvious the same scammers behind Nimbus Platform are behind Synta.
Nimbus Platform originally launched with CEO Andrea Zanon. Zanon disappeared a few months into the Ponzi scheme.
Fernando Martinho replaced Zanon as CEO on September 7th, 2020.

By the time Nimbus Platform collapsed in early 2021, Martinho had also disappeared.
Nimbus Platform's reboot was headed up by its third CEO, Alex Lemberg.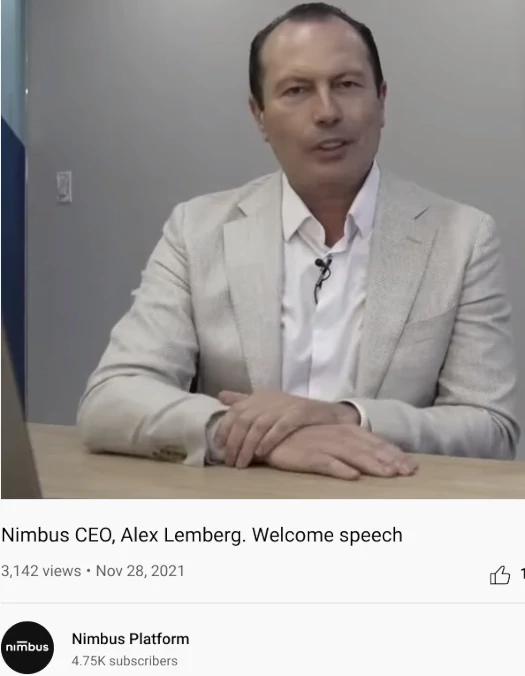 You've probably already guessed but, coinciding with Nimbus Platform's second collapse, Lemberg has also disappeared.
Nimbus Platform's third reboot is headed up by fourth CEO Patricio Pozzi, appointed early December 2022.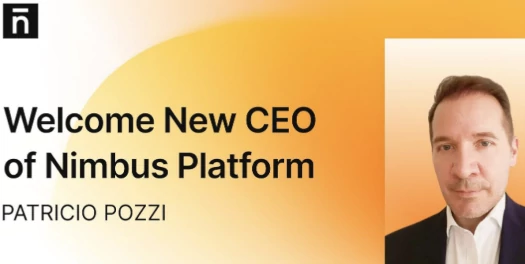 Pozzi was an internal hire, having served as Nimbus Platform's Vice President since 2021.
If it wasn't obvious, whoever is actually running Nimbus Platform continues to hire Boris CEOs to front the company.
Pozzi will likely be gone too when Nimbus Platform's third reboot collapses. Whether there's a fourth reboot remains to be seen.