Nimbus Platform Review 2.0: New Ponzi tokens, same scam

BehindMLM's initial Nimbus Platform review was published last August.
At the request of a reader last month, who claimed "things (have) changed", today we revisit Nimbus Platform for an updated review.
The Company
Originally headed up by CEO Andrea Zanon, he deserted and was replaced by Fernando Martinho in September.
Today Martinho still features on Nimbus Platform's website as CEO.

According to Martinho's LinkedIn profile he's based out of London, UK.
Update 21st February 2021 – Sometime in the last week Fernando Martinho has been scrubbed from Nimbus Platform's website.
The company has not publicly addressed this, either on their website or through any of their social media channels.
Martinho makes no mention of Nimbus Platform on his LinkedIn profile.
Martinho's last appearance is a December 21st, 2020, webinar uploaded to Nimbus Platform's official YouTube channel. /end update
Nimbus Platform doesn't provide a corporate address on its website, but does appear to still operate through Nimbus Platform LTD.
Nimbus Platform LTD is a shell company incorporated in Malta.
Nimbus Platform's Products
Nimbus Platform has no retailable products or services, with affiliates only able to market Nimbus Platform affiliate membership itself.
Nimbus Platform's Compensation Plan
Nimbus Platform affiliates invest in NBU tokens, on the expectation of a passive return.
Once invested in, NBU are seized by Nimbus Platform for 60 days.
During this time and if an affiliate chooses to park the tokens with Nimbus Platform after the mandatory 60 day period, a 7% annual ROI is paid on seized/parked NBU tokens.
A monetary return is realized when an affiliate cashes out NBU tokens through an internal exchange.
Nimbus Platform do not publish the current NBU token internal value.
Although real money is paid for NBU tokens, Nimbus Platform pays all returns, commissions and bonuses in NBU tokens.
Payouts are also staggered through a convoluted percentage system:
Rewards will be allocated to you daily, with each being locked for 2 months and then gradually automatically released by the smart contract in portions of 20% per month over the course of 5 months.
Referral Commissions
Nimbus Platform pays a 10% referral commission on NBU tokens invested in by personally recruited affiliates.
I believe the 10% is also paid on any NBU tokens acquired by the affiliate after initial investment.
Swap Reward
Nimbus Platform pays the Swap Reward via a unilevel compensation structure.
A unilevel compensation structure places an affiliate at the top of a unilevel team, with every personally recruited affiliate placed directly under them (level 1):

If any level 1 affiliates recruit new affiliates, they are placed on level 2 of the original affiliate's unilevel team.
If any level 2 affiliates recruit new affiliates, they are placed on level 3 and so on and so forth down a theoretical infinite number of levels.
The Swap Reward is paid as a percentage of tokens "swapped" for something else through Nimbus Platform's internal exchange.
Nimbus Platform caps the Swap Bonus at six unilevel team levels as follows:
level 1 (personally recruited affiliates) – 0.06%
level 2 – 0.03%
level 3 – 0.02%
levels 4 and 5 – 0.015%
level 6 – 0.01%
Joining Nimbus Platform
Nimbus Platform affiliate membership costs are not disclosed on the company's website.
What we do know is an investment in NBU tokens is required to participate in the attached income opportunity.
As with affiliate membership costs, any minimum NBU token investment requirements are not disclosed.
Conclusion
Although there's no doubt a cock'n'bull official explanation, Nimbus Platform's original NMBT token Ponzi scheme collapsed.
They've rebooted with NBU tokens, which being on the ERC-20 platform would have taken them all of 2 minutes to create.
The original Nimbus Platform Ponzi was attached to an Avalon trading bot which, at least for now, appears to have been ditched till later in the year.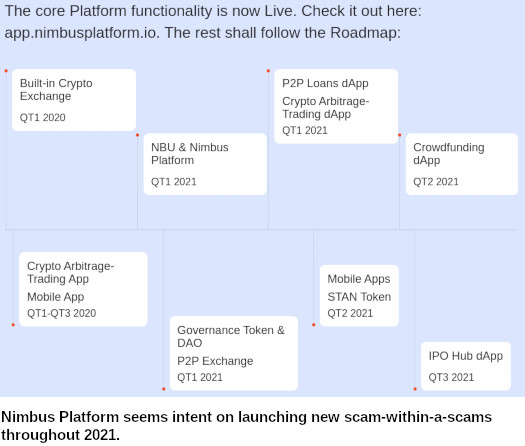 In addition to NBU, this time around Nimbus Platform has also created two additional Ponzi shit tokens; Nimbus Governance Token and STAN.
Nimbus Governance Token (standard ERC-20) enables voting and Nimbus Platform transaction fee distribution among its holders.

STAN is a stablecoin backed by USD with a 1:1 ratio.

It helps Nimbus provide stability for users and offers multiple use-cases for users to benefit from it.
On the compensation side of things Nimbus has gone backwards, ditching its fleshed out referral plan for a gimped swap bonus model.
Seeing as NBU doesn't cost Nimbus Platform anything to generate out of thin air, not sure why they've gone this route.
In any event be it Malta, the UK or anywhere else, Nimbus Platform is not registered to offer securities.
This means at a base level the company is committing securities fraud. The absence of any retail product or service also adds an additional
Update 17th August 2022 – A reader requested a Nimbus Platform update.
A new CEO has come and gone and last month new ROI plans were launched, prompting an uptick of interest in an otherwise dead Ponzi.
BehindMLM has documented the latest Nimbus Platform updates in a new article.
Update 9th January 2023 – Nimbus Platform has collapsed for a second time. A third reboot has been launched with NIMB and GNIMB tokens.