Nimbus Platform Review: NMBT Ponzi points

Nimbus Platform operates in the cryptocurrency MLM niche. Heading up the company is CEO Andrea Zanon.
Zanon's LinkedIn profile is linked to from Nimbus Platform's website. Curiously, Nimbus Platform is not featured on Zanon's profile.
In an official Nimbus Platform marketing video featuring Zanon, he claims to be a "global financial executive with twenty years experience".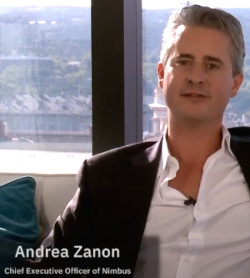 Zanon goes on to state he is from Italy, however he typically lives between the US, Latin America and the Middle East.
The backdrop of the video linked above could be Italy but I'm not sure.
On its website Nimbus Platform provides what appears to be an incomplete corporate address in Malta.
Any ties Nimbus Platform has to Malta are assumed to be on paper only (shell companies for banking etc.).
As far as I can tell Nimbus Platform is Andrea Zanon's first MLM venture as an executive.
Update 24th September 2020 – Nimbus Platform has been in touch to advise earlier this month they appointed a new CEO on September 7th.

According to his LinkedIn profile, Fernando Martinho is based out of the UK.
Martinho doesn't appear to have an MLM history but is the co-founder and CTO of Naoris.
Naoris was launched in 2018 and markets itself as "the world's 1st cybersecurity blockchain-based ecosystem".
Naoris' Alexa web traffic ranking is currently over 1.8 million, suggesting the company failed to gain traction.
As per a press-release put out by "Nimbus Community" on September 9th, Andrea Zanon is still working at Nimbus.
Since Andrea's interests and expertise lay in traditional finance and the banking industry, he is moving up to a higher global regulated phase.

He will develop our new products that we will soon present to you all!
/end update
Read on for a full review of Nimbus Platform's MLM opportunity.
Nimbus Platform's Products
Nimbus Platform has no retailable products or services, with affiliates only able to market Nimbus Platform affiliate membership itself.
Nimbus Platform's Compensation Plan
Nimbus Platform invest in NMBT points at a rate of $1 to 1 NMBT.
Once acquired, NMBT is parked with Nimbus funds on the promise of advertised returns.
invest $350 to $1000 in NMBT and receive 0.25% a day
invest $1001 to $5000 in NMBT and receive 0.3% a day
invest $5001 to $30,000 in NMBT and receive 0.4% a day
invest $30,001 or more in NMBT and receive 0.5% a day
ROI Residual Commissions
Nimbus Platform pays residual commissions via a unilevel compensation structure.
A unilevel compensation structure places an affiliate at the top of a unilevel team, with every personally recruited affiliate placed directly under them (level 1):

If any level 1 affiliates recruit new affiliates, they are placed on level 2 of the original affiliate's unilevel team.
If any level 2 affiliates recruit new affiliates, they are placed on level 3 and so on and so forth down a theoretical infinite number of levels.
Nimbus Platform caps payable unilevel team levels at twenty-five.
Residual commissions are paid as a percentage of returns paid to downline affiliates across these twenty-five levels as follows:
level 1 – 50% (personally recruited affiliates)
level 2 – 25%
level 3 – 20%
level 4 – 15%
level 5 – 14%
level 6 – 13%
level 7 – 12%
level 8 – 11%
level 9 – 10%
level 10 – 9%
level 11 – 8%
level 12 – 7%
level 13 – 6%
level 14 – 5%
level 15 – 4%
level 16 – 3%
levels 17 to 20 – 2%
levels 21 to 25 – 1%
Note that residual commissions are paid in NMBT.
Joining Nimbus Platform
Nimbus Platform affiliate membership is free.
Full participation in the attached income opportunity requires a minimum $350 investment in NMBT.
Conclusion
Nimbus Platform markets itself as a "fintech crowdfunding platform". In reality it's a simple Ponzi points scheme.
NMBT are tokens Nimbus Platform generates on demand at little to no cost. This is why the company is able to pay a 225% residual commission match on returns.
This is in addition to the advertised returns, which together with residual commissions is numbers on a screen until a withdrawal request is put in.
Nimbus Platform claims to generate external revenue through Avalon App.
Nimbus returns are provided by Avalon, a proprietary inter-exchange arbitrage trading algorithm.
There is no evidence Avalon App exists or is engaged in arbitrage trading.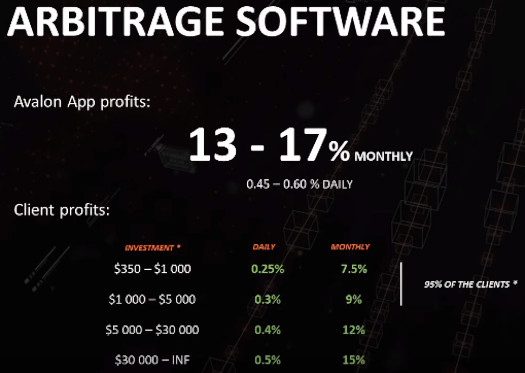 More importantly, there's no evidence of Nimbus Platform using external revenue of any kind to pay affiliate withdrawal requests.
This is typical of Ponzi points schemes.
By providing passive returns, Nimbus Platform's MLM opportunity constitutes a securities offering.
In order to operate legally, Nimbus Platform has to register with financial regulators in every jurisdiction it solicits investment in.
At the time of publication, Alexa ranks Spain (22%), Switzerland (13%) and Mexico (13%) as  the top three sources of traffic to Nimbus Platform's website.
Nimbus Platform provides no evidence it has registered with securities regulators in any jurisdiction.
Thus at a minimum, Nimbus Platform is committing securities fraud and operating illegally.
In order to prove external revenue was being used to pay withdrawal requests, Nimbus Platform is legally required to provide the public, investors and financial regulators with audited financial reports.
These reports are the only verifiable evidence Nimbus Platform is engaged in trading, and using trading revenue to pay withdrawal requests.
On his LinkedIn profile Andrea Zanon cites himself as an "investment banker". This suggests some awareness of securities law.
So why would someone with a background in finance opt to run an illegal investment scheme?
As with all Ponzi points schemes, Nimbus Platform isn't doing what it says it is.
New investors sign up to Nimbus Platform and invest in NMBT points. The company takes in real money ($1 = 1 NMBT) and uses generated NMBT points to pay returns and matching bonus on paid returns.
Withdrawal requests are placed through Nimbus Platform's internal exchange. Nimbus Platform honors these requests with invested funds.
There is no other verifiable source of revenue entering Nimbus Platform to pay returns with.
This satisfies the Ponzi element of the business model and goes hand in hand with securities fraud.
For those familiar with the MLM crypto space, Nimbus Platform is essentially a clone of BitConnect. You can read up on how that turned out.
Nimbus Platform isn't any different. Once affiliate recruitment dries up so too will new investment.
This will leave Nimbus Platform unable to pay withdrawal requests, eventually prompting a collapse.
The math behind Ponzi schemes guarantees that when they collapse, the majority of participants lose money.
Update 11th October 2020 – The referenced marketing video featuring Andrea Zanon has been deleted from Nimbus Platform's official YouTube channel.
Update 16th February 2021 – At the request of readers in the comments below, BehindMLM revisited Nimbus Platform and has published an updated review.
Update 9th January 2023 – Nimbus Platform has collapsed for a second time. A third reboot has been launched with NIMB and GNIMB tokens.