Kingdom Craze Review: Virtual estates & tributes?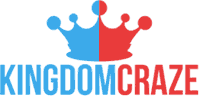 There is no information on the Kingdom Craze website indicating who owns or runs the business.
The Kingdom Craze "Terms and Conditions" do mention a "Kingdom Craze LLC" operating out of Texas in the US. A Google search reveals multiple businesses operating out of the provided street address (including FedEx), indicating that it is just virtual office space or a PO Box.
Further confusion arises with Kingdom Craze indicating a possible business registration in the state of Nevada:
By visiting the Website, even if accessed from a location outside the United States, You agree that the laws of the state of Nevada will govern these disclaimers, Terms of Condition, or Privacy Policy, without giving effect to any principles of conflicts of laws.

You hereby irrevocably and unconditionally consent to jurisdiction in the state of Nevada.
Corporation Wiki links a "Ehrich Pakala" as an "Manager" of Kingdom Craze LLC (Texas), however I wasn't able to find any information specifically connecting Pakala to the MLM industry.
Read on for a full review of the Kingdom Craze MLM business opportunity.
The Kingdom Craze Product Line
Kingdom Craze offer no retailable products or services themselves. Instead, affiliates join the company and invest money in virtual real estate, which Kindom Craze refer to as "hovels".
This is an inhouse game run on the Kingdom Craze website, only available to registered affiliates and presumably owned by the company itself.
On the Kingdom Craze website a series of third-party games are available to visitors (non-affiliates), some of which are purportedly "pay to play".
Some sort of affiliate agreement most likely exists between Kingdom Craze and the creators of the games, such that if a visitor pays to play, the company receives an affiliate commission.
The Kingdom Craze Compensation Plan
The Kingdom Craze compensation plan revolves around affiliates purchasing virtual real estate the company calls "hovels".
Hovels cost $10 each and are purchased with Kingdom Craze's virtual currency, the "krun". 1000 kruns is equal to $10 USD.
Once purchased, each hovel pays out a daily ROI to the affiliate that owns it for 180 days.
The amount of land you own directly affects how much Krun you receive daily in tributes.
Kingdom Craze affiliates can increase their affiliate rank via purchasing more hovels. This apparently increases the amount of "tributes" they are able to earn. In order to qualify for their daily ROI, Kingdom Craze affiliates must play games on the website (which I believe increases as their affiliate rank does).
Tributes is what Kingdom Craze call their referral commissions, with each recruited affiliate paying a 10% referral commission to their recruiter on each hovel purchase.
A referral tribute commission (variable) is also paid out on the hovel-based daily ROI paid to affiliates.
Referral commissions are paid out in kruns.
No fixed minimum and maximum krun investment amounts are provided, however Kingdom Craze do state in their Terms and Conditions that
Minimum and maximum limits may be applied to Your payments into Your Account, depending upon Your history with the Website, the method of deposit, and other factors as determined solely by the Provider.
"Other factors" most likely includes "Kingdom Craze not wanting to pay you" and "sorry, you've invested too much money".
Kruns are also earnt via engaging in player vs. player (PVP) "wars", which appear to be wager-based and playing games on the website (monthly krun commission).
Joining Kingdom Craze
Affiliate membership to Kingdom Craze is free. Affiliate must purchase hovels however if they wish to earn a daily ROI, or recruit new affiliates if they wish to generate referral commissions (tributes).
Note that if Kingdom Craze affiliates do not log into their accounts and play games ' for a period of six (6) consecutive months or more, (Kingdom Craze) reserve the right to charge a maintenance fee of $2.00 per month'.
Conclusion
While it's refreshing to see something other than the usual "advertising credits" attached to an investment scheme, sadly as creative as the whole medieval theme Kingdom Craze have got going (which admittedly gave me flashbacks to playing Age of Empires), it still effectively just boils down to an affiliate-funded investment scheme.
First and foremost we've got an MLM compensation plan (downlines and referral commissions), with affiliates not selling any products to retail customers. I've got nothing against gamification and paying for game items etc., but when you deploy an MLM compensation plan your affiliates need to be marketing something.
In Kingdom Craze the company sells virtual items, affiliates do not. And even if they did, the question of product value comes up as Kingdom Craze clearly state in their terms and conditions that
Virtual items have no value outside of the service.
If a retail product existed, the notion that a non-affiliate customer (retail) would purchase virtual items that held no value outside of the income opportunity (the service), clearly doesn't make sense.
Breaking down the Kingdom Craze compensation plan, we've got affiliates investing in kruns and hovels and earning a daily ROI over 180 days.
No guaranteed daily rate is provided however when considering the motive behind hovel and krun investment, it's clear that an implied >100% guaranteed ROI over 180 days exists.
Without an implied guarantee the scheme would fail to attract new investors.
Kingdom Craze do state that the daily hovel tribute ROI paid out to affiliates is
calculated based on the overall advertising revenues taken in by KC from various media channels.
However with affiliates advertising the scheme as currently hovering around 0.8% (and as high as 1% a day), this seems highly unlikely:

As is typical with schemes offering such a high daily ROI, a far more likely scenario is that Kingdom Craze simply take newly invested affiliate money and pay it back to the affiliatebase in kruns.
This of course reduces Kingdom Craze to a simple Ponzi scheme with a whole bunch of gamification gimmickry attached. And even if they weren't paying out a ridiculously high ROI from affiliate investments in krun, there's still the issue of the company offering what is obviously an unregistered security by way of virtual real estate.
As with all Ponzi schemes, Kingdom Craze's business model will naturally work until enough affiliates have built up their krun balances such that the amount of real money affiliates are withdrawing exceeds new investment coming in.
What happens then?
All purchases of virtual items made through the service are non-refundable and non-transferable.

All Virtual Items are forfeited if Your Account is terminated or suspended for any reason.

(Kingdom Craze) reserves the right to terminate your account, limit or prohibit your participation in the service for any reason.

(Kingdom Craze) also reserves the right, in its sole discretion, to add, alter or terminate the website, a game or any other service offered therein, at any time and without notice to you.

You acknowledge that (Kingdom Craze) is not required to provide a refund for any reason, and that you will not receive money or other compensation for unused virtual items when an account is closed.
Furthermore,
Residents of Alaska, Arizona, Arkansas, Connecticut, Delaware, Florida, Illinois, Iowa, Louisiana, Maryland, Missouri, Montana, South Carolina, South Dakota, Tennessee or Vermont are NOT eligible to become Authorized Members.
Nothing suss there folks…